Live Review: Future Islands + Curse Ov Dialect @ The Triffid 16.11.2015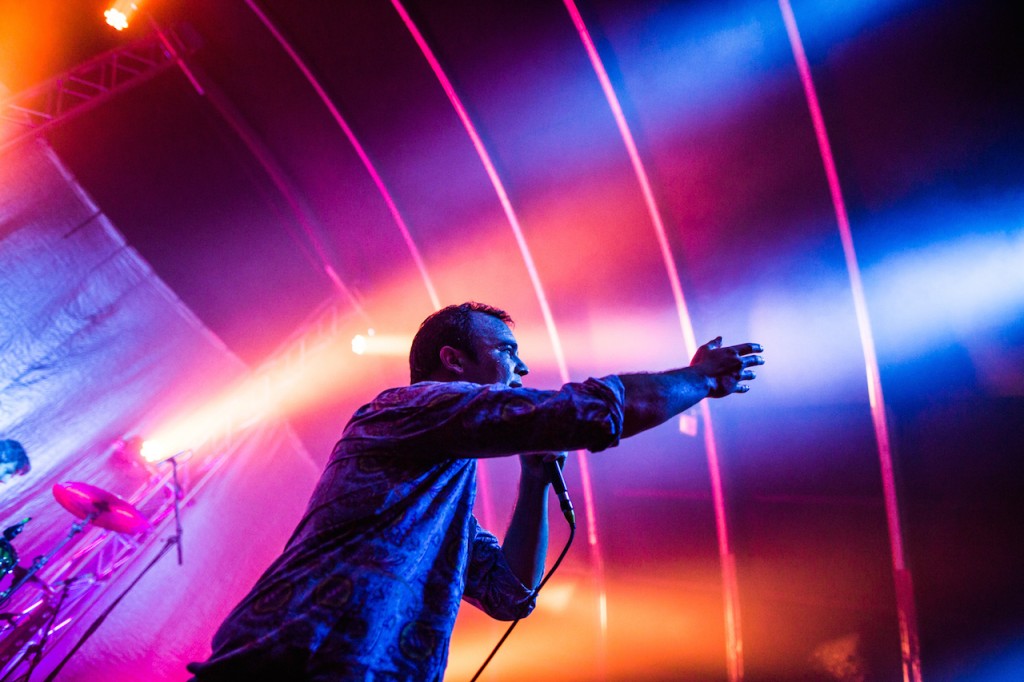 We all know the video: Future Islands performing Seasons on Letterman in March, 2014. The performance very quickly put the band on the map, or rather, singer Samuel T. Herring's unique performance put them on the map.
The easiest way to describe their show at The Triffid on Monday night is exactly that video, only it went for an hour and a half. There was that same intensity, the same passionate dancing, the same spellbinding performance from Herring.
But before the Baltimore locals took to the stage, they enlisted the help of Australian alternative hip-hop group Curse Ov Dialect. The best way to describe them is Aussie hip-hop meets performance art, but there's a lot more to them than that. They formed all the way back in 1994 and were the first Aussie hip-hop group to be signed to an American record label.
They took to the stage in strange and confronting costumes, from a Greek zorba dancing gorilla type thing, to a samurai wrapped in garbage bags, to a green-faced guy in bathrobe and sleeping cap.
After the initial peculiarity, the biting and raw intensity of their music began to shine. They mix in countless musical influences, from RnB, electronic, ethnic samples, avante garde music, and straight up rap beats. Herring joined them onstage (in disguise) half way through the set for Twisted Strangers, a track featuring Herring under his rap alias Hemlock Ernst. It was a perfect example of their tightly produced sound and social commentary at the heart of their music.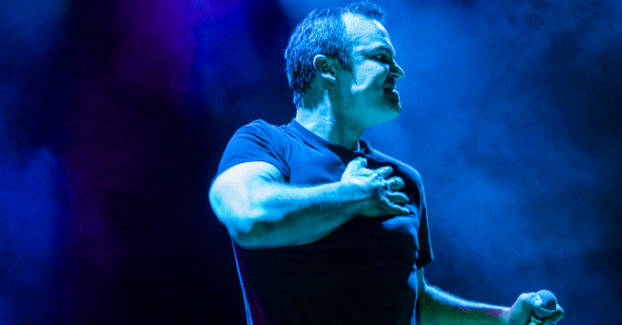 The room was packed shoulder to shoulder by the time Future Islands took to the stage and launched straight into their searing set of captivating synth-pop. Herring was just as you imagined, immediately entranced by his own music, dancing low into his knees, throwing his arms in the air, and thumping his fist dramatically against his chest. His performance alone was enough to send shivers down your spine.
They played both old and more recent tracks, like Before The Bridge from their 2011 album 'On The Water', an atmospheric and moody track that sounds as if it's flowing through water. The band were exceptionally tight, with Gerrit Welmers on keyboards and programming, William Cashion on bass, acoustic and electric guitars, and Michael Lowry as touring drummer, but they definitely took a back seat to Herring's stage presence.
Their newest single The Chase (2015) was a crowd pleaser, with some audience members getting up onto their friends shoulders to throw their fists in the air. The deep bass line combined with the delicate synth samples created a mesmerising, almost magical feel, with Herring's low, smooth vocals lulling you under his spell.
But the highlight was undoubtedly Seasons (Waiting On You), with the opening synth notes sending the crowd into a frenzy. The song's simplistic percussion and mesmerising guitar melody, along with the soaring synthesiser created a euphoric atmosphere. Herring's occasional low, guttural growling of the lyrics was powerful to watch and listen to. They played a lot of tracks from their 2014 album 'Singles' and the crowd lapped up every single one.
They were going to finish with Fall From Grace from 'Singles', but the crowd's persistent chanting of "one more song" brought them back onstage to finish with an intense, passionate encore, with the crowd sweating just as much as the band surely were.