AAA Backstage's Spiciest 100: Heavy Music Edition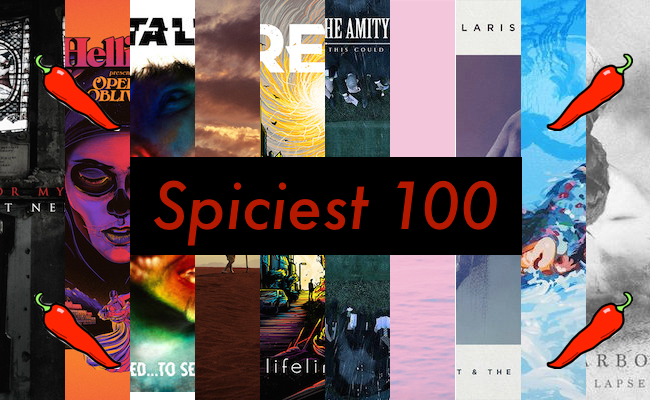 THE END IS NIGH! 2016 saw the coming of many of the world's demons – Trump. Brexit. That Pen/Apple/Pineapple song. Everything bad that could happen this year has eventuated. And if the book of Revelations has taught us anything, it's that you should never trust a beast with two horns, the head of a lamb, body of a sheep, tail of a wolf, feet of a goat, and voice of a dragon. Wait, that doesn't work with the metaphor…
If the Book of Revelations has taught us anything, it's that the bad stuff always happens right before our final judgement.
We're all going to spend our eternities in the pits of brimstone and hellfire that we all deserve for downloading cars movies and unmarried boning. In preparation for that, we've talked to our heavy writers, the people with the closest affiliation to the prince of darkness, to come up with a list of their 100 favourite, most flavoursome tracks from 2016.
A quick note about the list: For the most part this is in no real order. The top three came about as a matter of intense arguing and debate around our editorial table. There were strong points on behalf of each of these three, but in the end, decisions had to be made…
At #3, we have Polaris with their track L'Appel Du Vide. For an unsigned band, Polaris have been laying down some exceptional stuff. Their EP, 'The Guilt & The Grief' was a masterful release when it dropped at the start of the year, and it's certainly been on heavy rotation for a number of our writers. We're expecting huge things from the Sydney 5-piece, and after their mammoth support with Northlane and Hellions, and a spot at UNIFY next year we're tipping that there might be a chance that UNFD might get on board as their record label.
Trophy Eyes dropped what many are calling the album of the year. The Newcastle outfit's 'Chemical Miracle' sophomore album is full of brilliant bangers (as evidenced by our 5-star review), but opening track Chlorine was the stand out. Further down our list, you'll find Breathe You In, and Trophy Eyes were one of only a few bands to get more than on track on our list. They also hit the road with The Amity Affliction, produced their own mini-docutentary, and many consider 2016 to be Trophy Eye's year, which is what placed them at #2 on our list.
That brings us to our #1, our big Kahuna, our top dog: Hellions, and their track Quality of Life. This is a punchy three-and-a-half-minute song that packs just about the perfect amount of everything you could want. Crunchy riffage, guttural vocals, and just enough soaring chorus material to cross over into a multitude of genres and styles and bring together a large portion of the heavy writing community. The track was taken from their third album, 'Opera Oblivia', and with the amount of head banging we've collectively brought to this track it would be a crime not to recognise it! Here's a shot from their Brisbane headline show earlier in the year: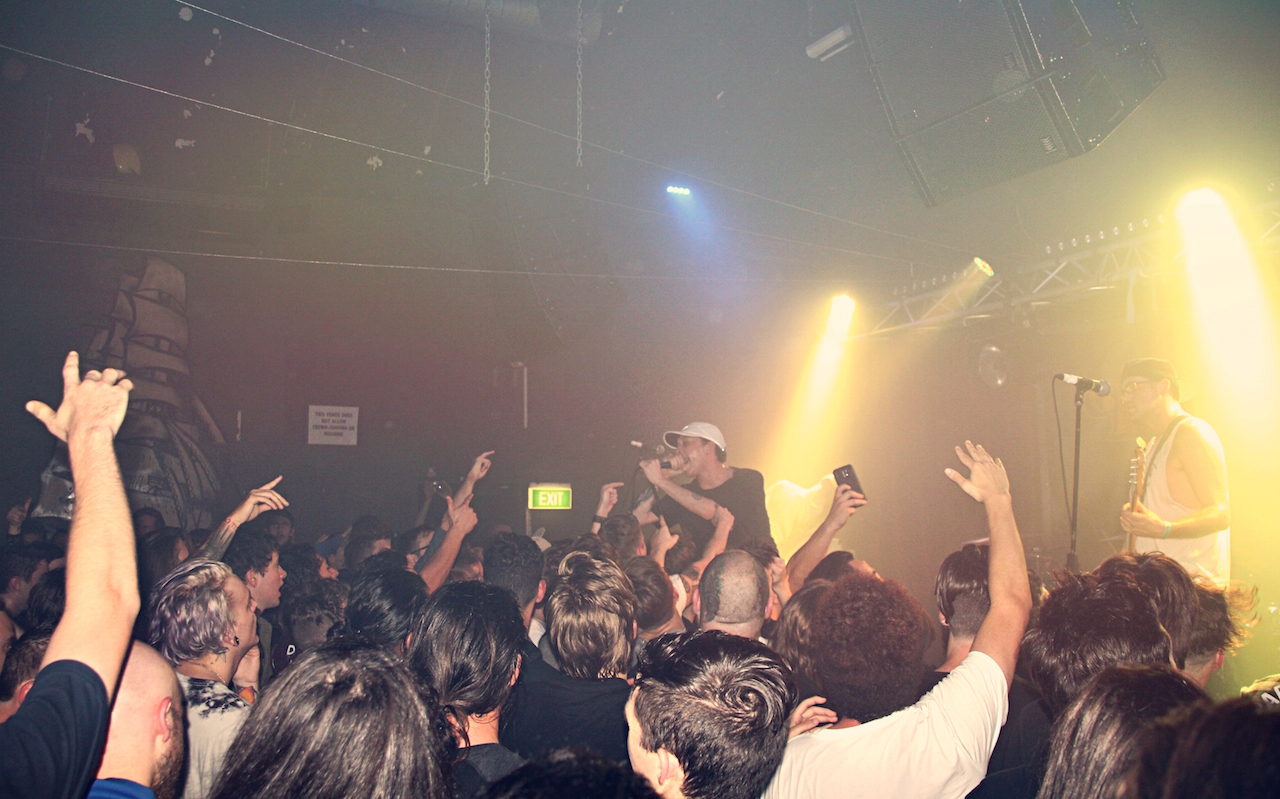 After the top three, from #4 to #16 (inclusive) our list contains a number of honourable mentions including look-ins from metal gods Metallica, local metalcore heroes The Amity Affliction, the tragedy befallen Architects, and Aussie hardcore kings Thy Art Is Murder, among many others.
From #17 onwards, the list is largely unordered, and represents the spread of tracks that we were rocking, headbanging, wall-of-deathing, or simply raising some horns to. There are plenty of bands represented, both old and new, and more than a fair share of styles and genres. And of course, rounding out our 100, is Australia's ARIA-winning heavy band, King Gizzard & The Lizard Wizard.
Note: #71 Luca Brasi's Like A Version cover of Paul Kelly's How To Make Gravy is the only track we were unable to find on Spotify to include.
Check below for the full list in our Spotify playlist (follow us y'all!), and kick off the discussion; were there any glaring omissions that we made? Did we give credence to bands that don't deserve it? What were your Top Tens of the year, and what heavy music memories from 2016 will stick with you in years to come?
AAA's Spiciest 100 – Heavy Edition
| | | |
| --- | --- | --- |
| 1 | Hellions | Quality Of Life |
| 2 | Trophy Eyes | Chlorine |
| 3 | Polaris | L'Appel Du Vide |
| 4 | The Brave | Dreamless (feat. Marcus Bridge) |
| 5 | Bayharbour | Stargazing |
| 6 | Bullet For My Valentine | Don't Need You |
| 7 | I Prevail | Scars |
| 8 | Polaris | Regress |
| 9 | Moose Blood | Spring |
| 10 | Metallica | Hardwired |
| 11 | The Amity Affliction | I Bring The Weather With Me |
| 12 | Thy Art Is Murder | They Will Know Another |
| 13 | Killswitch Engage | Hate By Design |
| 14 | Architects | Gone With The Wind |
| 15 | Architects | A Match Made In Heaven |
| 16 | Trophy Eyes | Breathe You In |
| 17 | Animals As Leaders | The Brain Dance |
| 18 | Meshuggah | Born In Dissonance |
| 19 | The Bennies | Detroit Rock Ciggies |
| 20 | Hands Like Houses | Colourblind |
| 21 | After The Burial | Catacombs |
| 22 | PUP | Dvp |
| 23 | Twelve Foot Ninja | Sick |
| 24 | Any Given Day | Arise |
| 25 | Wildheart | Above |
| 26 | A Day To Remember | Paranoia |
| 27 | Hacktivist | No Way Back |
| 28 | Green Day | Bang Bang |
| 29 | Devin Townsend Project | Transcendence |
| 30 | Hellions | Thresher |
| 31 | Bayharbour | Life In The Clouds |
| 32 | Hacktivist | Hate |
| 33 | With Confidence | Voldemort |
| 34 | Lamb of God | Culling |
| 35 | Ocean Grove | Lights On Kind Of Lover |
| 36 | Avenged Sevenfold | God Damn |
| 37 | The White Noise | Picture Day |
| 38 | The Bennies | Party Machine |
| 39 | Killswitch Engage | Strength of the Mind |
| 40 | The Devil Wears Prada | The Key To Evergreen |
| 41 | Polaris | Hold You Under |
| 42 | Bury Tomorrow | Earthbound |
| 43 | White Lung | Below |
| 44 | Being As An Ocean | Dissolve |
| 45 | Taking Back Sunday | You Can't Look Back |
| 46 | Void of Vision | Ctrl Freak |
| 47 | Korn | Rotting In Vein |
| 48 | Dillinger Escape Plan | Limerent Death |
| 49 | ORB | Reflection |
| 50 | Hands Like Houses | New Romantics |
| 51 | Justice For The Damned | Please Don't Leave Me |
| 52 | Tired Lion | Agoraphobia |
| 53 | Of Mice & Men | Pain |
| 54 | Harbours | Your Eyes |
| 55 | Violent Soho | Viceroy |
| 56 | Napoleon | Afterlife |
| 57 | Stick To Your Guns | Universal Language |
| 58 | Graves | Erase |
| 59 | Columbus | Raindrop |
| 60 | Beartooth | Aggressive |
| 61 | The Comfort | Your Heart |
| 62 | Wolves At The Gate | Asleep |
| 63 | Crown The Empire | Hologram |
| 64 | Moose Blood | Honey |
| 65 | Knocked Loose | Deadringer |
| 66 | Lonely The Brave | Black Mire |
| 67 | Blink 182 | Bored To Death |
| 68 | PLTS | Astoria |
| 69 | Hindsight | Loveover |
| 70 | I Prevail | Stuck In Your Head |
| 71 | Luca Brasi | How To Make Gravy? |
| 72 | Trophy Eyes | Counting Sheep |
| 73 | He Danced Ivy | The Verbal Kind |
| 74 | White Lung | Hungry |
| 75 | Violent Soho | Blanket |
| 76 | Red Fang | Shadows |
| 77 | Deftones | Prayers / Triangles |
| 78 | Japandroids | Near To The Wild Heart of Life |
| 79 | Fit For A King | Dead Memory |
| 80 | Northlane & In Hearts Wake | Refuge |
| 81 | Make Them Suffer | Ether |
| 82 | Basement | Aquasun |
| 83 | Amity Affliction | This Could Be Heartbreak |
| 84 | Japam | DK Facepunch |
| 85 | Harbours | Is This What You Wanted? |
| 86 | The Dillinger Escape Plan | Dissociation |
| 87 | Ambleside | Good Enough? |
| 88 | Luca Brasi | Anything Near Conviction |
| 89 | Movements | Nineteen |
| 90 | The Brave | Break Free |
| 91 | Revocation | Crumbling Imperium |
| 92 | letlive. | Good Mourning America |
| 93 | The Dillinger Escape Plan | Symptom of Terminal Illness |
| 94 | Sienna Skies | Divided |
| 95 | Metallica | Moth Into Flame |
| 96 | Bury Tomorrow | Memories |
| 97 | Basement | Promise Everything |
| 98 | The Comfort | Everstone |
| 99 | Our Past Days | Graves |
| 100 | Gamma Knife | King Gizzard & The Lizard Wizard |