Backstage Interview: DZ Deathrays @ Beyond The Valley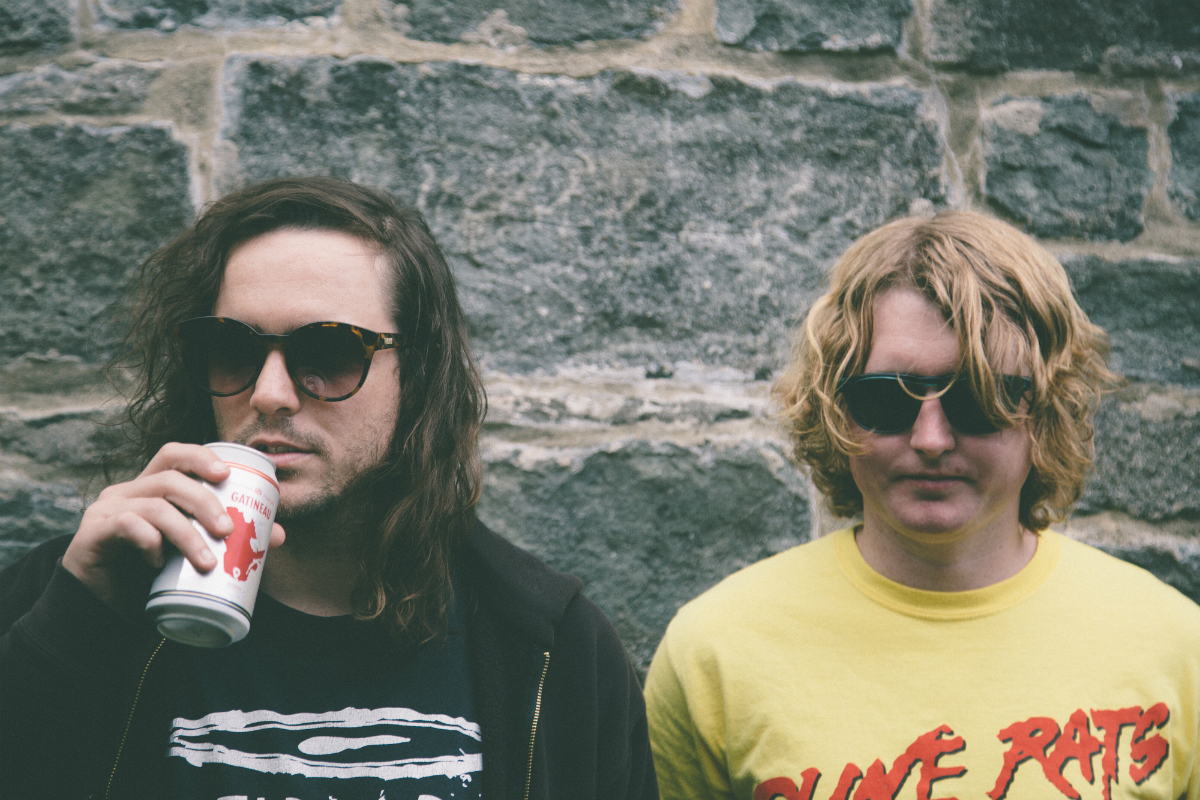 Brisbane garage-rock duo DZ Deathrays had a massive 2016, releasing two killer singles and touring overseas as well as with a national tour with fellow Brisbanites Violent Soho and Dune Rats. Back on Aussie soil, frontman Shane Parsons and drummer Simon Ridley took some time at Beyond The Valley festival to have a chat with us about life on the road!
First off, how was the overseas tour?
Shane: They were all really good. We had a lot of fun! We smashed out something like 45 dates in two months with a week off in between.
Simon: It was good, the whole thing was so much fun! Dune Rats were one of the first bands we ever toured with, so it's cool to be able to do that with them and get back into the swing of doing a massive tour.
Being on a tour that big must get tiring?
Shane: Yeah, I guess it feels more like a thing where you can see the end of the road all the time. Every night is like an adventure and you just mark each night off as it comes, then when there's like a week left it just feels like a sprint to the finish. This tour was pretty alright though, we had a tour bus so we had heaps of time to sleep and rest so I guess that also meant that we could party more. But this is our last show for a while so it will be good to not have to worry about doing anything for a little bit!
It's funny when you get on those big, long tours though because you get into a rhythm, more so than you do doing just a one off show and going in totally fresh. You get so used to doing the show you know it back to front, you don't need a set list anymore.
How was it sharing a tour bus with Dune Rats?
Shane: It was really fun actually. We've been friends with them for so many years and we hang out with them all the time, it wasn't really any different this time.
Simon: Just a lot closer proximity living in a bus with them…
Were you in the tour bus the whole time?
Simon: Yeah, all through America and Canada. We all slept in bunks next to each other.
Shane: It was pretty close quarters, there was no showers either…
Simon: There was some pretty dire nights. I don't even know if you can get busses with showers, you'd probably have to get more of an RV type thing. Even then it definitely wouldn't accommodate nine guys needing to shower!
Any stories from the tour that particularly stand out?
Simon: I'm trying to think of ones that we can actually talk about on interview. It's funny because when you hire a bus you hire a driver as well, usually we're in vans and we have all the responsibility so if something happens it's on you. When you're not driving or have any hands on control, if something happens it's so much more chill and you just kind of go "oh well, that's f*cked up".
It was our driver's first bus tour as well, he was really nice and a really awesome dude but he was a little under-experienced. One time he got the bus stuck on Sunset Boulevard, and I felt so bad for him but at the same time it as hilarious!
Shane: As soon as we got out and looked at it we just knew it was f*cked and it wasn't leaving, so all we could do was sit on the side of the road and watch what happened.
Oh no! Did you eventually get it going again?
Simon: Yeah, he got it out. It took a couple tow trucks but it happened eventually.
How was it coming home and going straight into your own headline tour?
Simon: It was really nice, actually. Like Shane was saying earlier, you just get into a rhythm of playing every night and then in Australia it's quite disorientating and feels really weird. Because we'll mainly just do weekends or a couple shows in a row, and then you've got five or so days off. So when you go back to play the next show it doesn't really feel like you've played for a while, so it's really weird in that sense.
Shane: But then here the shows we played were a lot bigger, so it was a lot more pressure in one moment rather than doing smaller shows in the 'States where it's just a little bit of pressure every night. Overseas we would be so blasé about doing a show, like no matter how many people turn up it's just so much fun. Then coming home and playing some of the biggest shows we've played, we won't really drink before the show and it's just in your mind how many people are going to turn up, it can be pretty full on in that sense. There's a little more anxiety when we play back home!
Simon: The shows were a lot of fun though!
Shane: I always really love playing big stages too, there's so much room to run around and just really get into it.
How do you find it on your personal lives being on tour for such a big part of the year?
Simon: Yeah, it can be hard. But I guess you've got to make some sacrifices. We have such a great support network with our friends and girlfriends, and we try to level it maybe three weeks on one week off so we can actually have a couple days of down time.
Shane: If we're going to do a run of shows like we just did, we always try to come home for at least a week because once you start doing two months on the road it's just a little too long. I think on tours a lot happens, but at the same time there's nothing really to talk about because it's the same thing every day. So on phone calls with people back home, there's not a whole lot to say. But once we go home it's really nice to be able to just talk sh*t for hours.
You guys have released two songs [in 2016], what's next?
Simon: Yeah, we've been real busy (laughs). F*ck, what did The Beatles do… two albums a year sometimes? Hopefully we'll do an album next.
Shane: We're going to record in March, we've just been working on this album any chance we get too. Any time we get off we've been trying to write songs for it, and now we're getting to the point where we're really close with the amount of songs we want on it and we're trying to hone in on each track and make them really stand out.
But yeah, it's getting close. Maybe the songs we've released this year will be on that record, it might be a bit weird because they were released so early before the album… but I don't think people will care too much. If people are going to get the album they just want to hear the stuff they like, so we'll just see how it all pans out.
Is it hard working on new music when you live in different states?
Simon: It's actually kind of easy I think. When we used to live together we'd write a lot, but it's kind of nice to be able to take it at your own pace, and I also guess that's how you end up putting out six minutes of material a year…
Shane: We just email each other a whole bunch of ideas, then we'll meet up and run over the things we've sent online to make sure it works in a live setting. A lot of times you'll write stuff on your laptop and it can be a bit stale, but when you get together and it's just the two of us in a room… that's where the song will really develop!
Do you think you'll tour at all next year or are you going to have a bit of a break?
Simon: Yeah definitely, that's how we make our money!
Shane: Basically it's just work for us, but really fun work. We get to drink on the job and you get a round of applause for doing a good job.
Simon: Unless it's a sh*t show…
Shane: Yeah! I never got a round of applause at my old office job, this one's way better, we're having fun!
Check out our 2016 Beyond The Valley gallery HERE