COMPETITION TIME: Win One Of 3x Double Passes To The Blurst of Times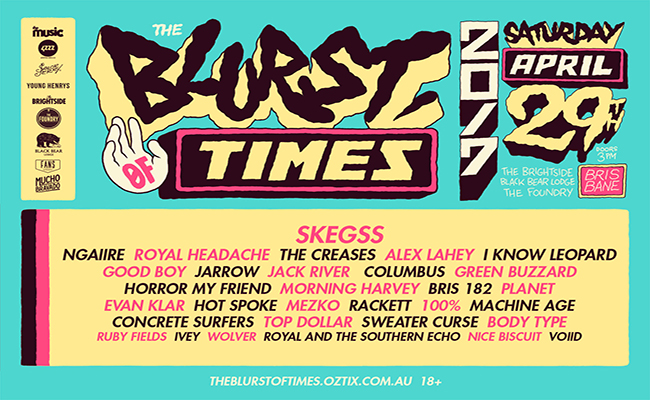 Get excited, folks! The Blurst of Times is less than two weeks away! To get you even more hyped for the festival, we have curated a playlist to keep you moving right up until the day.
It's no secret that The Blurst of Times is a truly euphoric experience. Taking place in the heart of Queensland's Fortitude Valley, the festival is already in its third year. With past headliners including the likes of Violent Soho, Dune Rats and DZ Deathrays–it's the ultimate dingy music discovery utopia.
AAA Backstage has 3x double passes to give away for the event. Just tell us in 25 words or less why you think you should attend and you'll go into the draw! Email your entry to accred@aaabackstage.com with the subject line, "Blurst of Times Comp".
Entries close 6pm Friday 21st April. Winners will be announced on Monday 24th April–so get typing!
SATURDAY APRIL 29
THE BRIGHTSIDE | THE FOUNDRY | BLACK BEAR LODGE
FORTITUDE VALLEY
TICKETS VIA OZTIX
 
FEATURING
 
Skegss
Ngaiire   Royal Headache  The Creases   Alex Lahey   I Know Leopard  
Good Boy  Jarrow  Jack River  Columbus  Green Buzzard
Horror My Friend  Morning Harvey  Bris 182   Planet
  Evan Klar  Hot Spoke  MEZKO  RACKETT  100%  Machine Age
Concrete Surfers  Top Dollar  Sweater Curse  Body Type
Ruby Fields  IVEY  Wolver  Royal & The Southern Echo  Nice Biscuit  VOIID
+ 'Summer of Rosé' bar
+ Brisvegas shotgun weddings 5pm – 8pm | Brightside Beer Garden
FREE AFTER PARTIES | COME FOR THE FEST, STAY FOR THE REST
The Brightside | Skegss DJ Set
Black Bear Lodge | DJs till late
The Foundry | Bris 182 LIVE