Dune Rats Ask Who The F*ck Is "Scott Green"?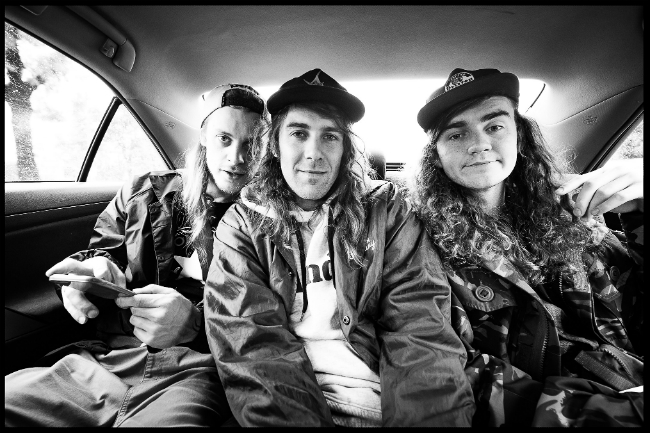 Everyone's favourite stoner rockers Dune Rats are back again with another drug-drenched party rock anthem Scott Green, and honestly its music video should be even wilder than the one for Bullshit.
Currently touring North America with fellow Brisbanites DZ Deathrays, Scott Green is the latest… hit from their upcoming sophomore album, set for release early next year.
In the week leading up to the single's release Dunies have been posting possible sightings of Scott Green on their Facebook page, including suggesting Bigfoot is Scott Green and Scott Green appearing horror-movie style in an elevator to deliver a bong.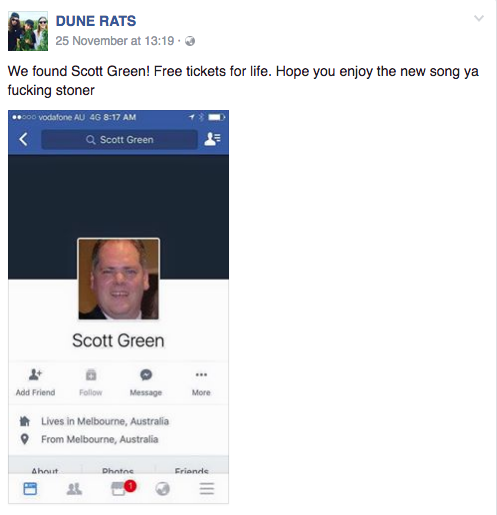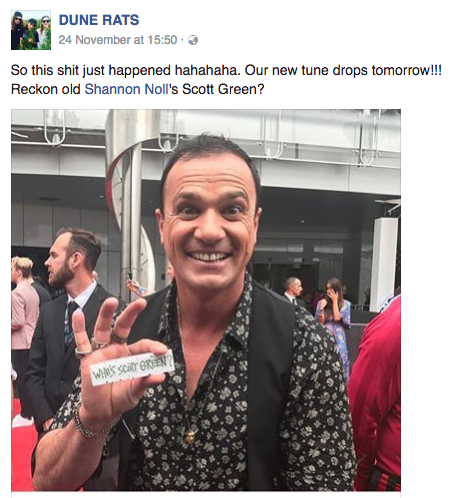 The fresh single sees the trio of loveable larrikins deliver their signature pub-rock laced with yelly vocals from frontman Danny Beusa's and hyperactive bassist Brett Jansch, while continuously asking "Who's Scott Green?".
However, it seems Scott Green is both a person, "He owes me twenty and I can't call the police/He blew it all away, now there's nothing left for me", and a substance, "Cocaine or ecstasy/Cigarettes or LSD/It really doesn't matter just gimme gimme gimme". Honestly, we're pretty sure the entity of Scott Green came about when one of the Dunies started asking, "any o' youse got greeeeen?".
Musically it's not one of Dunies' best tracks, especially directly following on from Bullshit, but it's still hella catchy and will be pretty darn fun live!
Produced by Zac Carper from FIDLAR, Scott Green was written during five days the trio had off between US and UK tours, where they basically "busted out a fuck load of tunes having a blast in the middle of bum f*ck nowhere".
"One day we went to ask people at Walmart if they [Scott Green?]…and it took all day. When we got back, Zac said "you better have a f*cking song after wasting a day looking…so we just started making a song about the day, "Who's Scott Green?", and that was it," said Dune Rats.
As Dune Rats' second album is still a few months out you might as well grab ya buddies, or just a bud, and rock the f*ck out to Dunies' latest anthem below!
Dune Rats Festival Dates
SAT 3 DEC
Wonderland Festival, Perth
SAT 10 DEC
Festival Of The Sun, NSW
SAT 31 DEC
Beyond The Valley, VIC
18 FEB
SAT Mountain Sounds, NSW
More Info HERE