EP Review: Sunhaus' Debut EP 'About Yesterday'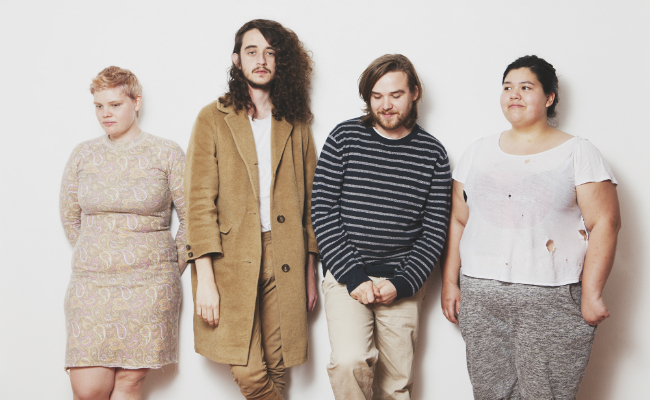 After a huge year since their debut live show Brisbane quartet Sunhaus have released their debut EP, and it's pretty darn good!
Influenced by The National, Frightened Rabbit, and Death Cab for Cutie, 'About Yesterday' follows in the musical footsteps of fellow alt-rock Brisbane group Ball Park Music, while delivering the band's own take on melancholic life experiences veiled by catchy pop melodies.
The EP begins as a lost-love lullaby by frontman Aiden Geraghty in Games as he's slowly supported by dreamy harmonies. In typical Sunhaus fashion, the rhythm section joins to create a tasty upbeat soundscape anchored by Geraghty's powerful voice that just seems to soar higher and higher as the song continues.
The second track brings the joyfully heartbreaking melodies and driving percussion of Bobby, in which Geraghty's voice intimately guides you through the journey of losing someone close.
Home slowly lifts the melancholic spell Sunhaus so skilfully cast with a summertime gem. The instrumentation is closer to a Sticky Fingers slow-burner, while Dave Skitmore's (bass) shouty vocals are surprisingly reminiscent of Foals' debut album. There's nothing but sunny vibes in this track, spearheaded by keyboardist Madeleine Kinraid's warm vocals juxtaposing lyrics about feeling lost.
'About Yesterday' is an enchanting blend of alt-rock soundscapes, beautifully layered vocal harmonies, and honest lyricism.
"'Home is an exploration of how it feels to be out of place in your own home. For me it's about a kid dealing with abuse. But this song is for anyone who finds themselves not knowing how to deal with something and end up laughing at the ridiculous misery they're in. Like the song says, it's a bit masochistic," says Kinraid.
Following on is Sunhaus' super charming debut single Realignment, first released back in March 2016. Lyrically, the song explores life through rose coloured glasses and unrequited love, driven along by harmonies and a warm alt-rock soundscape.
'About Yesterday' is rounded out by the graceful slowburner Come Around. The opening harmonies of Geraghty and Kinraid blossom into a warm upbeat refrain, while the track also highlights the rockier side of Sunhaus with the surprisingly chaotic outro topped with roaring overdriven guitar and passionate harmonising vocals.
"Come Around is written in three parts, so think of it like a caterpillar's complete metamorphosis: focusing on the painful transition of growing into something completely different than you were.
"The reprise of the line from 'Bobby' where we yell, "It's a long way to wherever you're going to/It's a long way to get to where you're surely due", I think of that part as the cathartic shedding of those feelings," says Geraghty.
Overall, Sunhaus' debut EP 'About Yesterday' is an enchanting blend of alt-rock soundscapes, beautifully layered vocal harmonies, and honest lyricism.
Sunhaus are about to hit the road in support of the EP, so check out the EP stream and tour dates below!