Get Keen, Yonder Release Huge 2017 Lineup!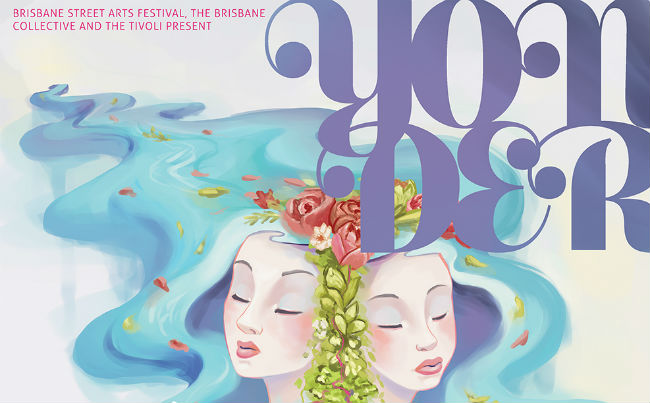 This year's Brisbane Street Arts Festival is looking even tastier with the announcement of Yonder's 2017 lineup. The Tivoli in Fortitude Valley will host a night of audio and visual art forms featuring live music from Twin Haus, Dubarray, The Con & The Liar, Jouk Mistrow, a performance by Theatre of Thunder, along with exhibitions by 50 visual artists.
Debuting in October last year, the pop-up event is curated by The Brisbane Collective and the Brisbane Street Arts Festival to give emerging Brisbane artists a platform. The organisers behind Jungle Love Festival/Concrete Jungle are also involved in the event, so you know it'll be an experience like no other riddled with illusion between the realms of sight and sound.
Yonder is described as "a place that many know, a place few have seen. A place that many wish to discover and explore, where magic and mayhem coalesce to create a wonder that many say only exists in dreams. Some say it is a place that lives somewhere between this world and the next, a limbo not of lost souls but of found dreams.
"This place is where you come to find the one, or many as you step into an alternate yonder of sensory symphonies that render your fleshy being useless as your soul meets its true destiny."
Are you intrigued yet? We certainly are. Find ticket information, the full lineup, and the trailer for Yonder below!
Yonder 2017 Lineup:
Average Art Club
Background Noise
The Con & The Liar
Dubarray
Diz Brown
Georgia Craig
The Gutter Birds
hazards of swimming naked
Jouk Mistrow
Kingspray – Graffiti Simulator
The Keepaways
Leanne Tennant Music
Mark Richardson
Mesmerism Inc
Monster Zoku Onsomb
OJ Mengel
OKBadlands
Papperbok
PocketLove
Seamus Kirkpatrick
Simi Lacroix
Theatre of Thunder
Twin Haus
Ümbra
Wolver
ZENA
085c3n3
Yonder 2017 (Part of Brisbane Street Arts Festival)
SAT 18 FEB
The Tivoli, Brisbane
Get Tickets HERE
Facebook Event HERE