Heaps Good Friends Lace Up For A Dance With Sophomore "Olympic Sneakers"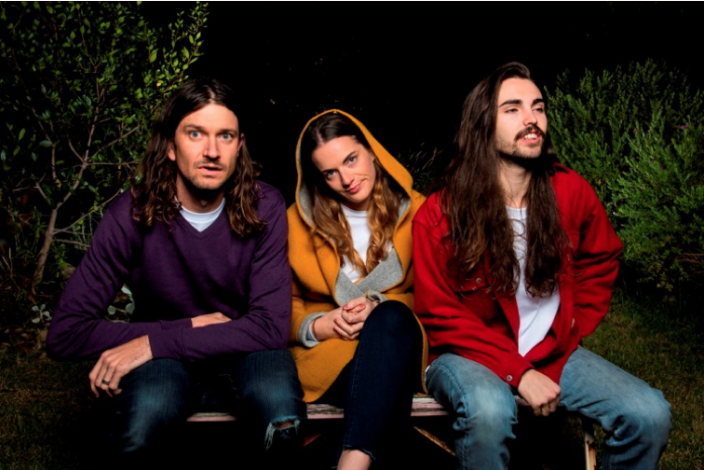 If all this East Coast wet weather has got you in the mood for a small-scale lounge room dance party in your trackie-dacks, then you have come to the right place! Adelaide indie-pop trio Heaps Good Friends have dropped their sophomore single, Olympic Sneakers, and it pretty much has "Warning: Foot Tapping Imminent" stamped on the box.
The opening of this latest track showcases front woman Emma Fradd's vocals with some synthesiser-heavy backing track. It really sets the tempo early, and after a blistering verse, you're thrown into a half time chorus with some of the best hand-claps in the biz! Reinforcing everything throughout the verse and chorus is a popping bass line that gives this little jammer its funk and rhythm.
Through the bridge we get a sweet layering of Fradd's voice with those hand claps from the gods. It morphs into a dancey, anthemic refrain of the lyrics "Run, run, run/Like you wear Olympic sneakers", before one more final crack at the chorus to round it all out!
Olympic Sneakers is the follow up to the band's debut Let's Hug Longer, a track which landed them a spot on this year's Groovin' the Moo, lit up the lines on a number of radio stations, and most importantly, "increased hug durations nationwide".
If this latest banger has you in the mood for a little live action form Heaps Good Friends, then you're all set! They have an upcoming show in their home town, and they've just landed another sweet gig: touring nationally with The Jungle Giants!
Check out the track, and the tour dates, below!
Heaps Good Friends Live Dates
Headline:
FRI 28 JULY
Scouted, Adelaide
With The Jungle Giants:
FRI 18 AUG
The Triffid, Brisbane
SAT 19 AUG
Great Northern Hotel, Byron Bay
FRI 25 AUG
Enmore Theatre, Sydney
SAT 16 AUG
Croxton Hotel, Melbourne
SAT 16 AUG
Croxton Hotel, Melbourne
FRI 1 SEPT
The Gov, Adelaide
SAT 2 SEPT
The Capitol, Perth
FRI 8 SEPT
Republic Bar, Hobart
SAT 9 SEPT
The Beery, Central Coast