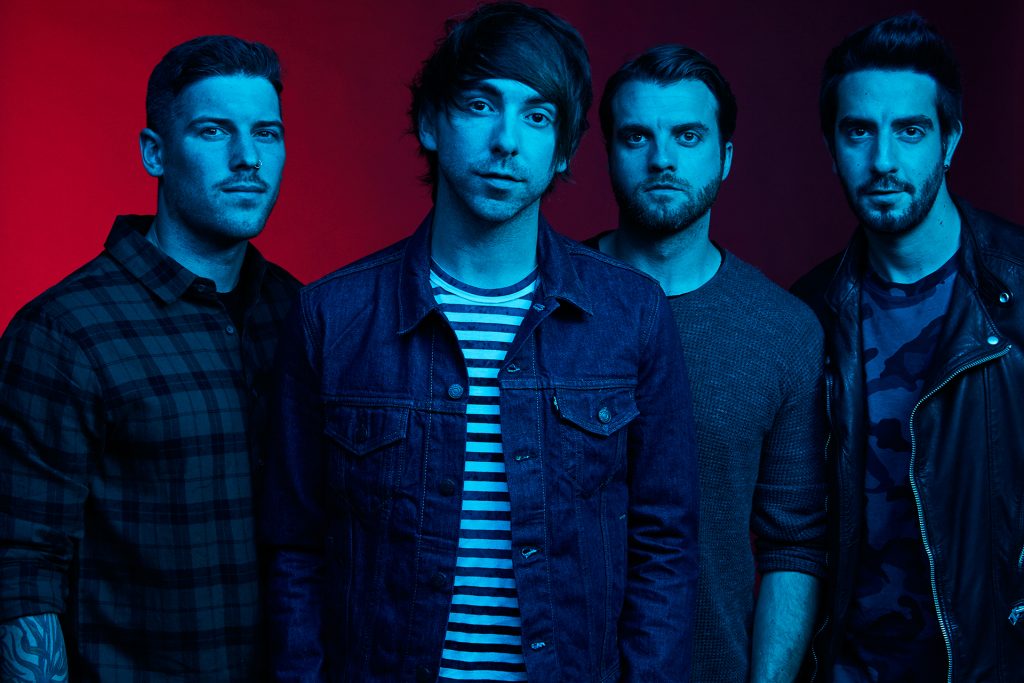 It's no secret that All Time Low are kings in the rock scene. Having mentored the likes of 5 Seconds of Summer while also pumping out chart topping tunes like Dirty Laundry, A Love Like War and everyone's favourite 2008 pop-punk track in Dear Maria (Count Me In), there is no slowing the freight train that is All Time Low. As their appearance at the inaugural Good Things Festival draws nearer, we had a chat with lead singer Alex Gaskarth about the fun of doing laundry, getting heatstroke in Australia's summer and what's next for the band.
It's been a pretty hectic year! You've just finished off the second leg of your Summer Ever After tour and have been nonstop running into it. I guess the best question to ask off the bat is, how's it all been?
Things are good! As you said we've been on the road a ton and probably around the world two times over at this point. It's been a blast honestly, we've gotten to go back to places we haven't been for a really long time and we're about to come back to your neck of the woods which is really exciting. We've always had a really good time in Australia and I'm really looking forward to getting back! I was actually just talking about the fact that we really kind of started the record cycle for 'Last Young Renegade' in Australia and now it feels like we're closing it out and I can't think of a better way to send it off, there's going to be some great shows!
I'm interested to know, you finish off a big tour and in less than a month you're heading out overseas on tour again, how do you like to spend your down time?
To be honest, it's really just about seeing friends, seeing family, getting time in with the people I want to be around and just doing all the things that you don't really get to do on the road! And those things can be totally mundane but I love getting home and being able to cook my own food. That sounds so ridiculous but when you're on tour you're buying food or eating catering, so little things like that. Doing your own laundry is pretty great, like not shrinking my jacket is a good vibe.
I've been getting back in the studio which has been exciting. I have a little studio setup out here in California and I've been trying to shut myself away a bit and be creative and start to think about what's next for All Time Low. So tapping into that side of my creative brain is good in my off time.
Well without giving too much away, we have seen a development sonically through the discography of All Time Low, are there any new influences creeping into the sound at all?
Oh man, it's kind of early to even think about it. In terms of us winding down 'Last Young Renegade', it's been about two years since its been out so we're kind of just putting it to bed. So as far as what's next, I have no idea what the influences could be, what they're going to end up being. It's very open ended right now which is both exciting and scary. I think there's a lot of new roads we can go down and it's going to be cool to explore those avenues and feel out what's best for the next All Time Low music, but at the same time, there's so many options. I think it's going to be an interesting adventure to hone in on whatever that next thing may be!
And before we get on to the big Aussie festival coming up, you guys played the last instalment of Warped Tour this year and have been regulars. A lot of bands have spoken on it and festivals ability to help bands and the scene in general develop. Are you of the notion that festivals can leave a lasting impact on the music scene?
Absolutely! I mean, Warped Tour was a massive tour for us as far as establishing us a band and getting us on our feet and teaching us, basically how to tour and be self-sufficient and showing us how to earn fans and win fans over. On our first Warped Tour, no one really knew who we were so it was up to us to convince people to get out there and watch us play. And we did our best to do that and over the years we saw our following grow and the tour was awesome enough to have us back a few years in a row and that allowed things to build and build.
I think for the music scene in general, it's got everything from emo to hardcore to screamo to punk rock to hip-hop and reggae, it spanned a lot of genres and I think because of that, it brought out really eclectic, amazing crowds. It was just people who love music, not one type of music, just all kinds of music and because of that, so many bands had a very successful start and a great culture to come up in. So yeah, Warped Tour was pretty seminal in bands developing and becoming who they are today.
Well the whole reason you are venturing to Australian waters is for the inaugural Good Things Festival. Have you had much of a chance to suss the lineup? What were the first impressions?
I'm stoked! The lineup is really good, I mean I grew up listening to The Offspring and they were one of the bands that kind of got me into the genre of music that we started in. And it's really exciting to see all these rock bands coming together. I think rock music is still going really strong and at an exciting time in the industry and there's a lot of really good acts coming out to do this thing. I know Stone Sour put on a sick show, we've got a bunch of friends on the line-up that's going to be really cool! It'll be nice to close out our year with Tonight Alive and Waterparks and Mayday Parade, I think it's great, everyone there is going to be on a killer show.
All Time Low are no strangers to the odd festival so what is Alex Gaskarth's Top 3 Must Haves at a festival in order to reach maximum partying levels?
You've got to stay hydrated! As boring as that sounds, you've got to stay hydrated. I did not drink enough water one year in Australia and I had a bad time with heat stroke so gotta be on that! I'd say one essential is to go see a band that you've never seen play before. I've discovered some of my favourite artists that way, wandering around a festival, just walking up to a stage and being like, "oh I wonder who this is." I did that with a band called The Matches and they went on to be one of my favourite bands. And then just make friends, festivals bring so many people together, get out there and be cool to other people, it's a free and open environment for people to have a blast in so just have fun! If everybody is out there with the same idea, then people are going to have a great time.
And it seems Australia is a pretty popular stop off for the band, venturing into some relatively uncharted territory with a sideshow on the Gold Coast. Are there any new places in Oz that you're keen to check out?
I will say, for as many times as we've been to Australia, we've really only visited the major cities for the most part. We're usually there to play shows so we don't necessarily get out there to some other places as much as we'd probably like to. That being said, the show on the Gold Coast, it'll be the first time we're playing there so I'm really looking forward to that, I hear it's a beautiful area, one of the radest places there is. It's a pretty intimate venue too so I think that show will be pretty bonkers, looking forward to it!
And just rounding out, a few would you rather questions, Good Things edition! So: Would you rather, guest spot on Pretty Fly For a White Guy during the Offspring's headliner OR have Corey Taylor guest spot on Dear Maria (Count Me In)?
Oh man! Probably Corey Taylor guest spot, I feel that would be pretty epic!
If you had to join one band, would you rather it be Babymetal or Dropkick Murphys?
This is a tough one for me. Cause I've heard recently, I think one of the members of Babymetal left so I know that there's an opening there and I also know that I look pretty decent in a dress, so I think I would really well in Babymetal! But, at the same time, Dropkick Murphys put on a pretty epic show and they have a song in The Departed, which is one of my favourite movies so I think I'm going to have to go with Dropkick Murphys.
Sophie's Choice: If you had to choose one song on your current set list to remove completely, what would it be and why?
Oh man, this is so hard for me! Actually, you know what, I do know! We pretty much always play Lost In Stereo, and for whatever reason, I mean it's one of our best songs live and it's one of the ones that goes off the best and I have a blast playing it. But, for me it's a very easy song to play and sing so by the second chorus, I get really bored playing it and I'm usually thinking about other things. Like sometimes I'll just forget what I'm doing cause I'm just staring at people in the crowd and watching how much fun they're having, so maybe that because I'm not challenging myself! I need to put a harder song in its place so I'm focussing back up (laughs).
Good Things Festival
FRI 7 DEC
Melbourne Showgrounds, Melbourne
SAT 8 DEC
Parramatta Park, Sydney
SUN 9 DEC
Brisbane Showgrounds, Brisbane
TICKETS