Q & A: The Bennies & Bad//Dreems Interview Each Other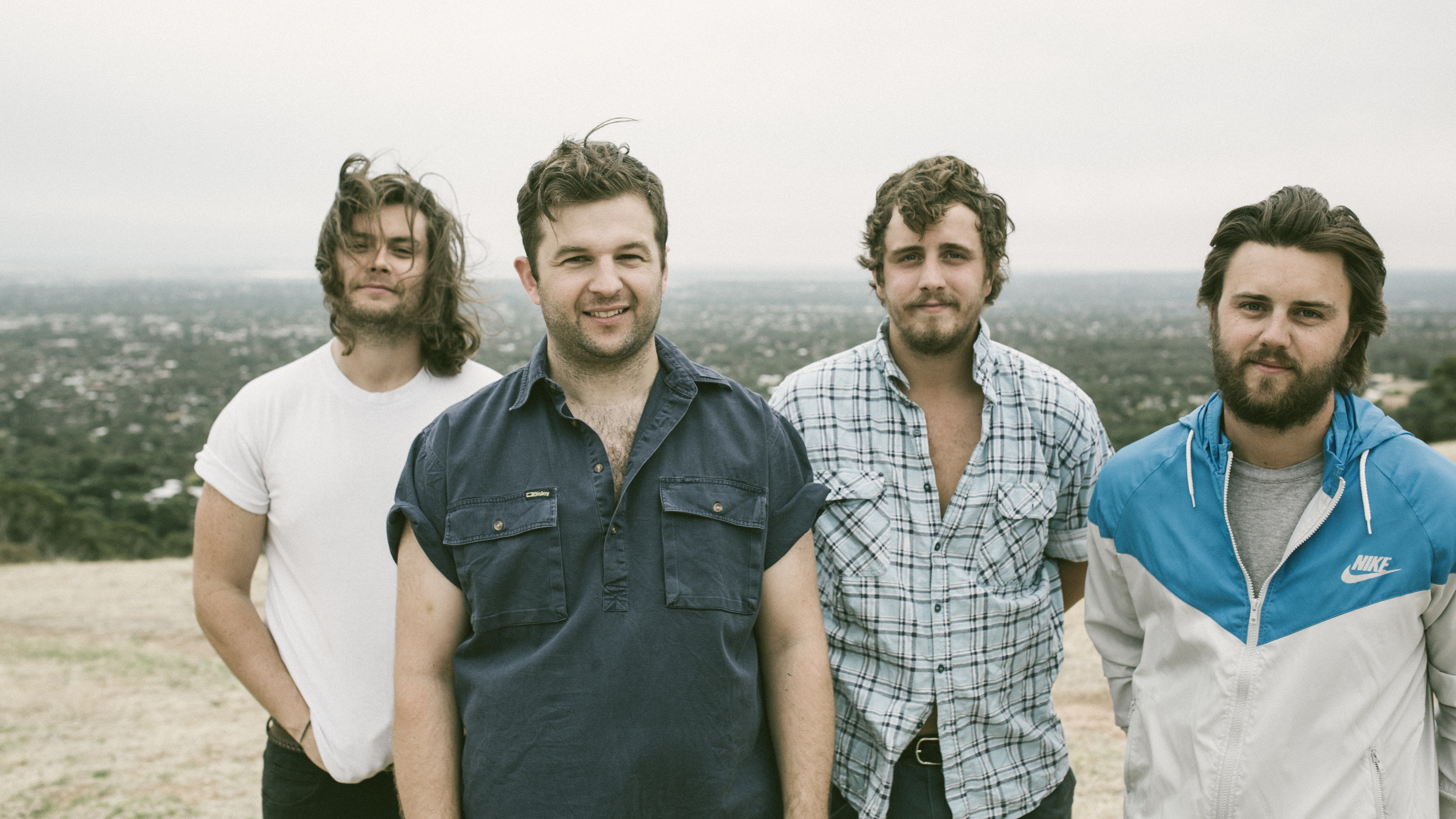 What happens when we put two of the country's finest punk acts—Bad//Dreems and The Bennies—together in the same email thread? They chat about beer, the police and Tasmania's latest and greatest music festival, Til The Wheels Fall Off.
Bad//Dreems: Last time we crossed paths was also in Tas at Party in the Paddock. Jules was basically playing from a hospital bed—has he made a full recovery? And what are you looking forward to most about Til the Wheels Fall Off?
The Bennies: Hahah, dude that PITP was so much fun! Yeah Jules made a full recovery from a nasty hernia operation, can't believe he played that whole set on a chair hahah. Tassie has always been so supportive of our band so I am most looking forward to getting back in front of such awesome people and rocking out! Also, I cannot even describe the love I feel for Luca Brasi and their whole friendship circle, so I'm also super pumped to get down to Til The Wheels Fall Off and start hugging/high fiving everyone.
TB: What is your favourite thing about playing shows in Tassie?
BD: Tasmania is such a beautiful place and it is always an absolute pleasure to be able to play there. Like any place that is a bit off the standard touring map, the crowds are really appreciative and receptive. There are plenty of people who are keen to come up, introduce themselves and have a chat, which is one of my favourite parts of playing in a band. The Luca Brasi lads are cult figures down there, so playing at their festival feels a bit like being hosted by the local royal family.
BD: If you had to form the ultimate Party Machine crew consisting of Taswegians, alive or dead, what would the line up be?
TB: Tassie has a massive selection of party crew to choose from! But I think my top picks would be Boonie for his obvious drinking abilities, Princess Mary cause I think she seems really down to earth and would be a total party machine after a few daiquiris I reckon, and I'd get a couple of dudes from Psycroptic so we could talk shop about metal and then maybe a Tassie Tiger because it would be so rad to see one.
TB: As an active (and awesome!) part of the current Aussie festival circuit, where do you see its future heading?
BD: At the moment, it seems that festivals are a pretty popular way for people to enjoy music. I guess anything that's encouraging people to get out to see live music is a positive. But a festival should be more than a shopping list of band du jour where people slam pingers. Diverse line ups should be curated rather than just compiled. The setting should add something to the music being made. A sense of community should be fostered. Festivals that can do this will be the ones that survive.
TB: Do you feel the Australian music industry is doing enough to promote gender diversity throughout touring and festival lineups?
BD: Probably not, but leaving anything up to the "industry" usually leaves one disappointed. The change has to come from artists first and industry will follow suit. An ongoing dialogue about an issue as complex as gender diversity is extremely important, and its vital that this dialogue is nuanced, respectful and constructive.
BD: You've released your records through, what is in my opinion, one of the best independent labels in Australia [Poison City Records]. What have they been like to work with?
TB: Well Poison City Records have been absolutely unreal to work with. Super supportive, super hard working and they have been a huge source of guidance for helping us navigate the world of music, especially Andy. We feel very blessed to have been able to release music on such an iconic label and owe a lot of what we have been able to achieve to PCR and their whole team.
BD: You guys make amazing clips. Where did you get your hands on the police uniforms for the Corruption film clip? The Delorean for Detroit Rock Ciggies? And how much acid was consumed to make Burnout City?
TB: We are very lucky to know an amazing and talented dude by the name of Neal Walters who is responsible for directing all our recent film clips. He is a legend with a wicked sense of humour and an amazing ability to take any crazy ideas and make them reality. So it was actually Neal and his awesome crew that found the uniforms and the Delorean. During the filming of Corruption an actual policewoman drove past our set while we were beating up a guy in a balaclava dressed as fake cops—and all she did was smile and wave! Hahahah. Got away with that one somehow.
And in terms of how much acid was taken hahaha well, let's just say we were firm, but fair.
TB: Boags or Cascade?
BD: Both are fine drops. But Boags for me. I love that peaceful waterfall on the label.
Til The Wheels Fall Off
THURS 12 – SAT 14 OCT
Launceston Workers Club, Tasmania
TICKETS