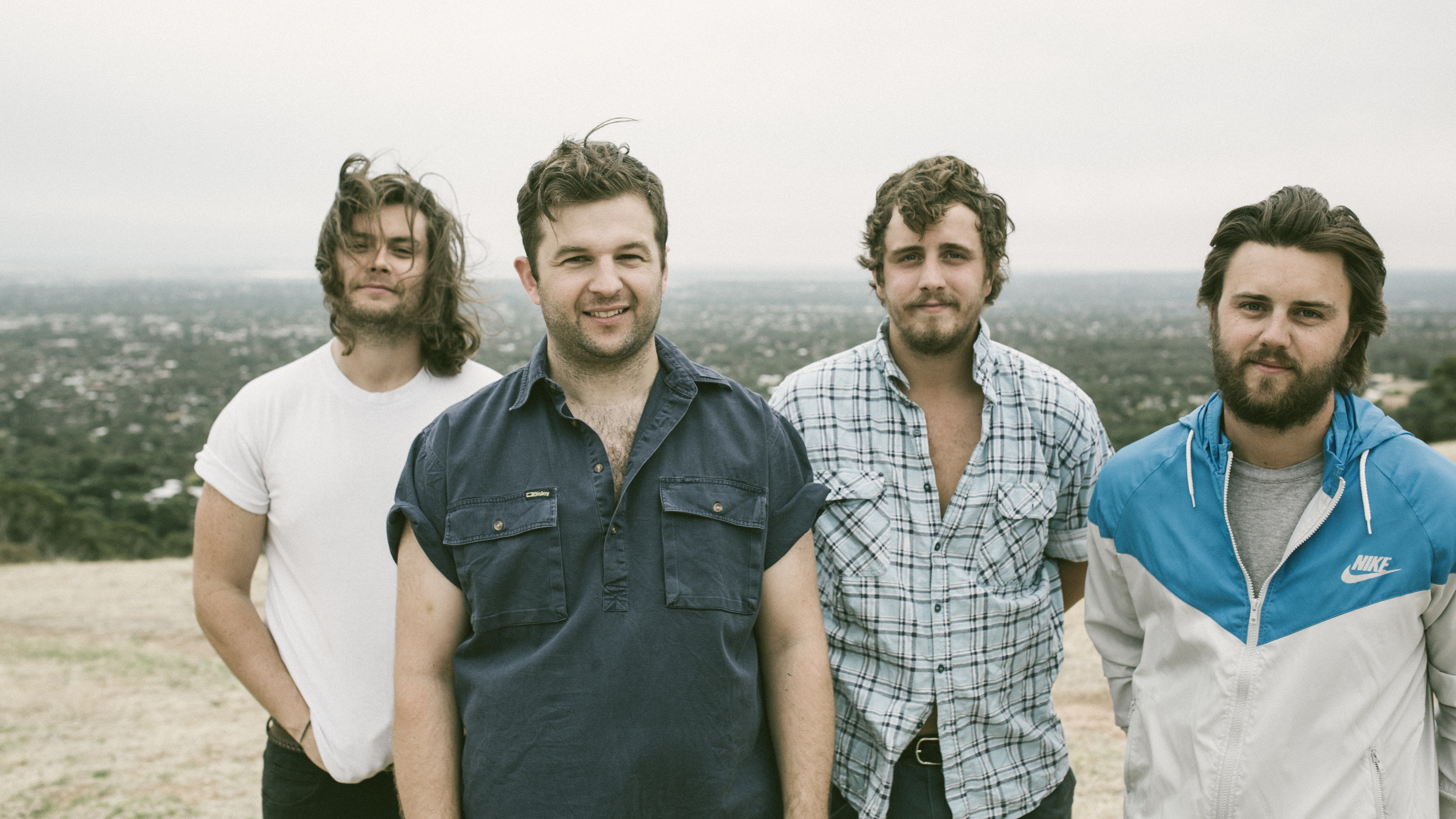 After smashing into 2017 with a new album and a string of shows, Bad//Dreems have been laying low over the past few months, already spending their time working on music for a new album. At Yours & Owls Festival we had a chat to Ben Marwe and Alex Cameron of the band about their life outside of the band, how they scored a Midnight Oil tour support slot and what to expect from the four-piece over the next year.
You put out an album earlier in the year and did a whole lot of shows with that. What's been happening over the past few months?
Ben: Pretty much just time off and working, we all work and have other jobs.
Alex: And writing for the next album. We've got a few things coming up, we're playing with Midnight Oil and have a few festivals so we've been keeping pretty quiet. But we've just started recording a fair few songs for the next album because we haven't had much to do, but it's been nice to have a bit of down time. Our mate Ali, he's got a studio set up at his house down at Grange right on the beach so we've been spending some time there.
Do you all have other jobs aside from the band?
Ben: Yeah, two fifths of the band live in Melbourne now too and the rest of us are still in Adelaide with our regular jobs.
Is it ever hard trying to work on things for the band when you have other job commitments?
Alex: Yeah it can be, but we're pretty used to it by now; we've been doing it for four or five years.
Ben: Ali does hospitality, I'm a landscaper and Alex is a doctor, so he's job is more 9-5 than anyone else's.
What kind of doctor are you?
Alex: Plastic surgery, well reconstructive surgery in a hospital so it's generally working on things like people's hands or faces. It's a pretty good job; strange combination.
Yeah that's what I was going to say.
Alex: There's a few of them around. Deniz Tek from Radio Birdman, he doesn't really talk about it but he's an emergency physician. Actually, the keyboardist from Radio Birdman was doing medicine as well. But Deniz is a really interesting guy, he's been a doctor in the US Airforce. One of the doctors in Topgun, it was either Goose or Maverick, was supposedly based on him.
So tell me about the new music you've been working on.
Alex: I think because we've been in the band for two albums now, our approach to music has always been to consciously take reference points from what we want to construct. But now, it's like it's so engrained in our blood and muscle memory, that we don't have to think about that any more, which is quite refreshing. So the new music is just going to be really sun-conscious I think, which is really exciting. It's almost like if you were a dancer; if you were training to be a dancer, you learn the moves, and then once you get to a certain level, then you just feel the music and it really flows, and I think we're about to be on that level.
Ben: There's already a few songs that we've demoed. We've got about 150 songs in loose form, including little voice recordings and things like that. We've recorded four or five demos now, and like Alex said, it's starting to come to us a lot easier and because we've playing together for so long, it's getting easier to read what someone else in the band is going to do when we're playing.
Alex: We've done some great shows and had some really fun tours, but the more you do everything, I've personally realised that the part I love the most is the creation of the song. And that takes on a number of levels; from coming up with an idea in your bedroom, writing and playing it with the band. We're lucky enough now to have people, that if we put out a song, will be listening to it straight away, which is so exciting. So that's the part that really drives me and it's really great to have some time to focus on all of that.
How has that been working so far with a couple band members living in Melbourne?
Ben: It's so easy, we've just been sending everything online.
Alex: We each have our own little set ups at home where we can record ideas and send them across. Then when we're together we can jam and everyone work pieces out. We've never really had a set way of doing songs, sometimes when your circumstances change it forces you to do things a different way, which keeps things exciting.
You already mentioned it earlier, but you're supporting Midnight Oil at their Adelaide show, how did that come about?
Ben: It was through an affiliation of ours; our name was put into a bundle of bands that could support them, and apparently they chose us.
Alex: They've chosen really cool bands from all around the country, and it really fits with what Midnight Oil is all about. They haven't just put it on booking agents to find their supports, they've got bands like A.B. Original, Spiderbait, but all of the bands they've chosen are such great Australian acts. We're all so excited about doing it. All I want is to see that shining cranium in real life, bobbing across the stage; what an iconic person and band.
You've got a bunch of festivals coming up over the next few months too. How do they differ from playing your own shows?
Ben: I really like playing festivals, you don't have to worry about anything.
Alex: Yeah they're a lot less stressful, you just rock up and everything's already done, so all you have to do is play the set. There's actually a lot of stuff to be organised for your own shows, and we're not a huge operation, so everything's on your shoulders, which can be a bit of a stress.
Ben: It's good to see festivals blossoming too. We played here two years ago and then coming back now it's completely changed. Coming back, I had the same picture in my head as last time, and was blown away by the size of it.
Alex: Another awesome thing about festivals is that you get to see all your friends and other bands and all the production teams. Doing your own tour can sometimes almost be a bit isolating, but with these it's like a huge party.
Ben: And I really like the free chicken curry, they're cooking curry over there. I'll have some after our set, I can't eat before a show
You can't eat before a show?
Ben: No I get really nervous, that's why I need some whiskey or something before I play
Do you all get nervous or is it just you?
Alex: I think everyone gets nervous in their own way, it's quite interesting. Everyone's on edge, but it's all in a different way.
Ben: It's really just a fear of fucking up.
Alex: The rest of us just have to stand there and play, but Ben's like the star player who has to kick goals for us to win. But I find it more enjoyable than anything.
Ben: As soon as you get up there though it's fine, you just feed off the energy of the experience
Alex: That's the cool thing about a gig, I don't think it would be as fun if you didn't have that nervous build up, because then you get the catharsis of the show. It's like a spring; it's coiled tightly then it releases.
Have you got anything planned for next year yet?
Ben: It hasn't really been decided yet; we might have some more festivals.
Alex: We've got a few things locked in, but the idea at this stage is to record more music and have a release by mid-next year.
As in a single release or album?
Alex: Just whatever really. We'll just try and do as much as we can over the next 12 or so months, but we just really want to have something released by middle to late next year. It just takes that long to get things right and to record it to a standard that we're happy with.
Bad//Dreems and the Bennies recently interviewed each other exclusively for AAA Backstage. Read that HERE.
Bad//Dreems Live Dates
FRI 13 OCT
Till The Wheels Fall Off, Tasmania
THURS 26 OCT
Adelaide Oval, Adelaide w/ Midnight Oil
SAT 25 NOV
Spilt Milk, Canberra
THURS 7 DEC
Festival of the Sun, Port Macquarie