Interview: Betty & Oswald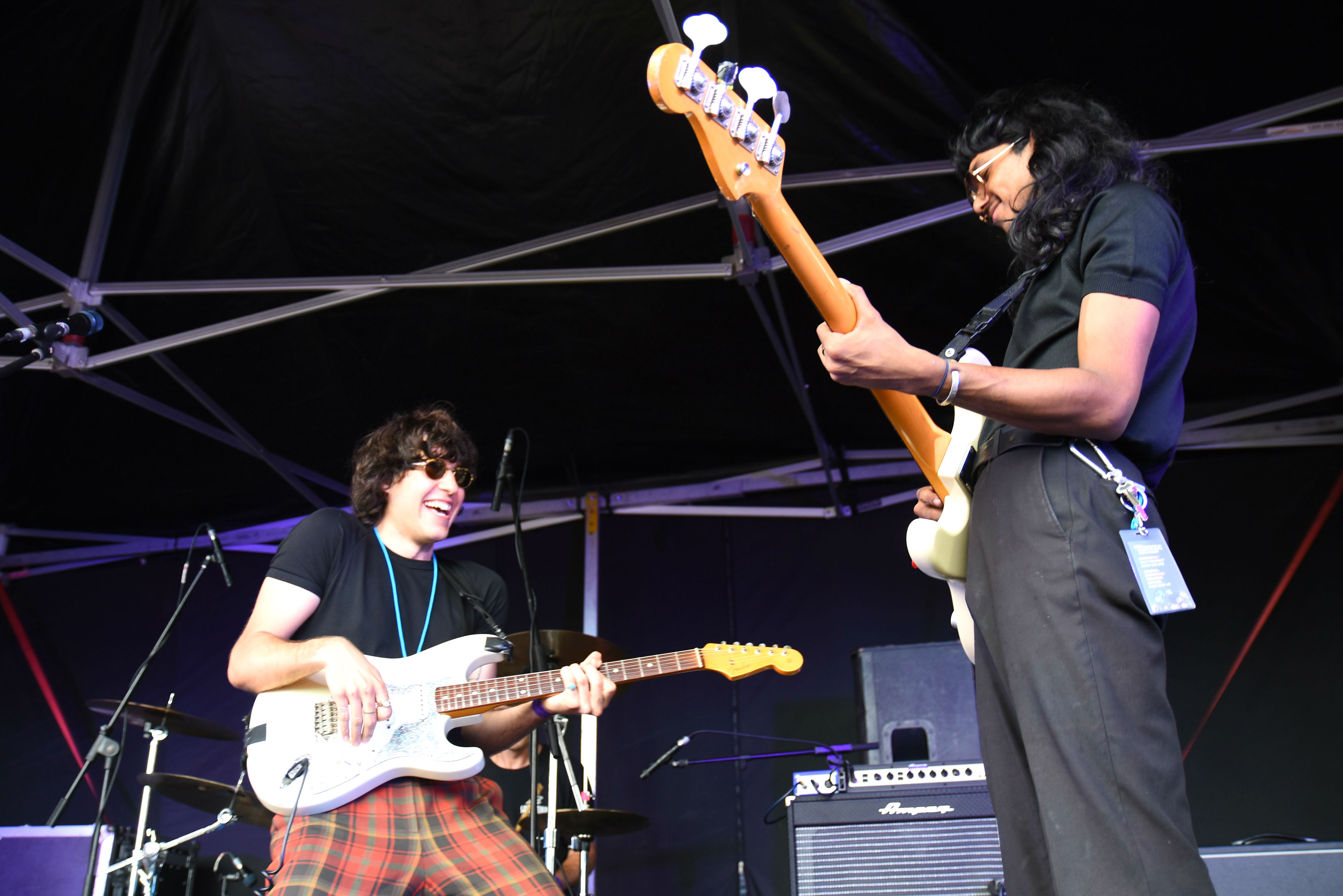 After recently releasing their new single Figure It Out, which boasts a completely reinvented sound, Sydney outfit Betty and Oswald had a chat with us at Festival Of The Sun, giving us an insight into what went into the recording of their upcoming EP and the decision to strip back their sound.
What's been happening?
Pete: Sammy and I actually went for our first swim together last night. It was beautiful.
Harry: How did you consummate the occasion?
Pete: Sammy actually peed in the water; and we held hands.
That makes it really, very official then.
Claudia: And now we're going to write a song about it, it's going to be our next single.
Tell us about the single you've got out at the moment.
Pete: Yeah, it's a single called Figure It Out and it's kind of about the fleeting nature of people and experiences and relationships. It's bittersweet, but it definitely makes us appreciate things the way we've got them.
Sammy: It also touches on the realities of relationships and what they actually are; not the glammed up version we always want to see. 
Harry: I feel like the music kind of reflects that feeling; the sound has a similar vibe. The sound of the rest of the EP; whenever we release that next year, will reflect that kind of feeling as a whole as well. But it's definitely bittersweet
Pete: It's kind of like lemon and honey.
It's got a very different sound to your older stuff, was the change intentional or more of a natural progression?
Pete: Yeah, totally intentional. I think we decided to focus on what we're each good at, and we stripped things down a little bit to have some really nice space within each song, instead of trying to over-clutter everything. And I guess this lets us honour the songs as what they are, rather than trying to make them something they're not. This time round everything is very authentic, and these spacious sounds are what we really dig.
Sammy: I think the focus point was a lot on tone shaping, as opposed to playing with sharp technical ability and trying to overcompensate for any empty spaces, which has produced tones that allow for imagination.
Harry: It was also good recording the EP as a whole; we've only ever recorded one track at a time. So working on a few tracks at once really gave us more of a big picture vibe and making sure that they really went well together. We worked with Burke Reid at The Grove Studios, and it was so incredible.
Pete: He was amazing. It was so nice to be working with somebody who's encouraging you to do the simple things, but to do them right.
Harry: He was so decisive as well. I think that's something that we suffer from a bit; is indecision. But he was great at making final decisions and sticking by them.
Claudia: I think it was so nice to be able to record the EP as a body of work at the same time. The whole thing felt very contextualised and it feels like the EP has a lot more meaning; rather than it just being sporadic singles joined together. It was just so beautiful where we got to record too; for me it was really evocative and I always picture that image and feeling when I listen to the songs.
Do you prefer recording or playing?
Claudia: I prefer playing; I think.
Harry: Yeah I think I prefer playing to be honest.
Pete: Lately I've found recording more fun. With playing live there are so many factors to consider and there's so many logistics that you've got to think about
Harry: Preparing for recording is really great, I love that process; like the months and weeks leading up to it is really cool. You get to sit down and really pull everything apart and be highly critical of yourself. But the actual recording part I don't like that much. I just feel like you sit in a room and play the same thing over and over again.
Pete: They're just completely different. In the studio we are all such perfectionists, but then playing live you've got to be able to handle the pressure and be organised enough to get through a set.
Harry: And then on top of that you've got to be enticing to a crowd and make sure you have that aspect covered too.
So when's the EP going to be released?
Pete: We're not 100% sure yet.
Harry: It will be early next year, within the first half of the year.
Is it all finished?
Harry: Yeah it's all done.
Pete: We might record and add another song, not sure yet though. I'd like to, I think Claudia might die of stress if we do decide to though. But apart from that; yeah it's done.
Harry: This is our second last gig for a while now though, until the start of February.