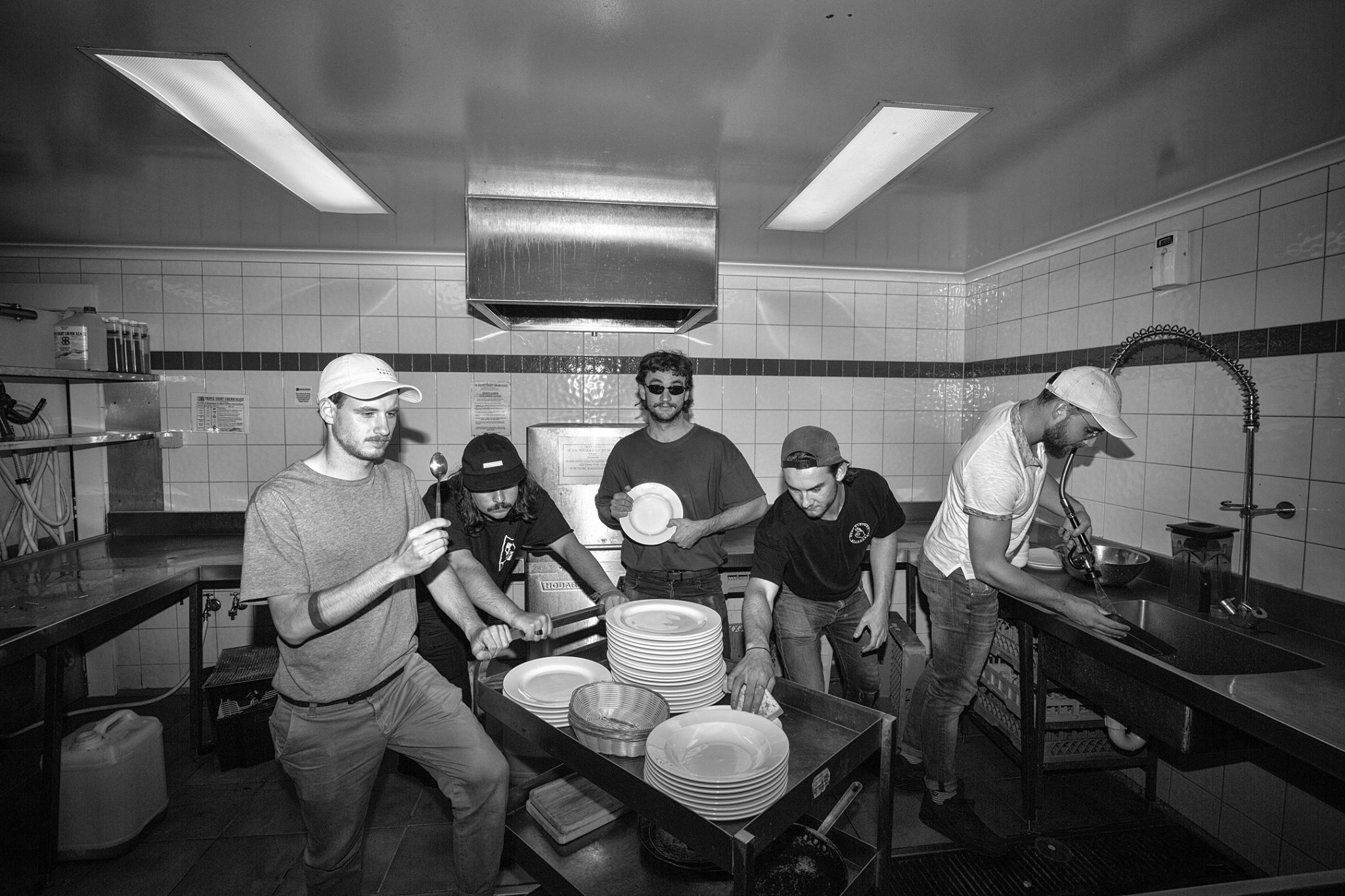 The hooligans of indie-rock, DIET., are stepping out in a big way. Currently on a seemingly never-ending tour with British India, the Melbourne five-piece continue to ride their Danny Boy single to higher extremes. We caught Carlos on the phone over a slightly burnt piece of raisin toast to chat about the heavier focus on synths, their live, fan favourites and working toward the EP.
The focus on synths on Danny Boy is a welcome change. Was this a conscious decision in the studio?
Ah yes, that was definitely a conscious decision. I guess, initially, the band started off as more of a New York jangle act—kind of like Beach Fossils and DIIV. I think our influence started changing a little bit more. We were having so much fun in the studio, it's kind of just become that way now that we usually consider a part of synth in every song. It's not like a law or anything but we're having a lot of fun with it. Especially with Danny Boy.
So, how long have you been experimenting with adding synth in the studio?
In the days of EP, we were playing around with synth—it always just a texture rather than a lead part. And then, the first time that we really gave it a shot as a lead part was with Danny Boy and ever since then, it's like, do we give the part to guitar or synth, basically.
Speaking of the EP, it's been a couple years now from it. How do you think the band has progressed, or changed from then to now?
The debut EP was all DIY, essentially. We recorded it and mixed it all ourselves, and we had Snowy from The Ocean Party master it, which was perfect at the time and I think the tunes suited that vibe. Leading to the next EP, we've upped the production a bit.
Since you produced and mixed the debut EP all yourself, is it now a collective effort with the new producer?
We have a pretty active role in the mixing, so he usually gets us in and we discuss things together. He turns on the desk and does all the magic, so we leave that to him. He keeps us really involved in the process, which is really nice. We've just come out of the studio with him, actually—that would have been the fourth time now. We're becoming really familiar with how he works, and he's becoming an unofficial sixth member of the band, really.
What did those studio session produce?
We just recorded two songs. We're in the process of mixing them this week. Either of the two, or none of the two, might make the next EP, which is gonna be out in August. But, if not, we might keep the new material for the following release that we're in the process of writing as well.
The stream of singles has been incredibly solid since the EP. Do you prefer to drip feed tracks?
Yeah, I think so. We've tried to make it undulate a bit, so we release an upbeat track, and then maybe one a little more down tempo, and another upbeat track, and one a little bit moodier. Just to give people a mixed bag of they can listen to. We've really been enjoying the single releasing process, but we're super keen to get something printed on vinyl, which people will be able to buy with the next EP, as well as CD. So we're super excited for that.
Is kinda the thing that solidifies it for you all—physically holding your record?
Yeah, absolutely. Andy from the band, he actually works at a record store. It'll be a nice moment to be able to check the store with our record on the shelf. We're firm believers in vinyl, and that fact that it gives the artist the solid opportunity with the listener. We're hoping that happens with the EP. People chuck it on and just let it run out, just sit back and have a moment.
Quickly back to the single, Danny Boy. I read that it was a fan favourite in your live shows, but how did you bring that live energy into the studio?
We slowly figured that out. So, we recorded the drums with everyone playing alongside Will. So, Will was playing was a lot more live than something regimented, or written out for him, which gives that live feel. But now recently, we've actually started recording our demos live as well, so we don't get trapped into a part that remains as it is in the bedroom. So, our way of bringing it out live would be to record the guide tracks together in the studio and then try to emulate that live sound as much as possible.
If Danny Boy was the fan favourite, now what are your guys' favourite songs to play live?
Our favourite songs to play live would have to be Sledge. It's never been released, but it's going to be on the forthcoming EP. We just love it. We usually play it last in our set, as one last hurrah. Another one that we love is playing as well is VB. For a headline show, we're likely to through out a couple of tinnies into the crowd, that's always good fun.
DIET. are currently on the road with British India. Find the remainder of their dates below.