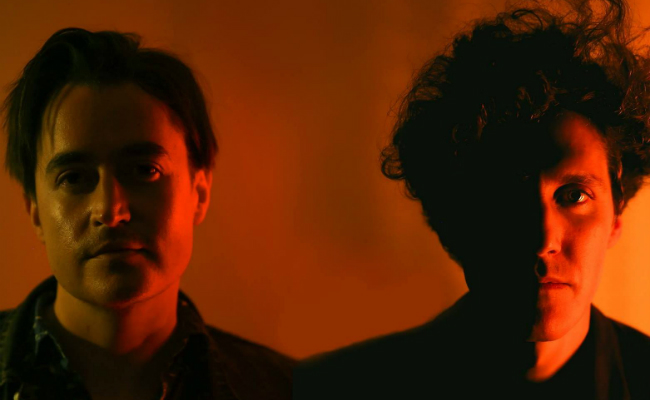 Luke Zahnleiter and Michael Whitney have been fashioning experimental pop tracks from behind Glitter Veils since 2012, and emerging for the occasional interview. Thankfully they delivered the goods for our latest interview, revealing all about their dynamic single Soft Touch, full-length album 'Figures in Sight', and their "band dad" Marly Luske.
How is your single Soft Touch different from your previous releases?
Luke: Unlike most of our other tracks, there's nothing pretty about Soft Touch. It definitely has a sleazier vibe and focuses more on pulse and beat over melody. The whole song centres around this palpitating beat we wrote on an old Yamaha drum machine, which kind of reversed the way we usually build songs.
Michael: Yeah, in the context of 'Figures in Sight' and our previous 7", Soft Touch is a lot darker with a stronger focus on electronic layers and bass grooves. I think it's the most playful and upbeat song on the album and serves as a good counterpoint to the bleak themes in the lyrics. A friend and I recently would get into these internet holes very late at night and trade obscure/cheesy Italo disco songs, it definitely might have seeped into this track.
What was the recording process for 'Figures In Sight' like?
M: It's cliché to say, but it was a fairly steep learning curve. I definitely have a lot more respect for the album as a format coming out of the process. Initially there were around 15 to 20 ideas on my hard drive and Luke brought in a tonne of ideas too. These were then slowly whittled down to nine.
L: We took quite a while to finish the album purely because life kept getting in the way. Also, the fact that we are both pretty fastidious didn't do our timeline any favours. Whit and I lived together in a big share house throughout the majority of the writing and recording process. We would usually start by looping and experimenting with ideas at home before we went to the studio and re-recorded with our friend and producer Marly Luske.
M: Marly became a kind of band dad to us. There were a lot of times when Luke and I would reach a point with a song where we had an idea but didn't know how to technically execute it and come to the studio like lost children who couldn't finish their homework for him to fill in the answers.
It's a very intensive and obsessive process.  I can totally understand how bands spend four or five years on an album. There were a few times where we felt comfortable with a song and then when it came time to mix it was like hearing a completely new song and we had to step back and change it around all over again.
 Who were your main influences for this album?
M: We both have pretty sporadic listening habits, so there is a pretty diverse range of influences. I find interesting ideas in a lot of different places, which might not have seemed 'cool' to other bands I've been in. It varied a lot from people such as Jon Hopkins to The Big L to Scraps to Metallica to Chris Isaak. As an overarching influence though I feel the music of Angelo Badalamenti has definitely had an impact.
L: I was listening to a lot of dark R 'n' B and early 60s surf music. I always listen to ambient artists like Tim Hecker and Oneohtrix Point Never while reading or lying around trying to make moments seem more romantic than they really are, so that probably seeped into the writing process too.
Do you have any upcoming tour dates on the horizon?
M: We played a launch for 'Figures in Sight' on March 24th at Alchemix studios in Brisbane, which will be followed by an interstate tour through Sydney, Melbourne and Canberra in mid- to late-April. Also we might be heading to the U.S early next year if all the stars align.
L: Though I recently broke my neck so things are a bit up in the air. I might have to play with my neck brace and pretend it's some kind of bold fashion statement…we'll soon see.
If people were to take one thing away from 'Figures In Sight', what would you want it to be?
L: There is no way I can accurately portray what the album is as a whole, so I hope people can form some kind of personal attachment to the album and craft their own meaning.
M: Love is the drug.
'Figures in Sight' is out now! Check out Soft Touch below.