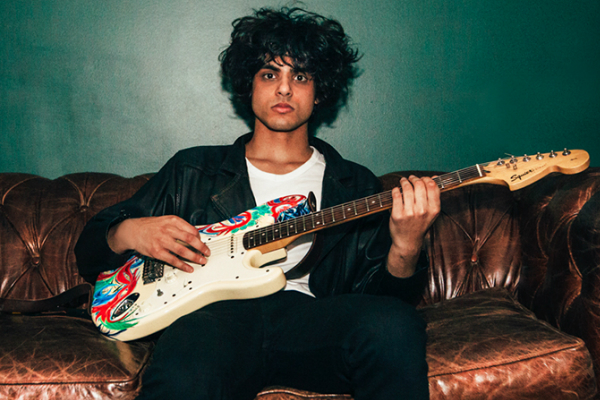 Having just finished his Australian album tour, Melbourne one-man music making machine Harts has taken some time to chat to AAA Backstage about his upcoming trip to play Blues on Broadbeach later this month. Among the excitement for his set on the coast, the Prince Approved funkster also let slip about his international plans and what fans can expect to hear— and see from him next.
You're playing at Blues on Broadbeach later this month, are you excited to be heading up to Sunny QLD for a show?
Yeah man, full on keen for it. I've just finished the album tour for Australia in March so we're out of the touring cycle right now, making this a one off show. I'm really excited about it because it's a Blues festival so it gives us the opportunity to play a bit more Blues music than we usually would.
Do you get any free time while you're on the coast?
Yeah! I'm playing on the Friday night and staying for the Saturday part of the festival, so planning on going back in and checking out the festival. I might even play the Saturday night with a certain band thats playing as well. That's a little feature we're trying to sort out right now (laughs). I always love going up north, just because I'm from Melbourne so one reason is the weather and the other is that some of the best crowds I find are in Brisbane and a bit further too.
Surely you must be planning on hitting the beach while you're up here on the coast?
(Laughs) I don't know, maybe. It'll depend on what the other guys want to do and stuff like that. We'll have to see what the days are like.
You mentioned you've finished up your album tour back in march. Is a Harts tour in the works or is that something that is a bit further away?
I think it's a bit further off. At this moment I'm working on plans for the US, I'm heading over there in  July to play some shows and festivals and release the album. I'm kind of more focused on that than Australia at the moment. I don't know when next time i'll do a tour is, probably for the next album, which would be 2018.
Your last tour you brought along a live drummer and a bassist, is this something you've always wanted to do for your project or do you sometimes just enjoy playing solo?
Definitely enjoying playing as a band. I write my music for that band kind of vibe, so my music tends to led itself better to that than to playing solo. Previously I'd only played with a drummer and had things looped. It's good and it works well, but it having a bassist just makes the performance seem more energetic. I do eventually want to keep building on that, maybe add in a full time keys player or a horn section but at the end of the day it comes down to cost. It's just a lot cheaper to tour with three people than five.
Back to your international shows, are you looking at hitting up the UK and Europe soon?
I've got no plans but I do want to! it's naturally the next stage for me after the US. I did a short Europe run last year where I played a few festivals in June/July, particularly in Amsterdam. A few of my tracks got mainstream radio play so people were talking about me. The UK is definitely something I want to crack into next.
So you're working on new music?
I'm working on new things actually right now, I just had to pause my session (laughs). I'm always recording and always doing things, just trying to push myself musically. It's gonna be a scheduling thing when new music comes out, we filmed the Brisbane show of the last tour so I'd like to release that as a live album or DVD before I put out any new music.
Are your newer tracks similar to those on Smoke Fire Hope Desire or are you taking things in a different direction?
I didn't think about it as such, but it's definitely a new direction for me. I didn't plan for it though (laughs), just like how I didn't plan Smoke Fire Hope Desire to be different from previous releases. It's not completely brand new. It's still got all those Harts elements there. From what I've got on the table right now for songs it starting to sound like a conventional pop record. It still has all the elements from pop to rock to funk to jazz.
Are you enjoying this new style of writing and sound though?
For sure! That's definitely why I do it. A lot of people see me as a rock musician and as just that. But I don't really resonate with that and I think in a way writing newer stuff like this is a really freeing experience that I'm enjoying.
You can catch Harts, along with Bonnie Tyler and Ian Moss at the Blues on Broadbeach festival from the 18th to the 21st of May.
Blues On Broadbeach
THU 18 — SUN 21 May
Broadbeach, QLD