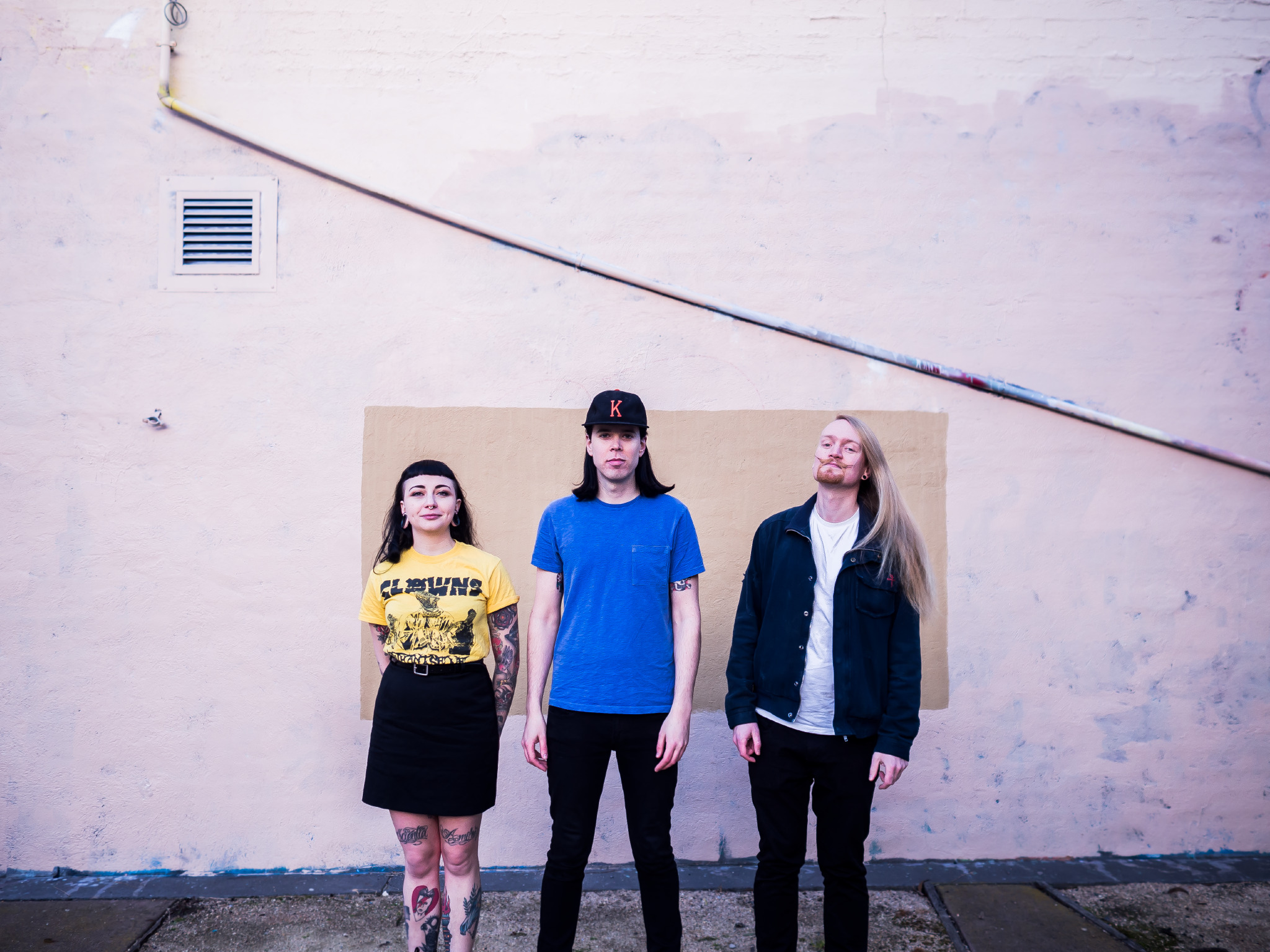 Househats are ones to watch. Clear that radar of yours and, for this extensive interview, focus on Househats—the Melbourne sensations. I've Been Broken is their hard hitter and they've got a run on shows in support. We snagged all three members of the group for a relaxed interview about old-school, recording in hometown and the upcoming album.
Let's get the cookie cutter naff questions out of the way, tell us a little bit about what Househats are all about as a band and what makes you tick?
Joshua: I think I'd rather just use my man Jaymz Clements' summary of us, which is that we're, "like a Noah Baumbach movie hooked up to a busted car battery."
Margy: To be frank (it's okay, you can still be Josh), I have no idea who Noah Baumbach is. What we're all about as a band? I guess it's why anyone would be in a band—to make music with your mates that resonates with truths about life, and yourselves. We definitely came about as a band by frolicking in the Supernatural Amphitheatre (hi Aunty Meredith!), cold beers, good tunes, quality memes, shit talking, and escaping plagues of insects (that's a story for another time).
The old-school punk feel is ever so prominent in your music, what artists and bands have inspired the creation of what you produce as Househats?
Freddy: Eddy Current Suppression ring has been a huge influence, and Parquet Courts continue to inspire with every single release. I guess bands that get at the core of the trouble and have something to say about it, but then craft that into solid songs. Any band that has something to say and crafts good music has an impact on us, really. 
Joshua: I definitely agree with that, Freddog. Probably, for Househats specifically, we'd be remiss if we didn't mention the band Omni from Atlanta.  I'm also hugely influenced by Julian Casablancas, especially the way he structures his songs. Sometimes he doesn't even put in a conventional chorus, or does little breaks that go for an unusual amount of time, or puts in a weird percussive flourish that only happens once in the song… I guess I just like to be surprised along the way when I'm listening to music, so with Househats songs we do our best to put in a bunch of surprises that can sometimes take a few listens to come around to.
Margy: Josh, you're forgetting to mention your stint as the vocalist for The Smokes… the Casablancas is strong with this one. I think that we all draw inspiration from different sources, and that makes us kind of unique. 
Your latest track, I've Been Broken, was recorded in The Aviary studio in Abbotsford. Tell us a bit about the unique space and what it brings out creatively as an artist?
Joshua: It's actually a really lovely studio, and probably the best I've ever worked in. By that, I don't necessarily mean the gear list or the pedigree or whatever, but just the feeling in there was really conducive to pulling interesting sounds. They have this beautiful big live room, and so, of course, everyone loves to set their drums up in the main tracking room, and put up a bunch of mics and, yeah, we did too. But for I think three or maybe four songs that will come in the middle of the album, we set up another kit in this tiny little vocal booth, and only used three mics on it to really make us work to find some character and a new interesting texture to the sound for the second act. It actually worked really well from that perspective, but it was uncomfortably sweaty bashing outtakes in that tiny little room. The guys who own the studio said that nobody had ever set up drums in there room before, so Markwell might have unwittingly started a thing where people will actually go to The Aviary to get that sound!
What is the lyrical motivation behind this new single?
Freddy: Sometimes lyrics can come out almost complete at once and be rooted in a theme or message that is clear from the start of the writing process. In this case, there wasn't such a clear-cut goal and the message of the song doesn't summarise that accurately. Josh wrote the core lyrics and hooks of the song and it came out as a scattered uncertain uneasiness with hints of hope. Then I re-wrote the verses to bring more cohesion to that strange uneasiness. There wasn't exactly a specific motivation behind it, it was more of a slow dive into a patchwork of dissatisfaction and weirdness. It doesn't offer any answers other than that those feelings and states exist and that they seem hard but that there are dabs of hope and relief at times.
Joshua: Well funnily, Freddy, most of the initial filler-lyrics that I had for the verses—filler-lyrics being when you just write whatever comes to mind to get the melody and cadences and patterns and stuff down—it was mostly garbage, but the chorus was just how I was feeling at the time. I was having some trouble sleeping for a pretty extended period of time, and was up at all hours of the night and morning, often 36 hours straight, and the words, "I've Been Broken," and the, "night still wearing off," with the, "flesh dripping from my bones," were kind of a product of that. So yeah, one night after I thought we were getting close to the song becoming, "a thing," I went over to Freddy's place in South Collingwood, and he imbued it with some genuine meaning. He held onto it for a few days, tried a whole bunch of different approaches, and then came up with what you hear in the song now. Freddy's actually really great at getting to the heart of what a song is about, and considering English isn't his first language, he uses it very expressively, sometimes weirdly, but always with purpose and meaning.
You recently went on your first interstate tour. What were some of the highlights for you?
Joshua: Playing at the North Gong Hotel was wicked because it was an outdoor stage at twilight, and they actually encourage people to bring their dogs. So I was just totally distracted by all the cute woofers hanging out during our set! But also getting to hang out with our good friend Rob [Carroll, Rare Finds] who put us up in Sydney and got the shows for us. He grabbed our attention after he wrote some very lovely words about All Together for a blog, then after meeting in person we all just hit it off, and he's been part of our core team ever since. I've always thought that having an incredible team of legends that truly back your music is the only way this game works, and so, for me, touring is always a great time to, I guess, solidify your relationships with these amazing people who you don't get to see all that often. That and petting all of the doges.
Margy: Dedicating our track Get It Done to my best friend (she's in the final throes of her PhD) was definitely a highlight—it was her first time seeing us play. I wouldn't be doing this without her support! And watching Josh sprint through the airport to check in oversize baggage with thirty seconds to spare, as Freddy and I were more than a bit stressed and trying to find our gate, which kept getting moved. Oh, and doggos.
You're heading back out on the road again soon. Where are you most looking forward to playing?
Joshua: Beau [Kochmanz, Premier Artists] has performed some minor miracles and somehow we're playing the biggest shows I've seen a fairly unknown band like us do… I guess it just shows the belief our crew have in us even though we're quietly shitting bricks at the prospect of somehow filling the Northcote Social Club on a Saturday night!
Margy: I've heard Newcastle is the live music capital of Australia. Not sure on the validity of that claim. Also can't wait for the tour after this one, where we'll be hitting up my hometown! (Okay, maybe not my hometown because there's like five people there. But Brisbane, we'll be coming for ya).
Which one of your songs do you enjoy playing live the most and why?
Margy: Gosh darn, there's so many songs I love playing live what we haven't released to the world yet. I guess All Together is a great one to play—it's definitely the easiest to sing along to, and Freddy and I always screw up the vocals… somehow. We know the song back to front and inside out and it still happens. It's actually quite an event when we get it right. 
Your album is in the works. What have you found most challenging getting this together?
Joshua: The actual making of the album has been amazing. Difficult, and quite trying a number of times, but a wonderful experience overall. I think the most challenging part has been financial. We wanted to do an album that was fully realised, and something that we felt needed to be properly represented to enable our message to get across, and to achieve that you need time and the right personnel, which isn't cheap. So this is actually an incredibly tough and stressful period that we're going through at this very moment, and there's absolutely no guarantees that all of this will pay off from an outside perspective. But the thing is that, internally, we really believe that this album genuinely does have something to say, and we want to give it the best chance to be heard by those people who might really benefit from it.
What can we expect from the upcoming album?
Joshua: We've semi-jokingly referred to this album as a three-act film, in that it basically is divided into a set-up, confrontation and resolution.  And so with that in mind, our good friend and mix engineer Michael Badger has holed himself away to craft a "full album listening experience" as he likes to call it. Badge is the wizard who mixed Nonagon Infinity and Murder Of The Universe for King Gizzard, so he knows a thing or two about making records flow, and change, and choke up then breathe, elate the listener then challenge them, and a full album experience is what we're trying to create.  I think people don't quite know what to make of us at the moment, because they've only heard little snippets. Hopefully, it will start to make a bit more sense once everyone can hear these songs in the context that they were designed to be in. 
Margy: In a less esoteric sense, you can expect guitar, drums and bass played to some sort of a rhythm, with vocals from all of us. And some definite production and mix engineering from Markwell and Badger, which is great, they're part of the Househats family. It's got a huge amount of emotional investment in it, and hopefully that resonates with people—if it affects one person in a positive way, that would just be the best thing ever.