Interview: Jordan Hastings from Alexisonfire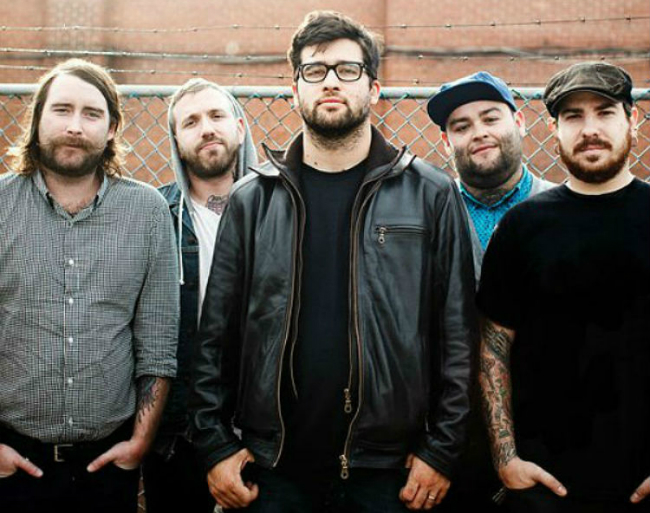 Last year, after three years of breaking the skull-hearts of fans worldwide, "the only band ever" Canadian post-hardcore legends Alexisonfire officially reunited for a run of stellar festival appearances and Canadian shows. Named after the world's only lactating contortionist stripper, the quintet have been cited as one of the most influential bands in modern Canadian music, with their (so far) four studio albums instrumental in raising the profile of hardcore and 'screamo' genres to now be part of mainstream music.
Ahead of their highly anticipated return to Australia in January for a run of huge shows, we talked to drummer Jordan Hastings about how a reunited Alexisonfire approaches the once divisive topic of touring, what makes hardcore musicians happy, and why his own line of hot sauce can be added to your next meal!
Alexisonfire are heading out to Australia for a run of huge shows in January, what are you most looking forward to about the tour?
Y'know, I was just in Australia with Billy Talent! Every time I'm in Australia I'm like "f*ck, I love this country so much!". Australia is kind of like a warmer Canada, it's like being at home as everyone's super friendly, the food's good, the scenery's amazing…there's just nothing bad I can say about Australia!
Like, I heard some sh*t about internet censorship and stuff coming from your right-wing government, but other than that I've got nothing bad to say! I'm excited to be coming back, and it'll be during the middle of our awful Canadian winter, like it'll be -20 degrees, so it'll nice to be in your +30 degrees…
Ah, to be honest it'll probably be pushing into the 40's, so I hope you're ready for that…
Yeah, well that's a lot like the Canadian summer, like our summer's friggin' insane! It's just so moist and hot…but yeah, I'm looking forward to coming back. I know all the [Alexisonfire] guys are looking forward to it, they're bring their wives and kids, so it's going to be a lot of fun!
Well I'm stoked you're coming out, as I only discovered you guys after your last Aussie tour! The January tour will be the first shows in Australia since your 10th year anniversary shows in 2012, so what kind of set list can we expect?
Y'know what, I don't know! Thank you for reminding me [about the set list] 'cause I have to start learning the songs again, and I don't have a whole lot of time to do that! So I'm going to send out an email today or tomorrow to try and get an idea from the guys what they want to play, and what we think is a good set list to through together.
It'll be a mix of all of the records including our EPs, y'know, as we want to touch all bases. There's a lot of songs that probably won't make it, as there's some I never even learned from the first record…that I'm sure we won't be playing (laughs nervously)…
Ha, what's that laugh for?
Nah, it's just sh*t I never learned as I came into Alexisonfire shortly after 'Watch Out!' was released. Every time you put out a new record you've got to make room for the new stuff, so the older songs never came into the set list…and I've also done some songs they never even played live before me. Obviously I want to play as many songs as humanly possible [on the Australian tour] and I think the [set list] will be an eclectic mix of old and new. (laughs)
Sounds good to me! Now, I want to get a little bit deep for a minute. The upcoming tour is somewhat more special than your previous visit as Alexisonfire pretty much broke in 2011/12. As this was due in part to Dallas Green not being able to balance touring both with Alexisonfire and City and Colour, how is a reunited Alexisonfire approaching touring?
Well we did a bunch of touring last year, like a couple of festivals in Britain and Canada, and basically we just do [touring] on our own terms now. There's now a lot less stress, and I think the ultimate demise of us in the first place was that constant touring. Like months of being away from home and your loved ones, and just running yourself ragged…and we had like a two-three year record cycle. Then Dallas had to go do another cycle himself!
So since [the breakup] we've all kind of grown up a lot and have our different career paths, but it's now kind of a treat for us to get back together and do these shows…and I think that's why we do it! We do really care for each other a lot, and we love to play music together…it's the best thing in the world to play music for a living, and I think that definitely comes into play with Alexisonfire.
We all do miss each other a lot and when we do get to do these tours it's special thing for us, and, well I can't speak for everybody, but I feel privileged that people still give a sh*t! That's not usually the case with bands, and dare I say it bands in the 'screamo' genre or whatever the f*ck you want to call it, so it's definitely a special thing people still care and I'm very thankful for that!
In 2011 George Pettit (frontman) said, "Was the break up amicable? Not really. Was it necessary? Probably". So what spurred Alexisonfire to reunite after three years of each member doing their own side projects, such as your involvement in Cunter and Say Yes?
Basically we took our time apart. Dallas did what he thought was important to him at the time, and so we all did. We all did a lot of growing up in that time, and I guess we could see the demise happening as it was happening! Even before Dallas quit we could see it coming, and so I think the time apart was the only thing that saved us and kind of put things into perspective. Like, if we were to have stayed together we definitely wouldn't be doing the upcoming [Australian] tour, I guarantee you!
The fact we were able to part ways for a while and do our own projects was the main thing that ultimately brought us back together and brings us to a position where we're able to do [Alexisonfire] tours under our own terms and it still be fun! That's the thing, we were just slogging it out [on tour] for years at a time and wanting to kill each other (laughs), whereas we're now able to really enjoy each other's company and do what we love to do!
I'm glad its all come back together! Back to your music, when the band released their debut album they described Alexisonfire's sound as "two Catholic highschool girls in mid-knife-fight". Obviously you replaced founding drummer Jesse Ingelevics just before the third album 'Crisis' was released, so do you feel the original description still rings true?
Yeah, I guess there's nothing new to dictate we've ever strayed from that description! That [description] was kind of a funny George Pettit quote if I remember correctly. But as a band that grows up being on the road we were able to experience different kinds of music and tour with a bunch of bands, and so we morphed Alexisonfire into be what we wanted it to be…and I think we've done that!
The original description (laughs) still holds true, even though it's funny and weird, and I think that's Alexisonfire's thing…half serious and half jokey and we know we're taking the piss at the same time. So yeah, it still rings true, but I wouldn't take it quite as literal. 
As with all the members, you're pretty busy outside of Alexisonfire! The President and owner of Dine Alone Records, who Alexisonfire and your upcoming tour buddies The Dirty Nil are signed to, and yourself own 'Dine Alone Foods'. Tell us how your line of tasty hot sauces came about!
That whole Dine Alone Foods thing was in the works for years while Alexisonfire was touring, and myself and Joel are massive foodies so we founded it. We've got a passion for food…I think we were in Austen, Texas where there's this kickass hot sauce shop there called 'Tears of Joy', and I remember going in there and seeing all these crazy sauces that we've got nothing like in Canada.
All we really had back home at the time was like 'Frank's Red Hot' and Tabasco, which I personally think they're kind of sh*t and boring. So it was really cool for two Canadian guys to see all these sauces, and I've always had a thing for spicy food, and the barbecue food down in the South is incredible too!
So yeah, it just came about from us being into food, and I remember at one point we were having beers and a barbecue one night and we said "wouldn't it be cool if we made our own hot sauce and BBQ sauce, can we do that?". So we started looking into it like right then, but it took about five years to develop because of our schedules!
When Alexisonfire did break up we finally had the time to do it, and since then we've been put in wholefoods markets across Ontario, a bunch of stores in Canada, and now worldwide on the internet! I think we have shipped a couple to Australia, but it's pretty expensive…
Can't you just bring it out with you in your live show setup for the January tour? (laughs)
Yeah, but see the problem with that is Australia is very particular on importing and exporting. So it's difficult to do and very costly! I would love to be able to do it, but unless we have a full on distributor over there I don't think it would be feasible. But I always bring a couple of bottles with me to let people try it out, especially when we're doing festivals I leave a few at the catering area…like I won't even say anything, I just leave them there and see what happens. (laughs)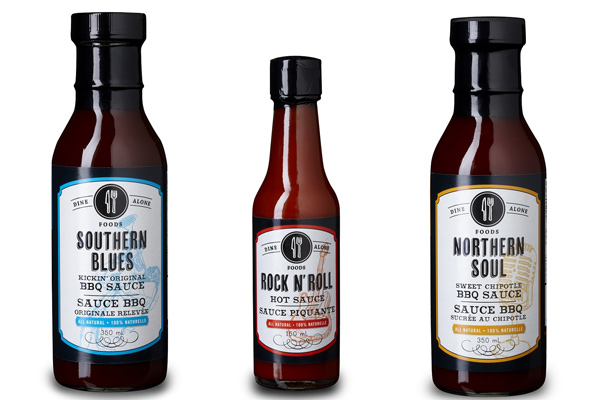 And what kind of food should I pair Dine Alone Food's Rock N' Roll hot sauce with?
Well I kind of came up with the initial recipe in my mum's kitchen years ago, and since then we've had to scale up due to my other commitments. It took a long time to get it to the point where we liked it, and we made it specifically for people who want to add some heat to their food but also don't want to be alienated by too much heat! Like I've got those hot sauces where you put a little bit in and it blows your friggin' head off, and that's not fun!
There's nothing fun about that other than you showing how much of a douche you are or how manly your bowels are. I think hot sauce is a thing to enhance certain foods, so [our] hot sauce can be put in anything really! I've put it in Bloody Marys and pasta, I've basically put it in anything as it's versatile and really goes with any kind of savoury food you can think of!
I'll have to try and get my hands on some! Lastly, there's a lyric in the song Happiness By The Kilowatt from 'Watch Out!', "This is continuous happiness". Ignoring the pessimistic context of the song's lyrics, what gives you absolute happiness in your life?
Ah, I don't know mate! Dallas wrote the lyrics to that song I think about a book he read. For me, I'm always trying to find new things that make me happy. Whether they be starting a hot sauce company or helping out Billy Talent on the drums, which is super fun, or on my down time between tours just hanging out with friends chatting about old times and whatever.
I think you're constantly looking for something that's going to make you happy, but I don't know when I've actually been my 'happiest'. Instead for me it's all about finding new things that excite me and get me going, y'know what I mean? It can be anything from a video game to writing a song, to touring or just shootin' the sh*t with friends! There's always new things that I find and I'm like "Huh, this is making me really happy right now! I'm going to do this for a while", until I find something else… (laughs)
Alexisonfire 2017 Australian Tour
with The Getaway Plan, Behind Crimson Eyes, and The Dirty Nil
WED 11 JAN
HBF Stadium, Perth (All Ages)
FRI 13 JAN
Adelaide Entertainment Centre Theatre, Adelaide (All Ages)
SAT 14 JAN,
UNIFY Festival 2017, Victoria
TUES 17 JAN
Festival Hall, Melbourne (Licensed All Ages)
THURS 19 JAN
Hordern Pavilion, Sydney (All Ages)
SAT 21 JAN
Riverstage, Brisbane (All Ages)
Get Tickets HERE