Interview: Matt Hodges from Palace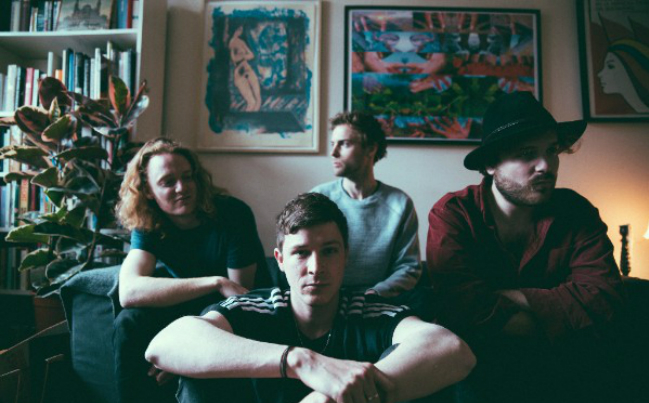 Britain has a knack of pumping out absolutely sublime rock bands. Names like Radiohead, The Kooks, Foals, Kasabian, and the Arctic Monkeys are just some of the groups over the past two decades who've won over millions of music lovers and dominated airways both in the U.K and internationally.
With the release of their debut album 'So Long Forever' last year, London alt-rock quartet Palace have been tipped by many to be the next indie rock heroes of Britain thanks to their intricate guitar work, super-smooth songwriting, and honest lyricism. Finding time in their their busy touring schedule, we asked drummer Matt Hodges about how the band are feeling about their bright future, musical inspirations, and how a warehouse in London's north is "the mothership" of Palace's creative processes.
Firstly, your debut album 'So Long Forever' has been out for a while now. Congratulations on truly a great album, what's the feeling like in the band now that it's out?
Ah thanks! Yeah, we'll all so excited that it's finally out. We actually finished recording back in April and had to wait a really long time until it actually got released on 4th November so it was kind of torture just waiting for it to be out there and now it's out, it's still kind of a dream. We loved recording it but also went a bit mad in the process but we've all come out the other side feeling really good about the whole record.
We've had some of great write-ups so far and it never gets old hearing the individual comments from people about how much the album means to them. It feels pretty special when people take the time to write to us saying what an impact certain songs are having on them at the moment. That's kind of the ultimate dream I guess to know that people are really connecting with it. So we're really happy with the response it's received, definitely!
I became an instant fan of Palace when I first heard the album's lead single Break The Silence, with its glorious brooding yet warm post-rock sound and Foals math-rock vibes and intensity. Who are the main influences or inspiration behind the album?
Awesome, that's good to hear! That Foals reference is a bit of a strange one that seems to come up a lot actually. It's a massive compliment as me and Leo (singer) are massive Foals fans and I've seen them live a bunch of times. They are one of the best bands around at the moment, but to be really honest we don't really see the similarity, but we'll definitely take it! Maybe as we're fans there's something that's rubbed off though…
Someone did once tell me we sounded a bit like Foals on Xanex… anyway, there definitely are lots of other inspirations though, although we didn't start out wanting to make a record that sounded like someone else, but I guess you're always going to hear a band's influences in their own record even if they are subconscious.
Will (bass) is a big reggae nut, Rupert (guitar) is pretty into his psychy prog stuff like King Crimson, Pink Floyd, and Yes!. Then we all kind of meet in the middle with our love of Van Morrison, Jeff Buckley, Wu Lyf, Tame Impala, Pond, King Krule, and stuff like that. We love that big, epic reverby vibe that takes you places and that was really one of the main starting points.
Half of 'So Long Forever' sees you guys deliver upbeat melancholic alt-rock, and the other half still carries the slower, slightly shoegaze math rock heard on your 2015 EP 'Chase The Light'. What inspired the move to a slightly more energetic Palace and how has your live show transitioned to include your more upbeat songs?
It kind of just happened really in a bit of a natural evolution, I guess. The songs came out how they came out but we're really happy that the record has ended up being a mix of different tempos and styles. We knew that we kind of wanted to take people on a bit of a journey with the record as much as we could and have moments of quiet melancholy that bled straight into more upbeat songs.
[The album] kind of feels like a good summary of where we are as a band. We still love those slower ones but the more upbeat stuff adds another dimension that is definitely more noticeable in our live shows now. Having a few more upbeat tracks to play gives a lot more energy to things and for us makes it really fun to play! It's fun to play a more up-tempo track and then bring things down with a quiet one and watch how it changes the crowd.
With British alt-rock icons The Maccabees calling it quits, NME named Palace as possible successors as you too "deal in theatrical melodies to tingle the spine". Since this pretty big compliment was said about you, have members of the band changed their perception of the band's career trajectory and have you seen a change in your fans?
Again, for us the comparison to The Maccabees is a massive compliment as we grew up listening to those guys and are all big fans! Such a great band! It was a sad day hearing they were packing it in.
I don't think any of us has changed their perception of where we're headed though, no. We're just doing our thing in the same way. I guess it has given us a bit of confidence though that there are people out there who are going to get really into Palace as time goes by, as even being put in the same ballpark as those guys is huge.
If we end up being half as great as The Maccabees are then we'll be a happy band. I don't think we've noticed a change in our fans though after that comment, no. I think a lot of them are also 'Maccabees fans anyway already as we do see some comments about both bands in the same sentence, so there's a probably just a bit of an appreciation for the association more than anything else.
The best change we've noticed though is just seeing fans singing along at shows now the album is actually out and they can learn the words. It makes the shows way more fun looking out into the crowd and seeing people getting really into a song and singing it at the top of their voice.
Leo's lyrics originally were about destructive relationships and bitter regrets, but unfortunately some songs became almost premonitions for his relationship at the time. As there's now a strong emotional attachment album does Leo have trouble performing some songs live?
At the beginning it wasn't that easy as it is kind of like baring your soul to the world to an extent, but I think the more we've played the songs and seen people's reactions to them live it's become a lot easier and now much more fun to play them. Writing songs about real life stuff just gives things more meaning and we've seen how much people relate to those songs and take their own meanings from them so that takes away from any weirdness, so it won't change the way songs are written in the future.
Originally you guys pretty much exclusively wrote and recorded your music in 'The Arch', a Tottenham warehouse in London's north. Can you describe what the space is like and why it's so inspiring to the band?
Yeah, we recorded our first two EPs there and have spent a hell of a lot of time in that place! It's the mothership for us where we rehearse and record still, and we've always felt really lucky to have the space. It was an old munitions factory during the war that later became a bit of a crack den. Then a few years ago, pre-Palace, a bunch of our mates including Palace guitar legend Rupert, who were in other bands and involved with all sorts of musical projects, came across it and built the studio.
It's now a bit of a musical commune where people live and there are a couple of recording rooms and it's been a bit of a second home, and also an actual home, for us and loads of different musicians who play all sorts of styles of music. It's been a big inspiration to us just from all the different musical talent that's wandered in and out over the years that we've probably soaked up a little of. Although a big proportion of that has probably also been spilt booze and knocked over ashtrays. We've had some pretty wild parties there too!
The music video for Holy Smoke sees you guys performing, draped in psychedelic projections. Do Palace's live shows use similar lighting techniques to further immerse crowds in your atmospheric rock, and when can Aussie fans expect to see you guys live?
We made a really vague plan of what we wanted to do for that video hungover on a ferry on the way back from a festival in Holland. We had about an hours' sleep and just went for it! Our friend Gus Cross was the man behind the amazing projections, and between us and director/photographer Jack Munsch we kind of winged it… but had a lot of fun doing it! If the stage is big enough to do it then we will always have those kind of projections at our shows if we can!
We're a bit obsessed with with stuff like that. We played Electric Brixton in London recently and had some amazing lights and projections for that show. Feels like those kind of visuals really fit with the music, so we hope to use a lot more of that kind of stuff in the future at the shows for sure. We don't have anything concrete in the schedule for Australia yet I don't think, but I reckon it will be pretty soon. It's a big goal to get out there to play, so when it happens it's going to be a dream for us!
Lastly, what are the five simple things the band would need to make any apartment, hotel room, or house feel like a 'palace' fit for alt-rock royalty?
A jar of pickled eggs, 'Summer Heights High' and 'We Can Be Heroes' box sets, a bottle of Woodford Reserve (700ml), a Nokia 3310 with snake on it, and a hot tub!