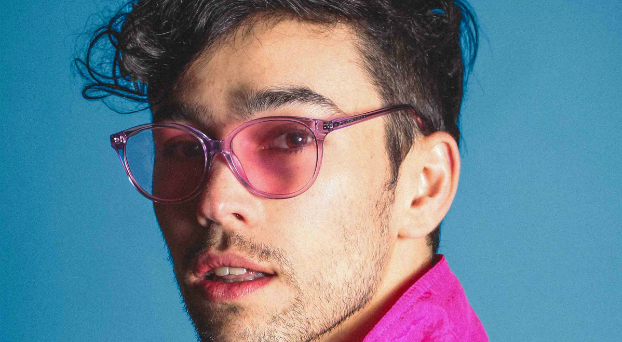 In his 25-years New York multi-talented cool cat MAX has escorted Madonna in a Dolce & Gabana campaign, stolen the small screen in a Disney show and been the victim of Fall Out Boy's Pete Wentz's hairdressing rampage. As he hits our shores in his debut Australian tour we caught up with the vivacious soul-funkster to discuss everything from tour spoilers and dance moves to mani-pedis and Op Shops.
Hi Max, we're excited to have you come to Australia! What are you most looking forward to about the 'Meteor' tour?
Of course the cliché—we're going to hang with some koalas and kangaroos, and I'm over the moon about that. But additionally, I've just heard Australian music fans are unlike any in the world, that there's energy so infectious and I'm so excited to experience it. It's going to be awesome!
Also making an Aussie debut is your electronic duo Party Pupils. Will it be strange to be on and off the stage for two different acts?  
No. We do it an awful lot and it's cool because Ryan (Siegel) is also my partner for all of the MAX stuff. We basically do it on and off for everything. Sometimes we have to remind ourselves what the vibe is on the set today and sometimes we actually incorporate versions of both. We have a remake of (Outkast's) Ms. Jackson we play on my MAX set too so we're excited to explore both acts out there.
How did you and Ryan first get the idea for Party Pupils?  
(Ryan) started out as my guitar player about two years ago and we were on the road a lot but we never wrote together or really collaborated. There was sort of a dark time in our careers where things just weren't going well and we were trying to figure out what was next. We sat down with a mentor of ours and he kind of looked at us and said, "Why don't you guys try to make music together?" It was just this bizarre, simple thing we never considered and decided to try so we created Party Pupils.
The first thing we did was a remake of Ms. Jackson and it's been the best time of our lives ever since. It's so fun to be able to collaborate, play shows and have a wonderful time! 
Party Pupils have made unique remixes on a collection of R&B classics such as My Pony and as mentioned Ms. Jackson. What would you like to cover next?
Ooh, it's such a good question! Of course we realised after we did those remakes, we wanted to step back from covers and start throwing out more original content, but we've definitely thought of one more crazy throwback down the line. We've had a couple different ideas: there was the thought of (Montell Jordan's) This Is How We Do It.
Funny enough Ms Jackson and My Pony were really the only two we knew we had to do so we're open to suggestions and who knows? It could be anything from an old Janet Jackson song to Prince or whatever. It's definitely fun to pay homage and respect to all the artists with a funky vibe. 
What can fans expect from the Party Pupils set?
We always try to bring a different energy to the usual electronic space environment. My partner Ryan plays keytar and we bring in a different top box. Our goal with Party Pupils is to just not take it too seriously, have as much fun as possible and get people out of their shells. It's always about just getting funky with it so we're really excited to experiment.
On the Max end, as well, it's about energy. I think it transcends, whether it's in an emotional or vulnerable sense. We just want people to open their hearts. We always want to stand for love and be out there no matter anyone's sexual preference or where they're from or who they are. That's where we stand with both acts – just colours and love and being open. 
Will we get to see some cool dance moves?
Oh yeah definitely! I always try to wiggle around as much as possible so I'll definitely have some jumping, splits and whatever else. I never really choreograph anything, I just go with the vibes so hopefully the amazing R&B energy brings out some new, weird and specifically Australian dance moves. Who knows? We'll have to see what happens!
I feel like every few months we find a new specific move that people start naming. There's a song called Holla on the last tour and we call it this 'Holla wiggle…I don't even know what we call it, but it just came about during one of the shows and we kept with it so…I'm not trying to put pressure on the Australian environment but I'm really open to specific Australian dance moves on this tour.
I love your glitzy, quirky fashion style! What were some of the inspirations behind the look? 
Definitely my wife has been a huge inspiration. Before I met her I wore a lot of black, and I was way more insecure and a little less adventurous with it. Since we got together—she's a designer and she's all about colours—our relationship has brought out more of the thrifty, luxurious side. We try to find cheap but very colourful, crazy clothing. It's just wonderful because we always want to stand for expressing yourself in the most authentic way and I feel the most myself than I ever have. She was a part of that to help me dress in the way we do.
Now I'm really into nails. We went for a mani-pedi last week, which I've only done a few times in my life, and I got these cool nails. I love them! I'm like, "Oh no, I'm addicted and I'm all about nails and this is so tight." I like anything colourful and that brings out more of our inner personality. It's where the inspiration comes from and it just hopefully makes people feel good and smile from the energy of colours.
Awesome! I hope you have time to do some shopping while you're in Oz. 
You know it's the only reason (my wife) Emily's coming, and also so she can have a kangaroo to hang with. Do you have a lot of thrift shops there in Australia?
Yes but over here we call them Op Shops. 
Amazing! Oh, cool. That sounds right up our alley. We're going to spend all of our savings when we go and hopefully we can get back from Australia. We probably won't be able to afford to get back!
Last month you released the music video for Do You Still Feel, a song you collaborated with Rain Man. Can you walk us through the song and the idea behind the video? 
It's interesting as a writer—I write a lot of songs and sometimes you go into different sessions and you want to find something new to write about because you can't write about the same things.
Being married to my wife—we have an incredible relationship and it's beautiful. We have our fights sometimes but we always figure it out and I think the biggest inspiration behind this song is we're only a little over a year into our marriage and I know there's many, many years to come. I think there's this idea when you're with someone—whether it's marriage or dating or whatever else—that it may be easy to just be very comfortable and not appreciate the little things you did. This song is about checking back in on that and realise you still feel the same love you felt at the beginning of all this. There's this fear of eventually not feeling that and it was just an idea I wanted to dive into.
The video is similar. Its sort of simple and introspective of just that little bit of fear I think humans have in general of things changing. It's inevitable but the hope is it doesn't take away the true spark that it all started with.
When it comes to performing arts, you've covered most of the spectrum with music, acting, modelling and dancing! If you had to choose only one, which would you keep?  
Music for sure! It's interesting because growing up I had my feet in all these different spaces but I think what came out altogether is the combination of a lot of those different worlds. Acting is wonderful to create music videos and still utilize that world. On the dance side, I love wiggling around. I was never a wonderful dancer but I loved dancing so getting to do that on stage is one of my favourite things.
I stopped doing TV shows and movies a couple of years ago because I really just wanted to stay focused with music and give everything to it. I think you find so much more when you dive fully into something and give all of your spirit to it.
I definitely choose music over everything else and always will but those other elements present themselves in parts of music, which is wonderful and always makes me really happy.
What are your plans after the Australian tour?
We come back to do about 30 shows in the US and Canada, and then we're coming over to Europe in January, which will be the first shows in a lot of countries. After that – because I've been writing in between the trips for the next album – I'll probably just hunker down and have it fully completed. By next year I'm hoping to have the full thing done for all the incredible people who listen.
MAX Live Dates
THURS 7 SEP
Fowler's Live, Adelaide
FRI 8 SEP
The Bald Faced Stag, Sydney
SAT 9 SEP
The Evelyn Hotel, Melbourne
SUN 10 SEP
The Evelyn Hotel, Melbourne
WED 13 SEP
The Triffid, Brisbane
Get Tickets HERE