Interview: Oscar Dawson from Holy Holy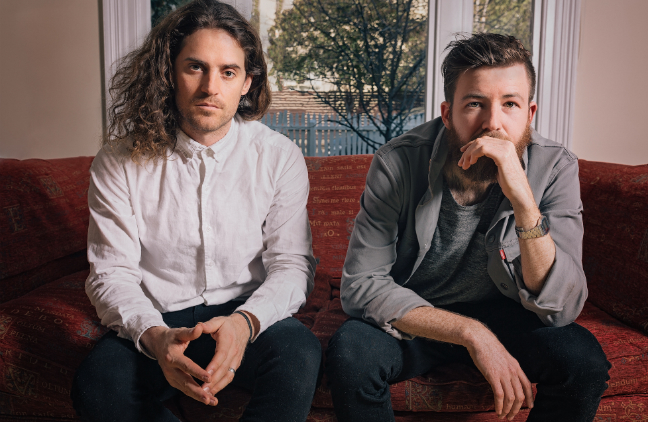 It's not often an Australian band receives international acclaim for their debut album, and even more rare when one of Oasis' Gallagher brothers becomes your loudest and proudest fan. But for Australian rock duo Holy Holy the release of their 2015 debut album 'When the Storms Would Come' saw the pair go for performing in small venues to playing to thousands while supporting Vance Joy and selling-out famous London music haunts.
Just weeks from the release of their sophomore album 'PAINT' we chatted to guitarist Oscar Dawson about how to write proper guitar solos, the "Painting to PAINT" project, and why he's always just trying to impress his dad.
G'day Oscar! We don't have heaps of time, so let's jump straight into it. Just from listening to the first two singles from 'PAINT', the new album sounds more energetic and upbeat compare to your debut. Was there a major difference in how Holy Holy approached each album? 
Yeah, there's probably a difference that comes from all sorts of sources. We played more as a band when we made this album. When we made the first album we weren't even a band! There wasn't a band around it, a lot of the songs were written very simply on an acoustic guitar or with just one or two people in a room… later we expanded them out with a full band sound. But this time around we were already a band, we existed as an actual band.
So that meant we were playing a lot more together, and I guess a natural by-product of that is the songs ended up sounding a bit more up-tempo and louder in general I suppose… that's probably the simplest way to describe the difference! But, personally I get bored easily and we love playing live, so I wanted to write [songs] that would work well on the stage. I like the feeling when you're working and an audience is responding to that, so part of [the album's writing process] was me trying to create almost a to-and-fro with the audience.
Because of that I wanted to write more upbeat tunes and as a band we wanted to put out something that was a little more developed from where we left off with the first album. Also, when you make an album there's a whole lot of musical ideas that don't make it, so perhaps I erred more the side on the ones I felt were more group-based.
When I talked to you last year you said that You Cannot Call for Love Like a Dog was originally just an epic jam song, which turned into one of the biggest songs on your debut album. So, can we expect any tracks on 'PAINT' with face-melting guitar solos and other stadium rock influences, or have you toned everything back because you're now actually a band?
(laughs) I don't think we had to tone it back, I hope we didn't! There's (giggles) a few guitar solos on 'PAINT', which I'm happy about… I mean I could always have some more! But, I guess with the guitar solos… we think pretty hard about them as the guitar is an instrument that has been played to death in modern music. So I think we weren't keen to rehash too many of those clichés… not to say that we didn't, but we always put effort into those guitar moments to try and make them both modern and link to the past.
Like, there's a little bit of finger tapping… but we tried to make it tasteful, as tapping can get pretty out of control at times. There's also some harmonised stuff, which can also become pretty untasteful but I think we did it in an alright way.
(laughs) So, is it almost DragonForce tapping? How intense did you get?
Well I'm a huge Eddie Van Halen fan, and I wouldn't say he's a direct influence on our music but he does it in an effortless way, y'know? I guess like anything in music, it's about doing something musical without people noticing it. So we went about it in a way that wasn't "oh, HERE'S THE TAPPING BIT", we just kind of slid into them…
Nothing too face-melting then I guess?
(laughs) Yeah, it's nice and subtle. Although it'll be up to other people to determine if the tapping worked out ok or not…
A month or so ago you posted a video on Facebook showing you laying down some guitar passes using a right-handed Stratocaster. You're a left handed guitarist, so what inspired playing that song's guitar parts quite literally upside down?
It's purely been a practical choice, not just a creative choice. Being a left-handed guitarist, the vast majority of guitars are actually right-handed. So if I'm just hanging out with people and there's a guitar lying around it tends to be right-handed, and as a result over the years I've gradually learnt guitar upside down… and I've found in some ways it's good to flip it because it gives me a new perspective on the instrument, literally!
It makes your fingers do things they wouldn't normally do, so sometimes it can be really cool… and Matt (Redlich, keyboardist) has this really nice right-handed [Stratocaster], like every time we plug it in we love the sound of it. So there's been parts [in 'PAINT'] where we've said "f*ck, we should just use the Stratocaster, hey?"… which then means I've had to go learn the stuff upside down (laughs).
Did having to learn some of the new songs upside impact on the release date of the upcoming album?
(laughs) No, I don't think so. I mean, we were really running up against the timeframe for recording the album anyway, we really scrambled to the finish line! I like to think it wasn't due to us trying to record guitar in a stupid way…
In the lead up to the release of 'PAINT' you guys are running the "Painting To PAINT" project. How did this idea and the collaboration with the artists come about?
Yeah! So the artwork of the album is a painting by a good friend of ours and a really great Australian artist, James Drinkwater. Long story short, we were trying to sort out the artwork for the album, and deciding on that stuff is hard because you're trying to sum up what the body of work is about in just an image… and that's hard enough at the best of times!
We started going back and forth with James around different ideas, and I thought a painting by James would be a good move because personally his abstract style, energetic approach, and his kaleidoscopic use of colour really jumps out at me.
So James let us use a piece of his artwork, which is wonderful, and since then we've come up with the project of having four different Australian artists create a painting inspired by songs from 'PAINT'. James will be doing one, his partner will also do one, and Chris Horder along with someone else will do the other two!
I don't know how they'll turn out as each artist is pretty abstract, so they won't just be telling the songs per say through the paintings. It's going to be the visuals to sum up what they're hearing. It'll be interesting to see where it goes…
And will you and Timothy (lead singer) be trying your hand at creating a masterpiece on canvas in the process?
I think we'll leave that to the professionals! We've sort of been given the blank canvas of recording these 10 songs (laughs), so I wouldn't want to further offend anyone. We don't want to ask too much of people, like releasing an album and asking people to listen to it and come to the shows is quite enough, y'know? 
Liam Gallagher (Oasis) became a massive advocate for your debut album, so who are Holy Holy intending to impress the socks off with your sophomore album?
(laughs) I think we're just trying to impress ourselves… or just impress our partners with this one. Maybe deep down, if we're going to get psychoanalytical, I'm probably trying to impress my dad… most guys deep down are just trying to do that. But we don't have our sights set on anyone famous, I think the more you try to impress people the less you impress them, basically.
So is that why you've included the tapping parts, to really try and impress your dad?
Yeah, well he'll hear [the parts] and go "Ah Oscar! I remember you used to do that in your bedroom when you were 14". (laughs)
Lastly, when can we expect an Aussie national tour in support of the album?
Ah, I don't know! We'll be keeping [Australia] posted, let me put it that way…