Interview: Phil Jamieson from Grinspoon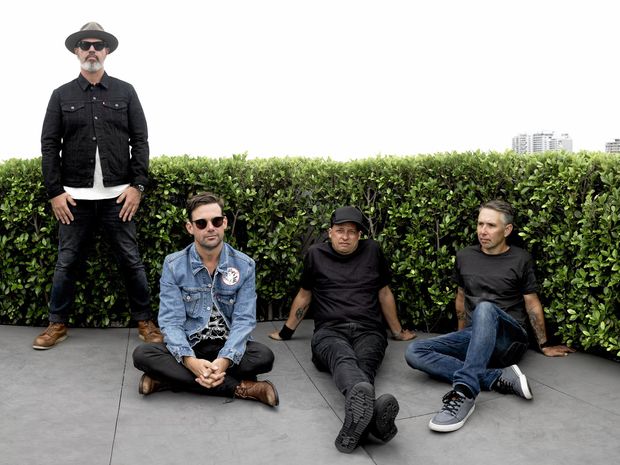 After a four-year hiatus, one of Australia's most iconic rock bands, Grinspoon, have come together once again to hit the road in support of the 20th anniversary of their debut album, 'A Guide To Better Living'. Ahead of the re-release of the album and before the tour kicks off in late June, we had a chat to the band's front man, Phil Jamieson, who filled us in on what the band has been up to for the past four years, and hinted at the possibility of the band reforming and working on new music.
Most people would know that the band has been on a hiatus for the past few years. What's been happening over that time?
Patrick opened a shop called Bangalow Music and Books and wrote a children's novel called 'Alexander The Elephant' and also recorded music to accompany the novel, then he closed the first shop and opened another shop called The Fireman's Club. Joe has been working behind the scenes at music festivals like Splendour In The Grass etc. Chris has been in a trade style job, working on rentals I believe. And I have been doing a bunch of stuff, I did a musical earlier this year called American Idiot, then I did some solo shows and have just been kind of kicking around. In the time we were on hiatus Pat also started a family, all the rest of us all started families years ago, so he finally became an adult even though he's the oldest in the band.
You've come back together for the 20th anniversary of Guide to Better Living, whose idea was that?
I think there was a plan to do a re-release on vinyl regardless of us getting back together because we've never released anything on vinyl except for a limited edition EP back in 1996. So that was always part of discussion, and then it became the idea of doing three little shows, like at The Zoo in Brisbane, Oxford Arts Factory in Sydney and maybe 170 Russell in Melbourne in March. They were the kind of venues we were playing in 1997, which were 200 or 500 people capacity venues. So we were going to recreate what it was like back then, die-hard fans can cone and sweat it out in these little venues, it would be great. That plan didn't end up working out, March was too soon, I couldn't find my guitar, so we ended up going to this idea, which I guess snowballed. We announced the tour in April and it just ended up going pretty crazy, so we kept having to add shows, so I don't think on hindsight those little shows would have worked. The enthusiasm and genuine affection for the record that people have been showing is so flattering and it just makes me feel all warm and fuzzy.
Some of the shows were selling out in less than an hour, did you expect it to happen that quickly?
We really had no idea, if we thought any of them were actually going to sell out we would have picked bigger venues. I think management and agents were looking at our previous tour back in 2013, and looking at numbers and all that boring shit and then they told us the venues that we could do. It just really has been crazy; it's been so great.
Considering the songs are all 20 years old, do you think you play them the same as you did back then?
I want to do it exactly the same, I want to make it the same as possible to the actual recordings. I want the same energy, the same inflections, basically the exact same thing if we can as a band. If we can play the same as what we did when we were 19 then that's what I want to do. I've sung the record three times through now and it's really fun, some of the songs I wrote back then are actually funny, but I'm really looking forward to it. It's quite a fast record, so that in itself will create separate challenges, but in general I don't really feel uncomfortable with any song on the record, which is rare. We released six records after that first one, and there's songs on the latter six that I really dislike, but to varying degrees, I really like all the songs on this record. I don't play guitar on this record either, I wasn't allowed to play guitar back then, I was like 19 and Pat wouldn't let me near one. I only started playing guitar in the band around the No Reason on the album New Detention, and then I kind of got straddled with a guitar from 2005 on. But I was like "I really don't want to play tis, can someone play it for me, it's too much work…I'm playing and singing", I should double invoice for it.
Do you remember a lot about making that album 20 years ago?
Yeah, it was very memorable because it was the first chance we had to be in a studio for more than two days. At the studio, it was called The Rocking Horse in The Hinterland in Byron Bay, we set up the drums and stuff in the lounge room and there was a pool there, it was like what we had all envisioned recording an album would be like. It was all my dreams at once. I think we did it in seven days and we tracked 21 songs. It was a really honest and organic, I actually really hate that word, but it was all the songs we'd ever written up until that point. We didn't demo anything, we just went in and recorded everything.
So you're re-releasing the album too, on one of the editions there's 49 tracks on there right?
Yeah on the CD deluxe edition, which also comes with a 36-page booklet as well, and with the vinyl it comes with a live set from CBGB's too.
What else will be on the deluxe edition album then?
So back in the 90's there was a thing called CD singles, you'd put remixes on the B-side, even though there wasn't a B-side on singles. So we've got Railrider remixed by Paul Mac, Champion remixed by Groove Terminator, a remix of Pedestrian. Then there's live sets from Falls and CBGB's, then there's an unreleased song, there's a lot of songs on there.
You're playing at State of Origin too aren't you?
We are! June 21st for the second game. That's the week of album re-release, so there's a fair bit of stuff going on around then. This is out third State Of origin we've played and it's a real honour. The first one was in 2003, so to be asked back 14 years later is really nice. We're playing champion and it's going to be super fun, I'm looking forward to having some fireworks and production.
After all of this is over, does the band have any plans on getting back together or is this more of a one off thing?
I am just looking to September 23 at this stage, which is the last show of the tour. But I went up to Byron two weeks ago and did some writing with Pat, so what might happen with that I have no idea yet. I just want to be on speaking terms with the band at the end of the tour and then we'll go from there. By September 23 I know I'll be fairly road weary, but we'll just reassess then. The thing about it is that if we ever do any more recording I just want to make it really, really, really, really, really, really good. The pressure that we put on ourselves as a band to make it awesome is enough for me to keep saying no, because after seven records you want to make sure things are perfect. There are definitely ideas floating around, but how long to make them really, really good is uncertain. But right now I'm just staring down the barrel of a three month tour, and when we get off the tour it will all be reassessed.
Grinspoon Live Dates
FRI 23 JUNE
Kay St Entertianment Complex, Traralgon
FRI 30 JUNE
Margaret Court Area, Melbourne
SAT 1 JULY
Village Green Hotel, Mulgrave
FRI 7 JULY
Enmore Theatre, Sydney
SAT 8 JULY
The Tivoli, Brisbane
SAT 29 JULY
One Tropical Day, Darwin
THURS 3 AUG
The Wool Exchange, Geelong
FRI 4 AUG
Pier Bandroom, Frankston
SAT 5 AUG
Granada Tavern, Hobart
THURS 10 AUG
The Jack, Cairns
FRI 11 AUG
Dalrymple Hotel, Townsville
SAT 12 AUG
Magnums, Airlie Beach
THURS 17 AUG
Villa Noosa, Noosaville
FRI 18 AUG
Redland Bay Hotel, Redland Bay
SAT 19 AUG
Shakafest, Gold Coast
THURS 24 AUG
Dunsborough Tavern, Dunsborough
FRI 25 AUG
Metro City, Perth
SAT 26 AUG
Adelaide Entertainment Centre, Adelaide
THURS 31 AUG
The Cambridge Hotel, Newcastle
FRI 1 SEP
Lismore City Hall, Lismore
SAT 2 SEP
Racehorse Hotel, Ipswich
THURS 14 SEP
Waves, Wollongong
SAT 18 SEP
UC Refectory, Canberra
WED 20 SEP
CSU, Wagga Wagga
FRI 22 SEP
Beer Deluxe, Albury
SUN 24 SEP
Batemans Bay Soldiers Club, Batemans Bay