Interview: Sabian Lynch of Alpha Wolf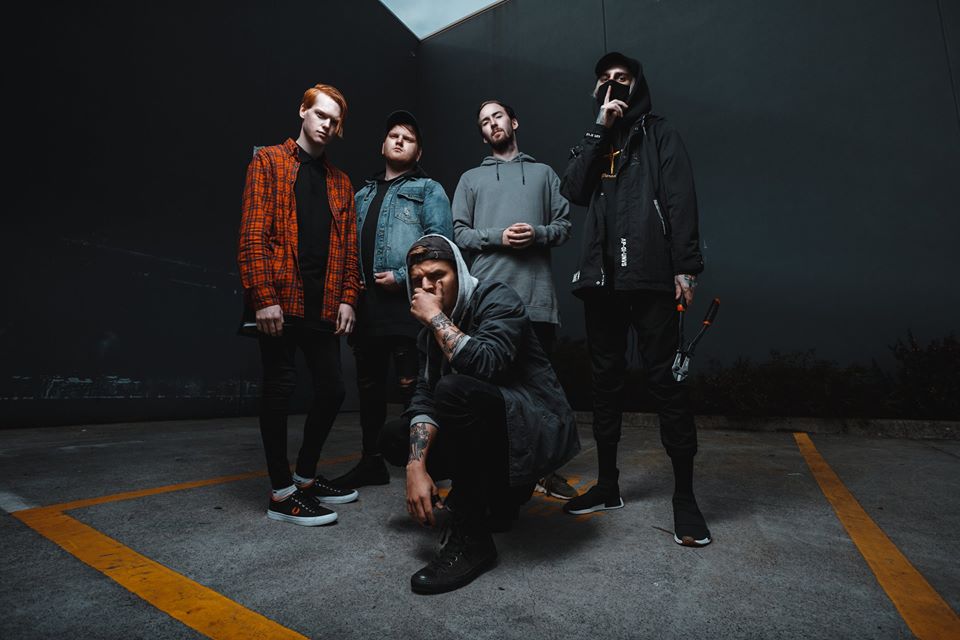 For the uninitiated, the Australian metal scene is no different to that of any other. However, upon closer inspection, it doesn't take a genius to notice that our home grown bands are quickly becoming one of the most sought after commodities in the metal genre. While the likes of Parkway Drive and I Killed The Prom Queen led the charge initially, it's bands like Melbourne five-piece Alpha Wolf, that have taken the reins and shown audiences how much potential local bands have to reach the same heights as their predecessors.
Less than a week away from dropping their debut album "Mono", guitarist Sabian Lynch was kind enough to take some time and give us background into the emotionally driven debut, along with his musical influences and what heavy music means to him.
So Mono, the big debut, it's gotta be an unreal feeling and almost a dream come true to see so many people excited for it and for you to be able to see all the hard work finally paying off? 
Yeah man we're extremely proud of ourselves I guess you could say! We're so excited for everyone to hear it! We didn't quite know what to expect going into it all but everything seems to be paying off so far, people seem to be digging what we've put out lately and we couldn't be more excited to put the whole thing out!
You said in a previous interview that Alpha Wolf used to just write breakdowns and heavy parts for the fun of it. So with that and then jumping to now where the new songs are more structured and emotionally invested in, what significance does releasing Mono have compared to previous releases? 
So basically with our older stuff in comparison to now, I never realised how rewarding it could be to write music with a message. You know, I've listened to our new songs back to front and I guess, felt some relief from those and taken something from those, whereas it used to be just the heavy stuff and the head banging and whatnot. So it's just really rewarding to have songs that we can take something from and have songs that mean stuff to us.
A lot of the songs on the album deal with some really personal issues, is it ever difficult to allow yourself to be so vulnerable in the writing process or has it always been an outlet for you?
It has proven to be a little bit difficult! Seeing as nobody's really heard the whole album yet, I guess people don't know what they're in for so it's hard to gauge how people will react, especially the people that song some of the songs touch on. We're probably going to end up performing songs to those people and I guess we'll find out from then how difficult it is. We've had a couple of brief moments where we've played a song in front of a person in question and I guess it's not easy but it's something we definitely knew we were getting ourselves into!
The latest single Golden Fate; Gut Ache, was a bit different to what people have expected from Alpha Wolf. I personally loved it, my favourite off the album. I know that song in particular means a lot to you personally, so for those who don't know, can you give us a bit of background into the song and what it means to you? 
Yeah, I wrote those lyrics in the first stages of the album preparation and we never quite wrote a musical piece to accompany it. We had one piece written but we ended up scrapping it when we went into the studio because we weren't truly happy with it but I still really wanted to go ahead with the lyrics. So we ended up writing a piece of music, basically on the spot because we all knew we wanted a song for it, we wanted to put those lyrics forward, so we spent a day and pretty much passed the guitar around between the three writers in the band and our producer to try and write the song on the spot. It ended up taking the melodic approach and we decided to implement the clean singing and it became my favourite song which is why I wanted to release it first to act as a kind of curveball to our audience so they didn't really know what to expect from the album. We didn't want them to think that it was just going to be twelve unrelenting tracks, there's going to be something different on there for everyone!
Personally, the song helped me touch on a friend of mine committing suicide a couple of years back and I probably thought, and still think that there was something more that I could have done to prevent that, I could've been a better person then. So I feel like there's a lot of people in my exact situation you know, suicide is very common these days unfortunately, and anyone close to victims of suicide probably always feel like they could've done more. So whenever I listen to that song, I touch on that myself and I feel as though anyone who's been in my situation might be able to touch on that song and might be able to take something from it.
And the music video obviously highlights the story! I know you're quite into photography and graphic design, do you like to get as involved as possible when it comes to the bands artwork and videos? 
Yeah I do direct quite a bit of our artwork! The video in question, I did come up with the idea for it, I did want it to somewhat resemble my story! There's another video coming out next week which is part one of that story, so there's a part one and part two just like there's a part one and part two on the album about that story. So when we put that out it'll show a different side to that story and I think it's come together really well!
There's a couple of references to other bands and artists throughout the album, like the Plot In You verse in Devon Street, so what bands were you listening to that influenced your style on the album and even when you first started playing guitar?
I guess during the album period I was heavily listening to The Plot In You and I thought dropping that lyric in there was better than writing some metaphor that anyone could come up with. Not many people just straight up speak the truth so I thought that would be kind of cool to put in. But in terms of the band, all our influences differ across the board. Myself, I listen to a lot of modern day mosh metalcore stuff as well as a lot of 90s grunge and we all listen to a bit of rap every now and then so our van trips are always a mixed bunch!
It always seems to confuse people when they hear that lyrics of heavy songs are actually really emotional a lot of the time given the ferocity of the music. So with that, why do you think that such emotionally charged lyrics and heavy music go hand in hand? And what made the heavy scene so appealing to you personally? 
Personally I just always loved the aggression and the unity. I started going to shows at a very young age and stuck around. I grew up in Tasmania so it was definitely a lot smaller, but for me personally it was always my outlet. It was all I wanted to do, I'd save all my pocket money and fly over to Melbourne to go to shows or I'd bring bands down to Tassie. I've made a countless amount of friends across Australia and even internationally just though music itself and I think that itself brings so many people together!
And you guys are flat out pretty much from now until mid August with tours! When you hear that you're going to tour with big names like Thy Art Is Murder, is it reassuring thinking "sh*t I'm touring with Thy Art, we've gotta be doing something right!'?
Literally every day in our band chat we're excited, sending messages like "oh my god we're touring with Thy Art Is Murder". When we got that email, I remember freezing up a bit, I was with our drummer and I was like "holy sh*t dude look at this", I could barely speak the words, I just had to show him my phone! You know there's so many bands we feel probably deserve that spot more than we do because there's so many good Australian bands so to see our names on the posters is just that realisation of "well sh*t we must be doing something right" or we must be perceived as doing something cool in peoples eyes. We're just doing our own thing and making the music we want to listen to so it's a bonus that other people are digging it and it's a bonus that we get these opportunities and we couldn't be more appreciative of it!
'Death Sentence' Tour w/ Thy Art Is Murder
THU 27 JUL
Badlands Bar, Perth
FRI 28 JUL
Enigma Bar, Adelaide
SAT 29 JUL
Max Watts, Melbourne
SUN 30 JUL
Wrangler Studios, Footscray
WED 2 AUG
The Basement, Canberra
THU 3 AUG
Uni Bar, Wollongong
FRI 4 AUG
Oxford Art, Sydney
SAT 5 AUG
Cambridge Hotel, Newcastle
THU 10 AUG
Crowbar, Brisbane
FRI 11 AUG
Villa Noosa, Noosaville
SAT 12 AUG
Miami Tavern, Gold Coast
Get Tickets HERE