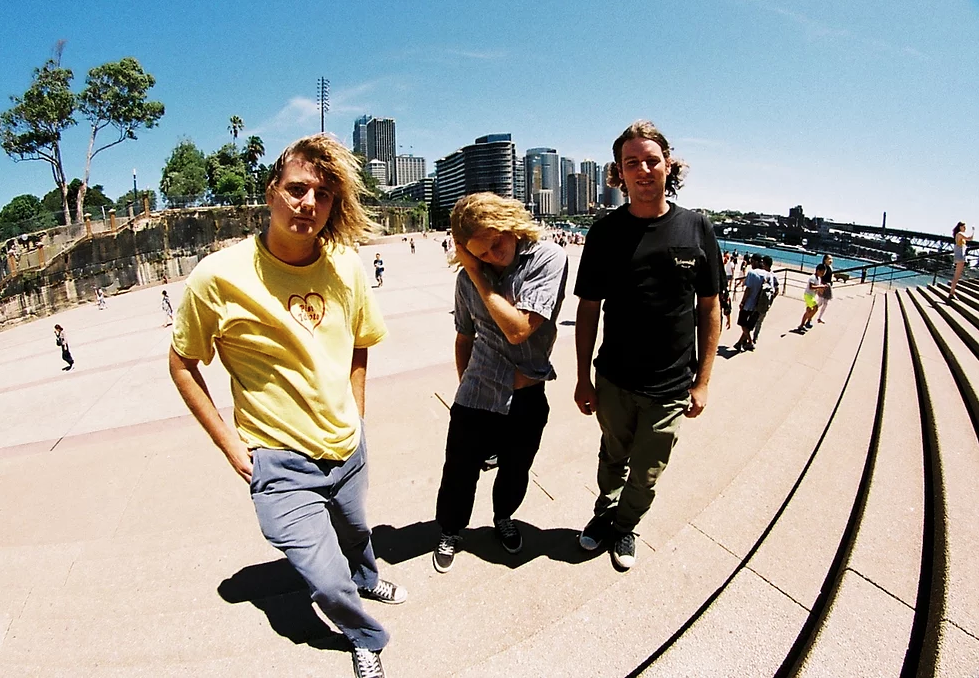 With their debut album, 'My Own Mess', released today, and a huge run of shows throughout Australia, Europe and the UK, we had a chat with Toby and Ben from Skegss. Giving us an insight into the making of the album, the Byron Bay trio have delivered an infectious collection of surf-rock, garage grit and a hell of a lot of lo-hi goodness. The boys also told us about teaming up with PLUS1, which sees $1 from every ticket sold from their upcoming tour donated to the Mark Hughes Foundation.
Congratulations on the album. It seems so crazy that this is actually the first record you're putting out. How are you feeling about the release?
Toby: Thanks so much! We're so excited for everyone to finally be able to hear it.
Did you have any pre-release nerves going on or anything?
Ben: I didn't until you just brought it up then.
Toby: Yeah now that you've mentioned it, it seems so real. I don't know if I'm having second thoughts about it all now. It's been finished for so long you almost forget about it. I think I was more nervous when we dropped the first single, but now I'm just so stoked for everyone to hear all the other songs on it. We all worked real hard on it; so we all just want to make sure everything for the release is done nice and smoothly. Then after that we get to go on tour which we're psyched about.
You've put out a few EPs over the past few years. Was there any particular reason you waited this long to do a full length? 
Ben: We really just wanted to make sure the album was good and was the best work we could put out.
Toby: Yeah it's not like we didn't try with the music that is on the EPs, we just weren't sure of exactly what we wanted to include on an album. Making an EP is just a different way of doing things, we could just go in and smash a few songs out. We didn't even know if we were ever going to put out an album, but we ended up having so many songs; there was 50 or so that Benny had written. I wrote about five; that all ended up getting scrapped, but Benny writes so many songs every day.
That's amazing, a lot of the time you'll hear bands saying they had 20 odd songs to choose from for an album, but to have 50 there is nuts.
Toby: Yeah there was a few; but they were all still just demos. We got it down to 15 songs, and that was something we were all really proud of doing and we're super stoked with what we produced.
I have been listening to the album quite a bit over the past week and I really love it. There's parts of it that have a bit of a heavier sound than your previous work. Did you go into the studio intentionally wanting to incorporate the heavier stuff?
Toby: I didn't even realise we did that. I'm stoked you said that though. I've kind of forgotten what it sounds like.
How long did you spend working on it?
Ben: About a year writing it and coming up with new demos.
Toby: Everything that ended up on the album; we spent two weeks recording that, maybe a little bit less. But with the time we spent recording demos and everything else, that took us around another six months on top of the year we spent writing everything.
Two weeks seems quite quick to get 15 songs recorded.
Ben: Yeah I guess, but we had all the songs completed by the time we went in to record, so we knew what we had to do. We had the luxury of being in there for two weeks and having 24-hour access to the studio.
Toby: Sometimes we'd clock on at lunchtime and work until 3 in the morning, so we put in a fair few hours. We record everything live so, so when Jonny and I do the bass and drums they will be done in the same take, so it's all recorded like that. A lot of other bands I know record with a click track, which I guess takes longer but it gives you the option to cut up the audio and move parts around. But we found it works better recording the other way for us; it's more fun and easier for me anyway because I don't like listening to the click track.
You played a few of the new songs off the album up at Splendour In The Grass not too long ago. How was that?
Toby: That whole set was just the best feeling.
Ben: Yeah, it was sick. To know that a couple of the songs had just come out and people had caught on so quickly was so cool. We're just so stoked that people are liking it so far.
Toby: It was definitely one of those surreal moments. We were playing Up In The Clouds; that was the highlight of the set for me because it's out newest song and we could hear everyone singing the words back to us.
That must be such an amazing feeling. I saw that set from the crowd and literally every person around me knew the words to every song.
Ben: It's so nuts. I don't even know all the words to our songs.
And you have a pretty big few months of touring coming up. You've got one here then you're heading over to the UK and Europe.
Toby: Yeah we're really excited about that. Do you think it's kind of wanky to call it a world tour considering we're just going around Australia, Europe and the UK? Because we had a poster made up that says world tour, it's kind of wanky hey?
I don't want to say it's full wanky, Europe and the UK covers a pretty big area. You've just got to back yourself on this one and claim it I reckon.
Toby: It's pretty crazy looking at that poster and seeing all the shows we're doing though. It's the biggest tour we've ever done by heaps, and it's what we love doing so it's pretty mind-blowing for us.
Yeah it's a pretty full on tour. I wanted to ask you about the collaboration you've done with PLUS1; you're donating $1 from every ticket sale to the Mark Hughes foundation, which is so amazing. How did that all come about?
Toby: We've been wanting do something like this for a while now, so with the album coming out we finally had the chance to do it. So we linked up with PLUS1 and they helped us find the Mark Hughes Foundation. It's something we've been wanting to be able to do for ages, and it's so cool that we can finally do it with this tour. I
Yeah it's such an amazing thing to do. 
Toby: Yeah we're really stoked to be a part of it. Cancer is such a shitty thing and it affects so many people and families, so that's why we wanted to support the Mark Hughes Foundation.
Skegss' debut album, 'My Own Mess', is out now. The trio will be on tour this October and November.
Skegss Live Dates
FRI 12 OCT
Metro Theatre, Sydney
SAT 13 OCT
Metro Theatre, Sydney – SOLD OUT
SAT 13 OCT
Metro Theatre, Sydney (U18) – SOLD OUT
FRI 19 OCT
Croxton, Melbourne
SAT 20 OCT
Croxton, Melbourne (U18)
SAT 20 OCT
Croxton, Melbourne – SOLD OUT
SUN 21 OCT
Croxton, Melbourne (U18) – SOLD OUT
FRI 26 OCT
The Tivoli, Brisbane – SOLD OUT
SAT 27 OCT
The Zoo, Brisbane (U18) – SOLD OUT
SUN 18 OCT
The Zoo, Brisbane (U18) – SOLD OUT
FRI 2 NOV
HQ, Adelaide – SOLD OUT
SAT 3 NOV
Metropolis, Fremantle (U18)
SUN 4 NOV
Capitol, Perth – SOLD OUT
TICKETS