Interview: Terry Coldwell from East 17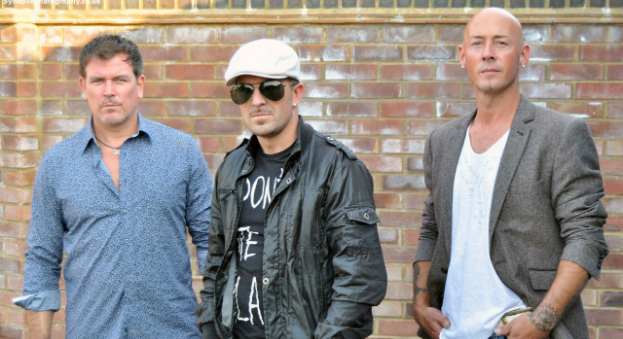 Back in the early 90s, steamy English quartet East 17 were known as the rebels of the boyband empire, melting young hearts all over the world with dance-pop gems like It's Alright, House of Love, and Stay Another Day. Even after twenty years of tears, dramas and line-up changes, the lads (now a trio) are still going strong. As they prepare for their highly-anticipated Oz tour supporting B*Witched we chatted with original member Terry Coldwell who revealed the drawbacks to the good ol' days, why he can't wait for this upcoming tour and the special surprise they have in store for Aussie fans…
Hi Terry! What are you most looking forward to about coming to Australia?
Ah mate, we just love the people, we love the weather and every time we're there it's been amazing! The fans have been brilliant. Mate…just everything, really.
A few months back I spoke with Edele Lynch from B*Witched and she mentioned this will be the first time both bands will have met. How did East 17 get involved in this tour?  
I think so, yeah. It was through the promoters, really. We got asked if we would like to be on tour and mate, we just love Australia so we said yes straight away (laughs).
She also mentioned that as the tour party will be largely made up of girls, there will be lots of girly nights! How do you feel about that? 
(Laughs) we're good boys…we're good boys!
What can fans expect from your sets? 
Just high energy! We've got a new album coming out as we tour and we've got a new single, a new video and a little special thing that we're doing but I can't really talk about but I'm sure everyone's going to love it. It's like a little medley but everyone's going to love it.
I heard you can break dance. Will you be busting some moves on stage? 
Ah…I breakdanced when I was younger. Now I could be breaking bones if I tried (laughs). But no, we're going to be doing a few dance routines, keeping the energy up on stage. We've been doing it for the last three years with revival festivals. It will be a very high-energy set.
What's you're favourite East 17 song to perform? 
Everyone seems to like It's Alright – there's a lot of jumping about with that song. I like Stay Another Day, which is more of a slow ballad, and we love performing House of Love – we normally open up to that…I just like them all, really (laughs).
So I'm guessing you never get sick of playing the classics? 
It's brilliant! I don't get bored of it at all. As time goes we've been releasing some new material so we've been mixing it up with the old stuff. Mate, I'm just grateful, really. The old songs…that's who we were.
When will the new album be coming out?
We're releasing it first in Australia with the tour! The record label is just doing the last bits to it so it will be released in about three weeks time. Australian fans get it first.
We love Australia. Whenever people interview us and ask what's our most memorable place, we always say Australia. We just love it out there! The people are friendly and you can have a big laugh with them, the food's really nice… and the weather as well. You cannot beat the weather!
That's true, although I should warn you it's been scorching hot lately. Are you ready for it? 
It's freezing cold here. I'm having to scrape the ice off my car every morning and I just think to myself as I'm doing it, "Man, Australia is not that long away now."
What else can you tell us about the upcoming album? 
The new album is kind of like the old stuff in a way; there are different genres on it. There are a couple of ballads, some house dance music, R&B, rock and 'Justin Timberlake' sort of tracks. There's also a couple of drum and bass tracks. There's music on there for everyone, really. We spend the whole of last year recording it and I think it's the best album we've ever done. Obviously the old stuff was brilliant for the 90s but this is current and I think every track could be a single.
Did you find you had more creative freedom making this album than you did back in the early 90s? 
Yeah, definitely. Definitely. I could always write but I didn't have the creative freedom I wanted in the band even though I wrote a track on our second album, three tracks on the third album and co-wrote the entire fourth album. For the fifth album it was just me, Tony (Mortimer) and John (Hendy), and I wrote half the album. For this one I wrote and produced the whole album. It's nice to not be stifled from your creative side. It can be a little bit of a downer sometimes but I'm really excited about this one. I'm really excited how the album sounds. I think people are really going to like it.
A few years ago you scored a new member; how did Robbie Craig end up joining the band? 
Tony wanted to go solo and Brian (Harvey) was already doing his solo thing. Me and John basically wanted to carry on with East 17. Robbie Craig was with the same booking agent as us at the time and the guy who owned the booking agent said, "Look, if you still want to do gigs and stuff, we could go and ask Robbie."  I already had a couple of Robbie's records so when he suggested him, I said, "Ah mate, Robbie is an amazing singer. We would love to work with him." And it just went from show to show.
He's such a nice guy! We manage ourselves and there are no problems with the band. Everyone is on the ball; there's no drama, no divas, and no egos. Everyone does their job in the band and everyone's treated the same. It really works. We're just loving life at the moment and we have a good laugh everywhere we go. We look forward to meeting up and travelling and it's just a really nice time in our lives.
Do you still keep in contact with original band members Brian Harvey and Tony Mortimer? 
I don't unfortunately, but the best of luck to the both of them. They don't keep in contact with me either and I don't keep in contact with them. I'll never forget the times and the memories we shared together but everyone moves on in life and everyone does their own thing. Everyone's got different paths to take in life. They're just doing their own thing now.
Fair enough. Are you currently involved in projects aside from East 17?
I'm just about to shoot a trailer to the new film I'm in, which I play one of the lead roles. It's a true story film. I'm just about to do that in March, so yeah, exciting times.
I've done a little bit of acting. I did some theatre a few years ago. It was a play called 'Smugglers', which was based on true-life events. The set was made by a guy who did a lot of stuff for the sets on Harry Potter. The band had stopped then so it was nice for me to fall into something else but I never thought I would actually be doing theatre. I loved it. When it ended it was like the end of touring but what a great experience! 
What does the future hold for East 17? 
Oh mate, just lots of gigs. We want to carry on until we can't carry on anymore…until we're too old. We're just going to keep pumping out music and travelling the world and meeting the fans. And having a good time!
Read our interview with Edele Lynch from B*Witched HERE
B*Witched 2017 Australian Tour
TUE 7 FEB
Metro City, Perth
WED 8 FEB
Thebarton Theatre, Adelaide
THURS 9 FEB
Festival Hall, Melbourne
FRI 10 FEB
170 Russell, Melbourne (SOLD OUT)
SAT 11 FEB
Big Top, Sydney
SUN 12 FEB
Big Top, Sydney
TUE 14 FEB
NEX Wests City, Newcastle
WED 15 FEB
Wrest Point, Hobart
FRI 17 FEB
Jupiter's Theatre, Gold Coast
SAT 18 FEB
Eatons Hill, Brisbane
Get Tickets HERE