Interview: The Plot In You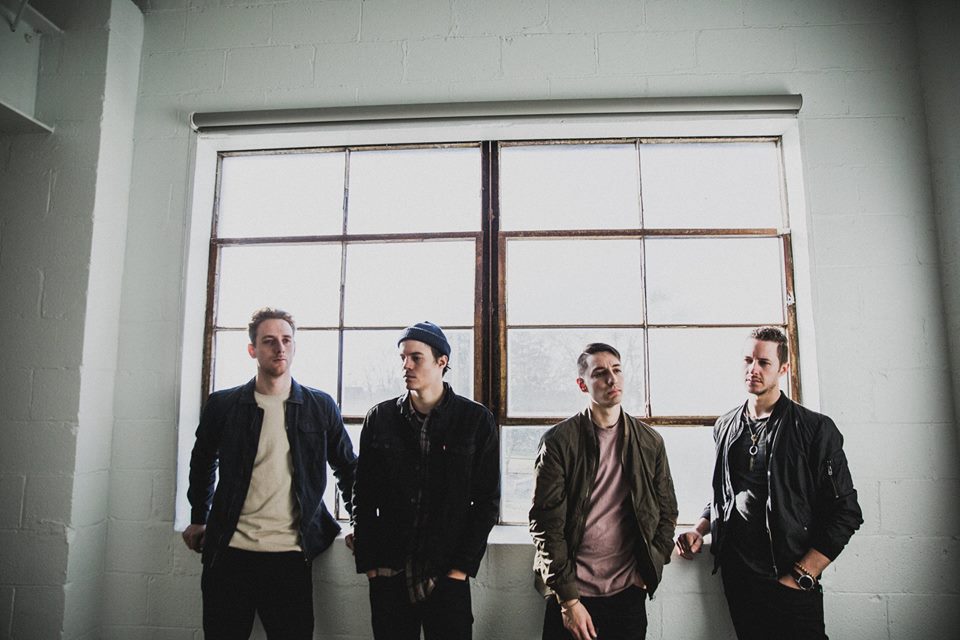 For many metal bands, the transition from a heavy sound to a new, explorative one is often met with scepticism and angry keyboard warriors. However, for The Plot In You, it's been a seamlessly hassle free process that has broadened their reach and excited fans both old and new. With new album, 'Dispose', due for release tomorrow, we sat down with vocalist Landon Tewers to discuss the new sound, on-set injuries, the big "f*ck you" of the album and The Plot In You's secret studio member.
Disposable Fix has just dropped, it's a bit of change up for you guys, what was the creative process and inspiration for the track? 
Yeah so with that one, I was working with a buddy of mine from Arizona, he and I had been cowriting stuff together for a couple of days. We ended up writing Disposable Fix and the first song that's on the record, Rigged, within, like six hours? So with Rigged, I ended up really feeling that one and had to say "dude I'm sorry I have to keep that one for myself" and then we started writing Disposable Fix after that and after a couple of hours I was like "man, I'm so sorry I have to keep this one too I'm sorry" (laughs).
But I was just experimenting a lot with making percussive sounds with furniture that was in my studio and stuff like that. And then I started messing with pitch you know, electro and pitch stuff with different plug ins and everything like that, just totally going wild with weird sounds. Originally I was just planning on using it as a filler song, but we liked it so much we ended up throwing it on the Plot record. It's kind of the big f*ck you of the record, and that was kind of the note we wanted to end it on.
The music video itself is a bit of a journey, you were strapped up to cables and all sorts of funky sh*t at different stages, how was that, being thrown around take after take?
Oh man that sucked so bad! I had back problems for like a week after we filmed that. Cause there was a part of the strap that was missing, just on the back so pretty much all the weight of my body was resting on the one small area of my back, so yeah that f*cked me up pretty bad! I don't think I'll ever forgive our drummer for making me do that (laughs).
I know you like to get involved in the video process where possible, so where did the Disposable Fix storyline start and how much of your own concepts are in the video?
This one specifically I didn't actually have a lot of involvement in the script! Our director had this idea in his head that he'd wanted to try for a long time and it matched up with what the song is about you know? So yeah it's just me going through this sh*tty phase of drinking myself stupid, which is something I've been through personally, and just stumbling around, making mistakes and wandering through life as the person that I care about is betraying me. So yeah that's pretty the idea behind the video.
And of course we have to mention 'Dispose', the new album, which drops very soon. We've heard three singles so far, all of which seem to have somewhat similar themes lyrically, so I guess firstly how would you describe the overall theme of the album and then how do the the singles tie into that?
Yeah so the main theme throughout the record is basically about a relationship gone wrong. And that can be interpreted in you know, male female relationship, father daughter, any type of relationship between two people, so for the most part it's relatable in that sense. It's obviously a bit more specific than that with personal scenarios and stuff but it's primarily a record about heartbreak and that's something I've never really touched on. In the past, I've tended to bring up more things from my past and experiences whereas this one was something I was going through during that time so everything I was writing about was very fresh. A lot of the time I wouldn't even write down lyrics I'd just get in the vocal booth and say things that were on my mind.
But yeah overall this was one of the quickest and effortless records to write and record. It all came together very naturally and very fluently so it's awesome! We're very very excited that it's finally about to come out.
And given how keyboard warriors can sometimes be with bands and their changing sounds, how has the fan reaction been to the new stuff so far?
So far so good actually! On the last run we did, we played the two singles that were out, so Feel Nothing and Not Just Breathing and they were my favourite songs to play live. It's definitely been a lot different with how the crowd reacts to it, it's not like in the past where they're going crazy to breakdowns. It's more people singing along and I like that a lot better, it's a lot more intimate. So I'm completely fine with moving out of the mosh phase and moving more into the singalong, where it's more about the vibe and an actual focus on sounding our absolute best rather than going crazy and trying to get people to beat each other up you know (laughs).
And in April, you're heading down south to tour with Polaris, it's shaping up to be a massive tour, sold out shows already with extras having to be added. It's been a while since we've seen you guys so how's the feeling in the camp and how's the body going to hold up with some hotter weather?
I'm actually really excited! Like you said, I think it's been almost four or five years since we've been so we're all excited. I've been doing my homework and listening to a lot of the bands on the tour to get myself ready. And it's been a long time since we've done a tour out of the states in general and it takes a bit of a toll on you. You're flying around a lot and you're constantly in a moving vehicle so for the most part it's kind of hard to sleep (laughs). But we're excited, it's always a new experience every time we come there and this is definitely going to be the biggest Australian run we've ever done so I think this will be our best experience yet.
Now fans of you would have also seen your newest addition to the family in Beara, your puppy. I don't think I've seen such a strong look of love on a mans face before, tell us a bit about her!
(laughs) Yeah she's awesome. I just moved into a new apartment so she's still getting used to it which is cool but that's going to be the hardest part. I always hate leaving for tour, leaving her behind and trying to find someone who will love her just as much as I do, it's pretty impossible but I've got my lady taking care of her while I'm gone so she's in good hands (laughs).
It seems like almost cruel irony that you have to leave an Australian dog breed at home while you tour Australia!
Yeah she is (laughs) she's a blue heeler! Which is awesome, just a lot of energy!
And I noticed she came into the studio with you at one stage, could we see The Plot In You's own version of Counting Worms by Knocked Loose with a sneaky dog bark before a breakdown?
(laughs) Yeah I can definitely see that in my future for sure! I think she'd be up to it, probably have to pay her a little bit but could definitely happen!
'Dispose' is out Friday the 16th of February.
'The Moral Coil' Australian Tour
w/ The Plot In You
THU 12 APR
Amplifier Bar, Perth
FRI, 13 APR
The Triffid, Brisbane
SAT, 14 APR
The Factory Theatre, Sydney  – SOLD OUT
WED 18 APR
Corner Hotel, Melbourne
THU 19 APR
Fowlers Live, Adelaide
FRI 20 APR
Arrow On Swanston, Melbourne
SAT 21 APR
Corner Hotel, Melbourne – SOLD OUT
Get Tickets HERE