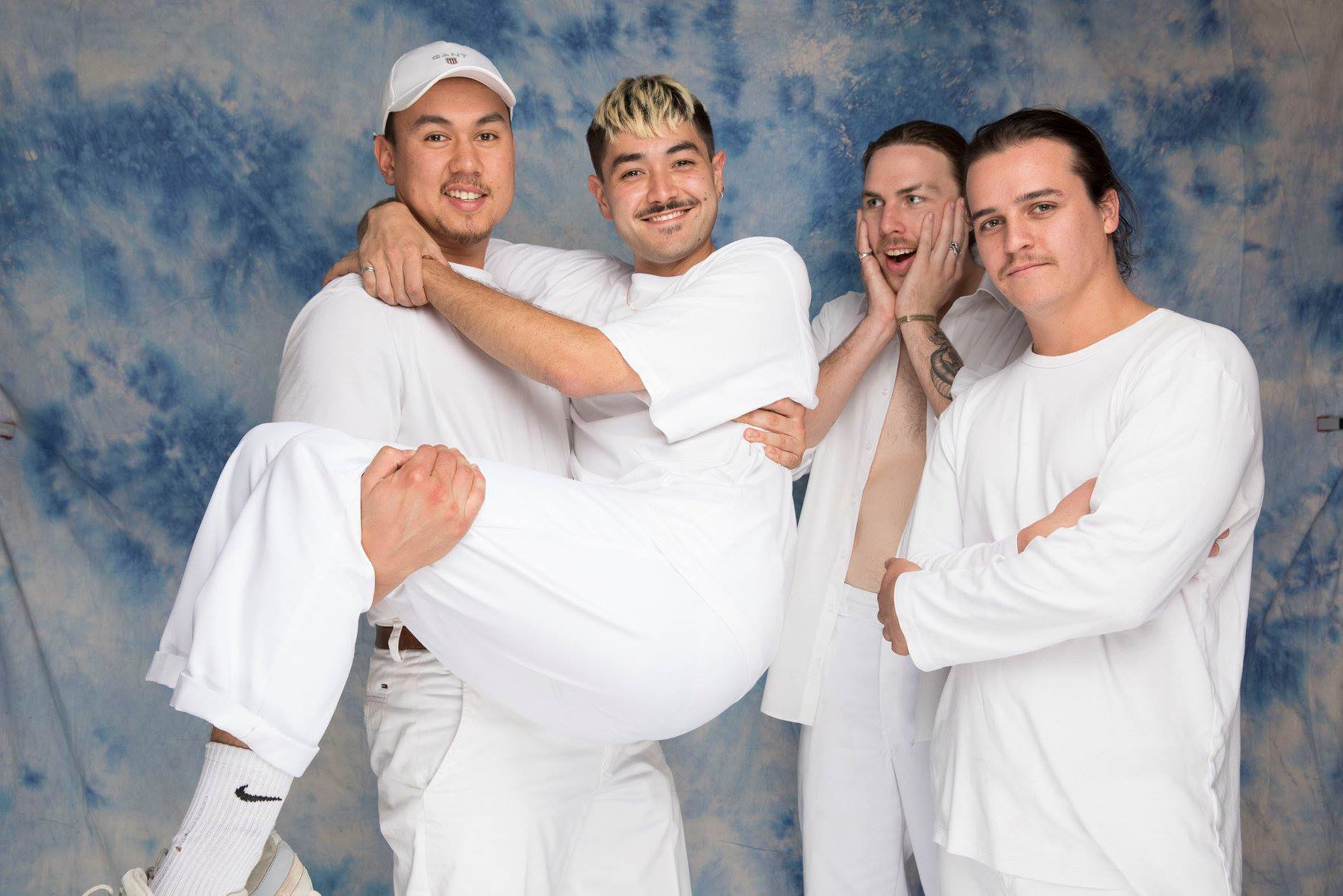 I first saw Triple One play at Sydney's Botany View Hotel in 2016 and I immediately knew they had a special quality about them. Hard hitting, fast paced raps, teamed with elements of punk and metal, and a whole lot of melodic hooks, the Sydney four-piece have developed an entirely unique sound.
After the release of their most recent EP, The Naughty Corner, which was followed by a tour with YG and their single Showoff, we had a chat with Marty and Dom at Festival of the Sun about how 2018 has been and what we can expect from them over the next few months.
You guys seem to be everywhere at the moment! Whenever I have Chanel V on at home the video for Showoff always pops up!
Marty: Yeah it's been absolutely crazy; we definitely exceeded our goals.
That's so awesome! I remember I saw you guys play at Botany View Hotel a couple years ago and since then you have pretty much just exploded. How has everything been since the EP came out?
Lil Dijon: It's been great. It's been so good to see everyone who is listening to our music and getting behind us, but other than that we've been writing a lot again, and we just recently got to tour with YG which was pretty cool. But we've just been gigging around and trying to expand our audience a bit more.
How was the YG tour?
Lil Dijon: It was good; it was actually so interesting for us. YG is amazing so for us to tour with him was crazy. And to play on stages of that size; it was kind of daunting but also so cool at the same time. But we had good turnouts for our set which was great.
They were at some pretty big venues, weren't they?
Marty: Yeah, there was the Horden Pavilion and Festival Hall along with a few others, which was crazy, but it was so fun to be able to play and try out venues that big
Did you play any unreleased music on that tour or was it mostly from the EP?
Lil Dijon: We played one unreleased song, but we mainly just played our more recent tracks.
Showoff has absolutely exploded, that must be a pretty crazy feeling for you guys?
Lil Dijon: Yeah, like you said the video has had pretty constant rotation on Channel V, so it's great to see that our music is getting recognised and that people are reacting so positively to it. It's a pretty surreal feeling, like watching our own video on Channel V is nuts. As a ki,d you always see people on music channels and think they are so cool, and now we're getting played on one of them. It's so exciting to see it on the TV. We did put a lot of effort into this video too, which is great to see that it has paid off and that the clip is going places.
You guys have a few festivals this year too don't you?
Lil Dijon: Yeah we played Listen Out and BIGSOUND, and then we have this one and Falls at the end of the year. So we're still testing the waters with festivals. Listen Out was our first time playing a festival, then Bigsound was playing in normal live music venues, but we quite like it. It feels like everyone in the crowd is always ready to have a good time. The crowd here looks pretty crazy too so we're super keen for our set.
Yeah everyone always gets so into every band here, and it's so great having both the stages so close too. I wanted to ask you about hip-hop in general too. It seems like it's really developing, especially in Sydney. Do you guys find that?
Lil Dijon: Yeah absolutely. The whole hip-hop culture is really growing and there has been a big push towards hip-hop music in general. A lot of people always seemed to be really into indie-rock for quite a while in Sydney, but it's so good to see that a lot more people are getting around this style of music and coming out to support it a lot more.
I want to back track a little; when did you guys first form Triple One?
Marty: It was in 2013.
Dom: Yeah they came up with the whole Triple One concept in 2013 after school, then I joined the group in 2015, which has been so amazing.
And what have you guys got coming up next year?
Marty: We've got a few big singles coming out early 2019 which should be pretty good.
Dom: Yeah really excited to release them. We're so excited to play Falls Festival as well, it will be so hectic. We might try to get an EP out at some stage after we put a few singles out, but we just want to play a lot more gigs. 
How long have you been working on the new music for?
Lil Dijon: A long time, but recently we went on a little trip about a month ago, so we have a lot more material from that as well. But I guess we're always in the process of writing and working on something. So it was nice to get away for a week and clear our brains, and just be able to focus on writing. We got five tracks done so we were really happy with it.