Live Review: Expo Liaison @ Luna Park – 25.08.2018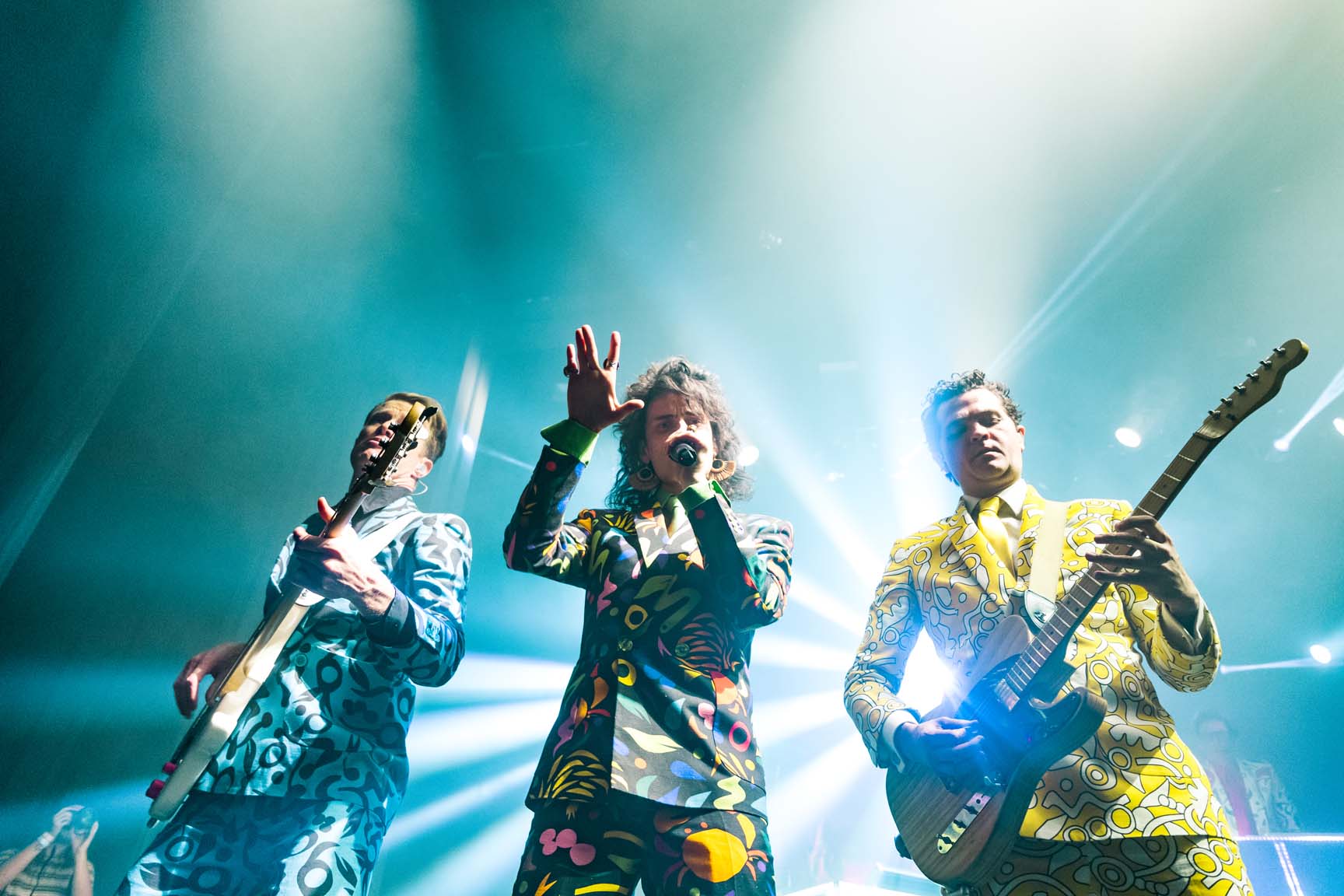 'You can't burst our bubble / we made our own scene.' Never has this lyric in Client Liaison's Off-White Limosine resonated as strongly as it did on Saturday night at Expo Liaison—the band's 'unique music festival experience' at Sydney's Luna Park. Ever the avant-gardists, Client Liaison joint CEOs Harvey Miller AO and Monte Morgan have, over the past few years, self-consciously hand-forged a super-stylized brand as a vehicle to showcase their modernized yet devotional take on '80s-inspired disco and indie-pop music. Expo Liaison was an inspired extension of the band's brand—a platform for them to amplify their music, and a way to position themselves as creative and scene leaders. The event itself was halfway between The Royal Show and a music-festival, and featured seven hours of Client Liaison-curated entertainment.
Turning Australian kitsch into high-pop art is Client Liaison's specialty, and while Expo Liaison was toted as "a travelling exhibition that will dazzle," the experiential non-music offerings were a touch underwhelming. We were expecting a convention-like array of immersive stalls and attractions: instead there was a merch-like stand with a few racks of the act's new fashion collection, the Client Liaison Deluxe Line (CLDL) crammed into the corner, someone chipping away at a melting ice sculpture of Olympian Steven Bradbury from behind a picket fence, and some wilting eucalyptus leaves wrapped around the bars (although a more resplendent display of Australian natives flanked the stage). The live wood chopping was fun, and drew a decent crowd of punters, and while the act's 'Off-White Limousine' parked on red carpet made for an inspired photo opp, it was so badly lit that no one's photos worked—a professional photobooth service would have made for a better activation.  Sausage rolls and pies to buy from the bar were a nice Australiana touch, but a full-scale canteen or an in-house BBQ might have elevated the concept and given it more visibility. And while it was probably more the venue's fault, service was an issue, with bars 10 deep, and the upstairs bar impeding on the vibe of the adjacent dancefloor, with plenty of punters spending most of their night in the bar line instead of dancing. Looking fantastic however, and really raising the bar of the whole event environment, were the Expo Liaison attendees themselves, who pulled out all the stops to dress-up in tribute to Client Liaison's colourful take on retro Australian business and leisure wear—wigs, sunglasses, pastels, ski jackets, dated tourist wear, Kath & Kim inspired earrings and politician-inspired blazers—it was all there, creating a very real feel of being at a gig that might have taken place in Australia in the early nineties.
But whilst the non-music components of the 'Expo' felt hurried and not executed to its fullest potential; the music performances shone. Kon was impressive, performing a loop and sample led set earlier on in the night, turning out a vivacious set of impactful soul and funk inspired compositions.  Luke Million delivered an epic, synth-tastic set earlier on in the night, working the crowd into a frenzy from behind his space-station like arrangement of keys, with old favourites like Arnold, a song that never fails to get the entire audience doing squats, and similarly maintaining momentum during catchy new(ish) material like Alive. The familiar opening bars of his viral re-work of the Stranger Things theme was accompanied by a stunning futuristic visual display and Million's keytar work was a real show-stopper. Million brought out singer KLP for Light & Sound—another highlight in a very polished set. The crowd were particularly enamored with rambunctious Melbourne electronic five-piece Total Giovanni, who delved into a set of slightly sleazy '80s inspired synth-infused house/Italo-disco jams. Their upbeat tracks, combined with their undeniable stage presence, proved the perfect formula to loosen up everyone's limbs ahead of the main attraction. Their set was a heady mix of audacious outfits (although they were down to their underwear before long, as is Total Giovanni tradition), smooth crooning, and gyrating hips, as they belted out solid performances of singles Paradise and When We Break, along with some new material, with the band commenting that there would be more to come on their upcoming Australian tour. Can't Control My Love scored the biggest response from the crowd, with a particularly enthusiastic bunch of fans in costume front-and-centre singing back the band's words to them and needing no encouragement to dance.
Real-life meme John Howard took to the stage dressed in a gold and green tracksuit, and DJ'd a set of contemporary radio dance hits, accompanied by video footage of John Howard on his infamous 'power walks'. The dancefloor was well and truly oiled up by the time our headlining heroes Client Liaison took to the stage. Those who witnessed Client Liaison's performance at Splendour in the Grass' main Amphitheatre last year, where they delivered a full-scale, multiple-costume-change audiovisual production (with Tina Arena in a captain's hat in tow) that gave Priscilla, Queen of the Desert a run for its money, would be well aware of CL's pristine live reputation. But those who thought that was a peak CL show would have re-evaluated their opinion after experiencing the band's performance at Expo Liaison, a performance that gave new meaning to the phrase 'extra' (in a good way).
Barriers behind the DJ booth were pulled aside to reveal a multi-platform stage, flanked by staircases, with the four band members in silhouettes striking poses at the top. Given the week's recent flurry of activity in the nation's capital, Canberra Won't Be Calling Tonight made for an inspired opening number, with bassist / political journo Tom Tilley later remarking to the crowd, "I just got back from Canberra last night, what a shit show it is down there!" The boys, who looked resplendent in silky get ups, with Monte rocking a particularly fabulous pair of orange hoop earrings, launched into the first of many choreographed steps of the night—weeks' worth of rehearsals must have gone into this show, with the guys joined several times onstage by female dancers, "The Bad Mamas," for formation-style dances. An INXS cover went down a treat, followed by Where Do We Belong, with Monte giving props to the traditional owners of the land and whipping out a casual didgeridoo solo. The crowd was bathed in sexy clarinet and green lasers for Wildlife, before a saxophone player encircled by a spotlight played a sophisticated intro to recent single Survival in the City, which was accompanied by an awesome lyric video, with the song's lyrics animated onto city buildings and billboards. The carton of Fosters was dished out to the crowd and the band (who by then had danced and sung their pants off and definitely deserved a refreshing beverage) as is Client Liaison tradition. The down-stated moments were just as considered as the showstoppers: like one of the dancers doing a seductive solo dance around Monte during Hotel Stay, Monte playing a delightful sit-down piano acapella as he revisited early track Feeling, and Harvey surprising us all by getting on the mic to rap.
A big-screen montage of Australian heroes (Olivia Newton John, INXS, Christine Anu, Tina Arena) welcomed the evening's 'special guest'—dressed in a powder-blue blazer, a grinning John Farnham came out on stage to an audience of faces several years' younger than what he's probably used to (with the legend joking that he was about to perform songs that hit their peak "before most of you were born") but seemed genuinely chuffed to be there and to get the wild response he did as he opened with Pressure Down, even accepting a sweat towel that got thrown at him. While for the most part the CL boys stepped back, forming a solid backing band, and let Farnham shine, although Monte came forward to sing with Farnham during the choruses of a rousing, moving rendition of Age of Reason, with a stunned crowd hypnotized as Farnham hit those soaring long notes. You're The Voice that prompted a massive entire room singalong, with mobile phone cameras whopped out en masse to preserve what ended up being an incredibly special experience for everyone there (with footage sent to no doubt a few jealous parents back at home!), that left everyone absolutely buzzing post-show. Sorry Tina, you've been trumped! (although as the crowd filed out at the end of the night, Sorrento Moon played out of the speakers in a clever touch). Before leaving the stage, Farnham gives Client Liaison some serious props, and they were well-deserved—it's pretty hard to top The Voice, but Client Liaison bloody well did it, going to absolute town during the rest of the set—coming back onstage (in new, even more OTT shiny outfits), flanked by the Bad Mammas in chauffer outfits for a staple favourite of their live set, Off White Limousine, slightly turning it down for during Hotel Stay (during which one of the 'Bad Mammas' performed a sexy dance), before bringing it home with World Of Our Love, drowning the crowd in a shower of rainbow confetti.
Expo Liaison, while not without its flaws, showcased an incredible display of Australian music talent, reinforced Client Liaison's position as one of Australia's most creative, innovative, dedicated and trailblazing acts, and created a sense of community amongst Client Liaison's retro music/fashion/culture aesthetic loving young fans, fans the band have fought long and hard to win over to the CL lifestyle – one faded pastel parachute windcheater at a time.