Live Review & Gallery: Wolf Alice w/ WAAX @ Metro Theatre – 23.09.2018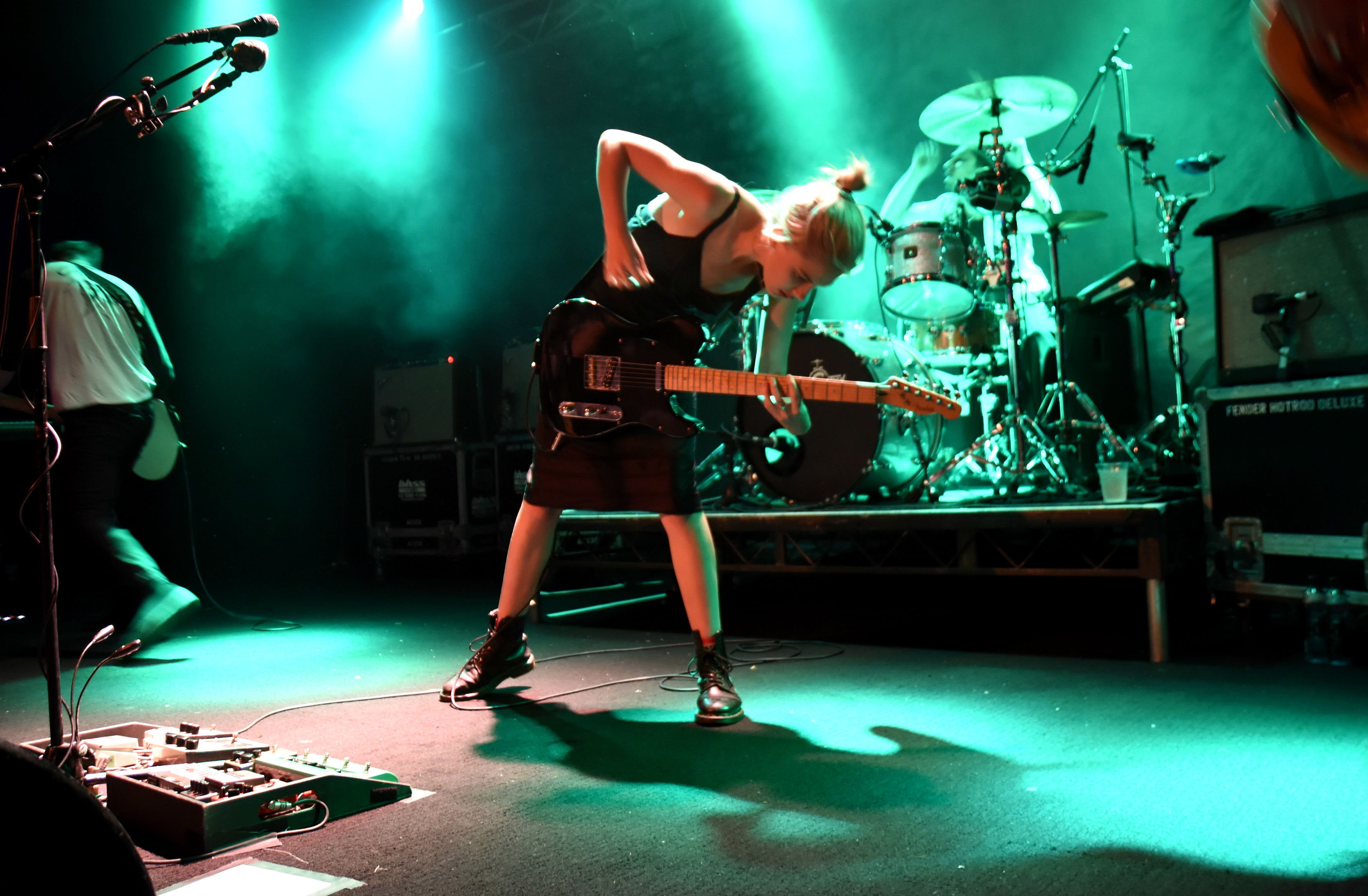 Wolf Alice live is nothing short of incredible—the Metro Theatre was treated to an out-of-body experience last Sunday, and any music fan should ensure they see them before they die. Spoiler alert for the entire review: the gig was good. Very, very good.
WAAX were on first, playing to a growing crowd. The Brisbane band came to life with a full sound, thick and rich. Guitarists curtained by hair were closed off as they chugged on, but the singer was what brought this five piece to life. Marie Devita flounced around the stage with flailing limbs and wide eyes. Her vocals bounced from harsh to saccharine in what could be described as scalene—never equal, never matched, and never predictable. A gravelly outcry followed jarringly by a word spoken. It was beautifully emotional, some passages sounding like tears held back, spilling but contained.
Then after an intricate change-over, Wolf Alice took the stage. Synths and effects units throbbed through the darkness as tension built along with the now raucous crowd. The four-piece leapt into their set, holding nothing back. Huge crash cymbals accented active basslines behind swirling guitars and dynamic vocals. The band was so incredibly professional and accurate—every sound accounted for, thoughtful and purposeful.
The British alternatives seemed so elated by the experience, making them a pleasure to watch. Bassist Theo Ellis was the single most energetic bassist I have ever seen—smiling, coercing the crowd, and plucking with great passion. After changing out for a semi-hollow bass, he yelled into the microphone with a thick British accent, "I thought I was gonna die on that plane, but this is the best experience I've ever had."
Ellie Roswell as the band's frontperson had tangible energy, a power that bubbled under a surface cool. She would strum apathetically one moment, scream the next, always melding and directing the noise. Roswell sang her own backing vocal into a second effected mic, impressively moving between the two with varied pitch and intention. She jumped between rhythm and lead guitarist, at times eschewing her guitar to focus on her soaring and crashing melodies.
Guitarist Joff Odie was also interesting to watch, switching out Fender Jaguars with immense speed. Odie brought on a tiny Stratocaster shaped knock-off at one point, seemingly for the task of ripping it in half. The distortion and feedback flew through the instrument as hands clawed at every part. At one point the bassist popped a bottle of champagne, the vocalist chugged it, and the guitarist used the glass as a slide.
This may have been the weirdest of the unique sounds that permeated each song—a cowbell, a pitched-down vocal, strumming above the guitar nut, samples from a Launchpad, guttural screams. On-lookers were drawn in by the spectacle and creativity that was each passage.
The encore continued to astound as the first half broke down the vocal and guitars to high-delay underwater beauty, a voice with fragility soaring above a bubbling riff. Then, the closer was huge, culminating all these unique sounds and professional accuracy into an amazing feat. Roswell jumped from the barrier into the crowd – standing upright as hands reached towards her. She sang the biggest notes of the night as the band thrashed around her, and fans clamoured.