Live Review: Gang of Youths "Surprise Show" @ Newtown Social Club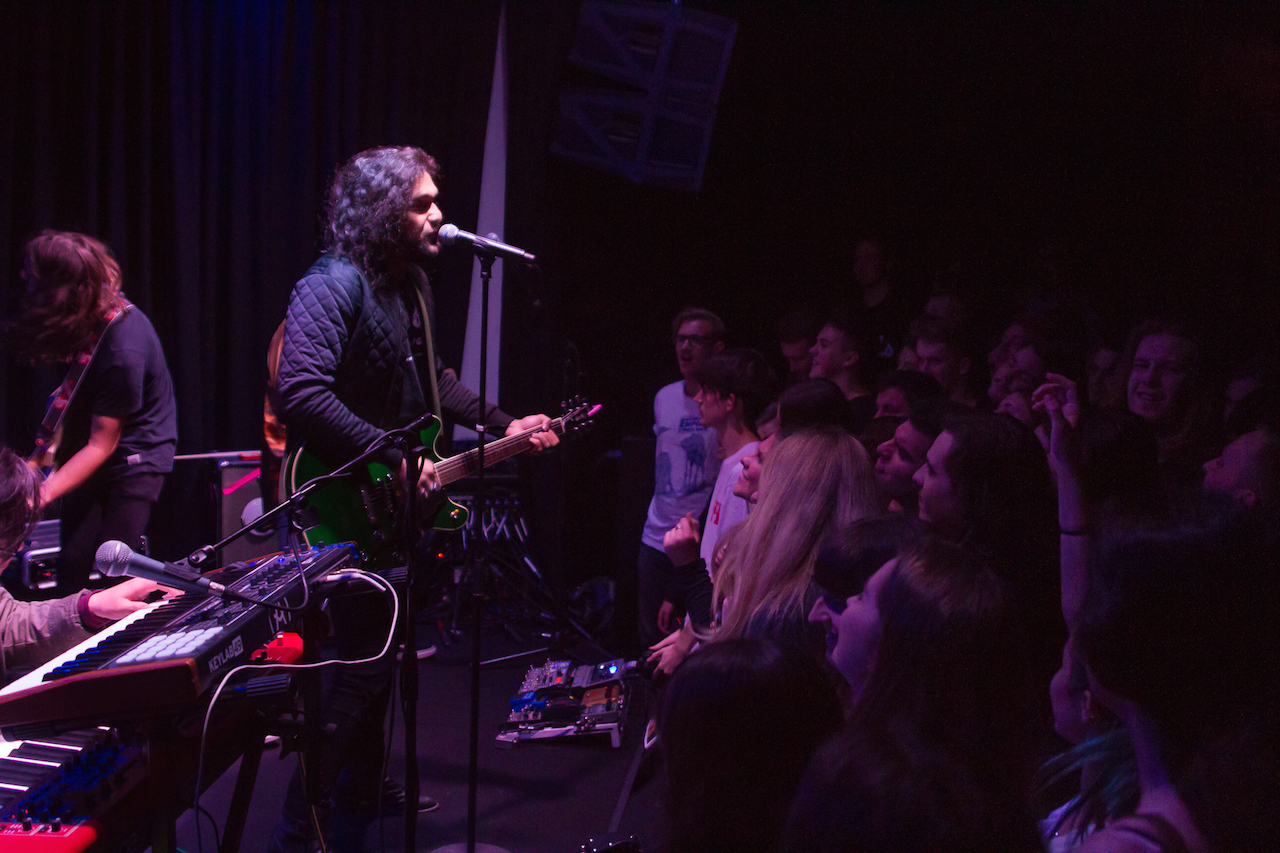 On Tuesday Gang of Youths revealed on Facebook they were doing a first-in-first-serve surprise show at Sydney's Newtown Social Club. I was surprised not to see a line outside at 9pm, I thought it was because it was raining, I was wrong. I walked upstairs and was told by the guy on the door that it had been at capacity by 4:30pm, that is almost THREE-HUNDRED people that are either fun-employed or have bosses with really good music taste.
The atmosphere was admirable for such a long wait, everyone was well lubricated and wafts of Mary Jane hung subtly in the air, classic Newtown. After many cheering g-ups by the cheeky-as crowd, Gang of Youths took the stage brandishing a flag (Fijian I think – geography is not my strong point) to a roar of support from the thirsty crowd. Early in the set Restraint & Release and Poison Drum had the whole crowd chanted with hands in the air.
You could feel the floor bouncing with the movement of the masses. Poison Drum was especially delicious as everyone shuffled to get a better spot, allowing plenty of room to boogie. The song dipped into arcade laser gun sounds with a strong riff overlay, tapering off to a stripped back drum beat as the crowd chanted "I'm not afraid" without any prompting. It then built to a gorgeous dramatic finish, after which one punter shouted "F*ck yeah Davy" and the crowd screamed in approval.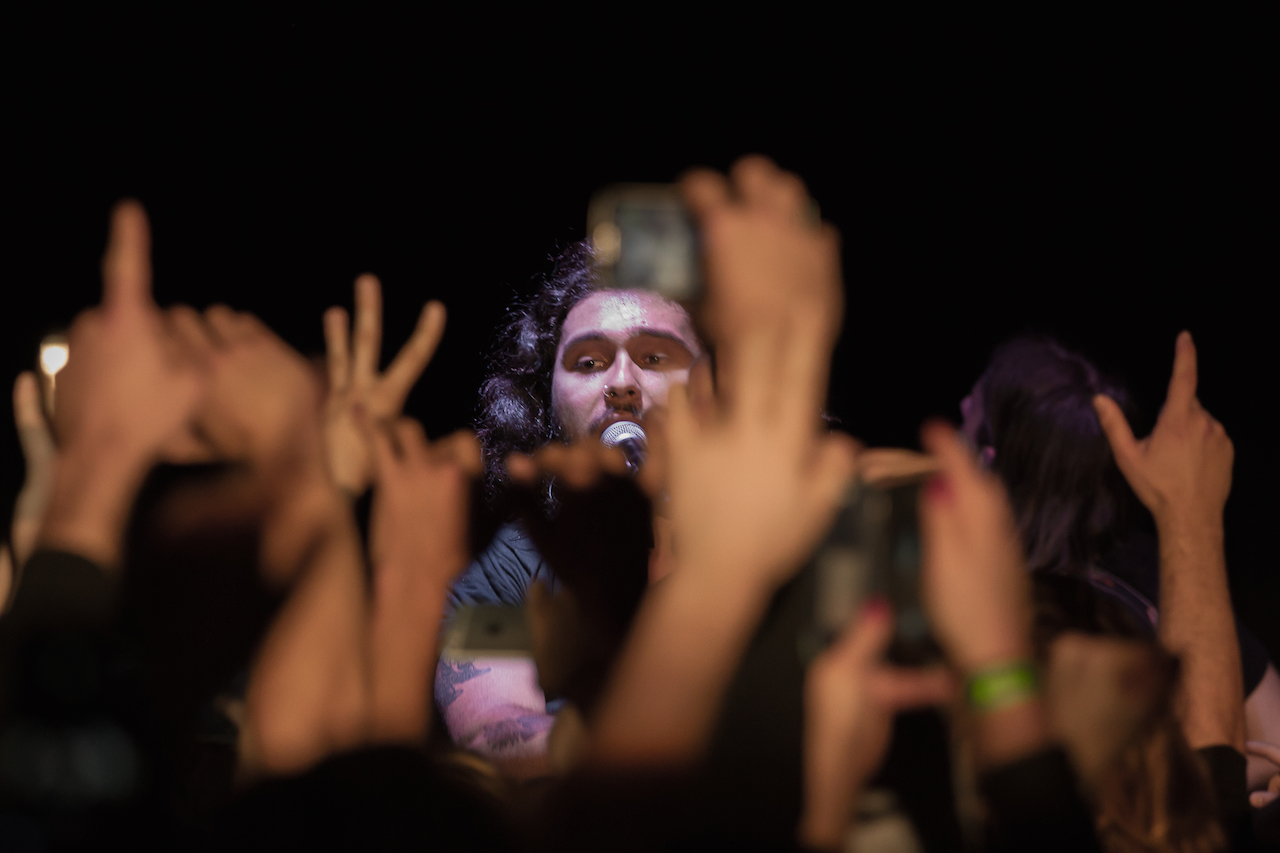 Sjamboksa took it down a melancholy notch. As it picked up the speed frontman David Le'aupepe looked like a model from one of those luxurious shower gel ads – sped up, open mouth, eyes closed. It felt like a gig among friends, as Le'aupepe breathlessly admitted "Hey…my fly keeps coming undone" (pause for the scream), "There's a friend up the front who's like, "Yeah I'll fix it for you". Then he took us through a meditative breathing exercise – wait what? Yes. We all breathed as one, sweating bullets. One cheeky punter shouted "Play Wonderwall" to which Dave responded with "That's a great f*cking idea".
We were treated to some new songs, which was incredibly exciting as the last time I saw Gang of Youths was back in February at Secret Garden Festival, where a very apologetic Gang of Youth swore to their fans they'd come back with some fresh tunes soon.
We Now Cried At Sea* was introduced as a song about loving someone so desperately but they don't love you back. Le'aupepe admitted he was falling apart and that he relented from trying to play it to anyone, as he was not sure if he'd ever feel this way again. He took to a keyboard for a solo and we all held our breath as he poured his heart out.
The heartbreaking lyrics I managed to grab were "Till there is no sea/till there is no king's ransom/for the past is after me/the only thing I hear is your buzzing honey bee". He's quite the storyteller with great vocals and spoken word. The piano self proclaimed self indulgence continued with Knuckles White Dry. There was not a dry eye in the audience as the song neared its ending, and one final piano piece was the beginning of Evangelists, a great throwback to the band's humble beginnings.
Another new tune was The Deepest Eyes, The Darkest Shadows*. As context to this tune, Le'aupepe explained after the mammoth hit Magnolia Gang of Youth hit serious writers block. They found themselves in New York staring up at the stars and thinking to themselves "it's all meaningless right? You and I are terrified people, we're scared".
They urged us to be vulnerable and that was going to be okay. This tune felt very YOLO, very "I'm crying, I'm drunk, I'm running somewhere, and I'm a complete mess", with apt lyrics "Not everything means something honey". It's the indie-rock response to the emo music of our teens.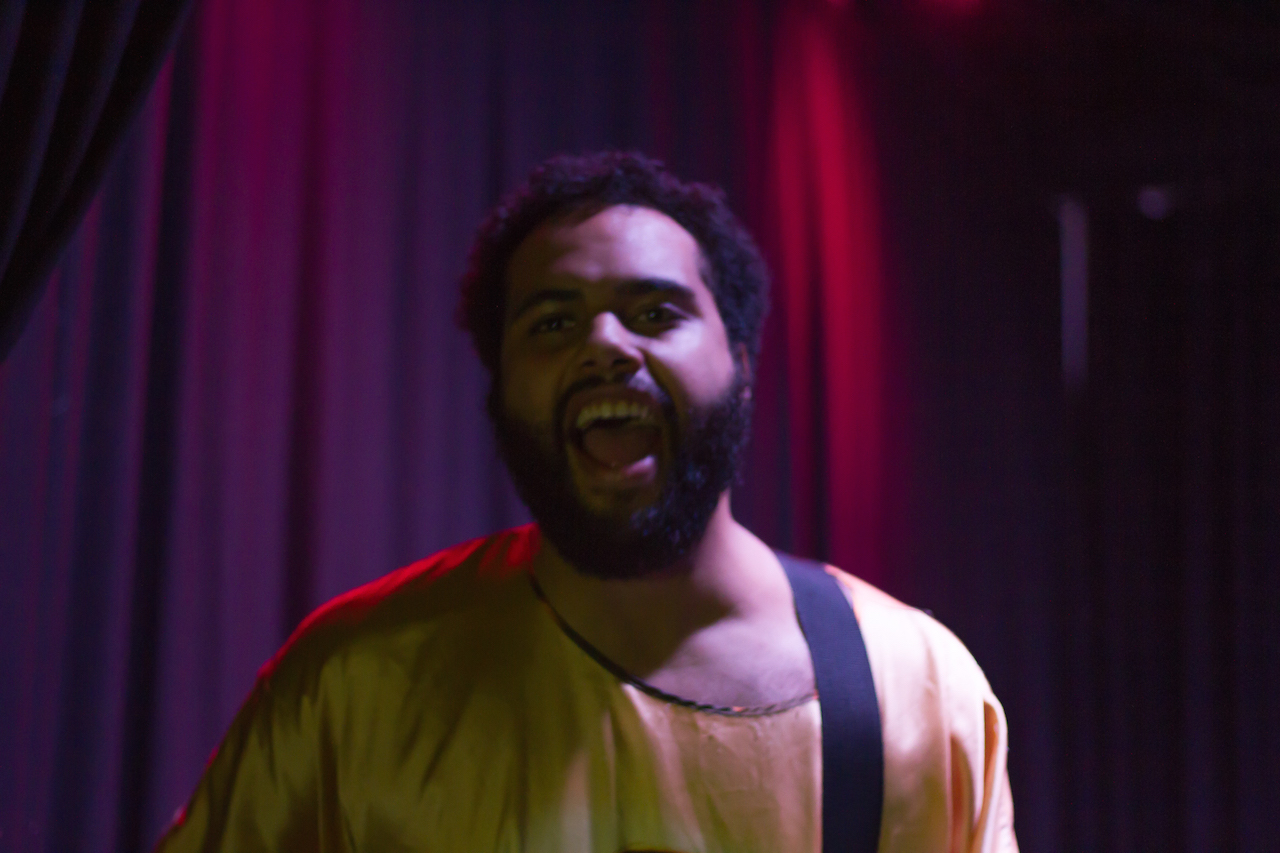 After such serious songs, Strange Diseases picked us right back up with the classic line "And so much brighter". The crowd grew wild and it felt like we were at a festival in a music video clip. Not stopping the crazy vibe, Magnolia made everyone lose their sh*t. The lights in the room came on and Le'aupepe fell into the mosh and did a full circle. We flipped the bird, we jumped and screamed, and the whole crowd was on point shouting the lyrics and rushing to touch his beautiful hair.
The only awkward moment of the show was one that most people, missed. Gang of Youths during Still Unbeaten Life turned off the lights to try and "on a punk rock note, go out with something a little different". This was "the moment" where had it been the 90s we would of all gotten out our lighters in the air and swayed side to side. However this didn't happen, damn millenials.
Le'aupepe reflected on this hilariously, "We're not Radiohead and we can't get away with playing in the dark. Go home and listen to Radiohead". Closing with Vital Signs, We then got a few more moments of head banging goodness with Vital Signs, a great climax to the set. Smiles all around, we all left having experienced a moment, or just over an hour, of free pure magic.
* Not sure of the names of these new tunes, the crowd's screams drowned most of the details…
Check out our Photo Gallery HERE, read our interview with David Le'aupepe HERE, and our review of Gang of Youths' new EP 'Let Me Be Clear' HERE