Live Review: The National w/ Little May @ Riverstage – 27.02.2018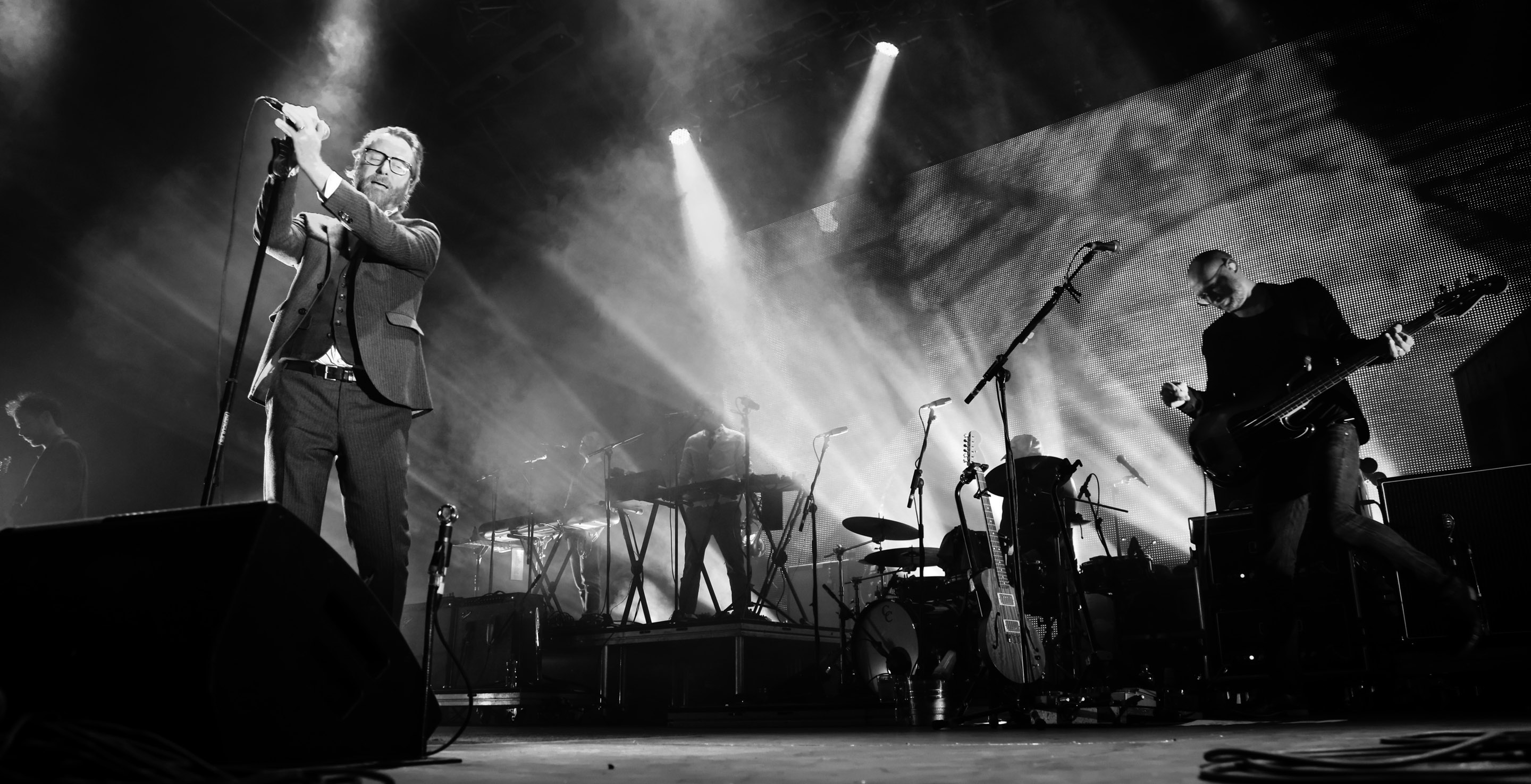 Standing in line outside the Brisbane Riverstage waiting to see The National was a weird buzz. People pass by security guards who brandish bomb detectors, showing tickets and accepting wristbands. Nearby, a recorded message blares, informing visitors of security requirements as a woman loses her cool when forced to stow her backpack in a mobile cloakroom. Trammelling down a familiar hillside, the surroundings feel different, eerie. A silver screen style soundtrack wafts over the P.A. The music is beautiful, underscored with a touch of foreboding, as if Close Encounters of the Third Kind is meeting solemnly with The Walking Dead while Altered Carbon looks on, dumbfounded. Early arrivals are already sitting, eating, drinking and laughing under a grey sky. This might be how things feel before a zombie apocalypse, but nothing quite so dramatic is expected tonight.
Little May appear on stage, two girls and three boys dressed with an unpretentious attitude. Thick four-four rumbles out of the drum kit, each hit wide and compressed. There is an immediate rhythmic reminder of the Silversun Pickups, overlaid with bright, sparkling, tube-driven Telecaster, neatly complemented by piano and tape synth. Duelling harmonies from Liz Drummond and Hannah Field ride over the music, softly and swiftly catching hearts in the crowd. The group weave artfully through a number of possible influences, ranging from The Jezabels to Little Birdy to The Cranberries. Perhaps it is just Dolores O'Riordan's recent passing echoing poignantly through time, but the melodic thread is noticeable.
Alongside clever musical tangles, there are some impressive guitar effects, blending snatches of strings, distortion and sine waves to create a truly unique sonic landscape. Beyond their obvious excitement at supporting The National, their influences appear to multiply, patching together parts from Alvvays and Paul Kelly with touches of Julia Stone and sprinkles of Fleetwood Mac. Ultimately Little May are infectious, poppy, rocking, unique and flat out excellent, despite their penchant for sudden silences to finish songs.
Between acts, a suddenly capacity crowd is treated to footage of backstage activity as sound techs prepare instruments in the foreground. This time our soundtrack consists of classic hits from yesteryear, slowly bleeding into modern indie pop standards. Smoke billows and the backdrop projection bears the words 'please stand by'. Suddenly, The National are with us.
As lanky and engrossingly present as ever, vocalist Matt Berninger has let his hair down since his last Riverstage performance in 2014. His nearly shoulder-length crop is mostly grey now, but his eldritch charisma remains. The opener is Nobody Else Will Be There; the grass is covered in blue light and sombre beauty. The heat gets to Berninger quickly as he tosses off his jacket, offering an instantly recognisable baritone over a strikingly authentic piano sound.
The eye is drawn to three men armed with shakers on a riser. Before long they doff the percussion in favour of brass and strobe lights. We're two songs in and our beloved baritone crooner suddenly screams almost incoherently into the microphone for The System Only Dreams in Total Darkness. If Rick Grimes had been born an entertainer, there is little doubt he would have fronted The National in Berninger's place. The spectacle of a slender, stooping middle-aged philosopher howling lyrics through his beard is bizarre and insufferably wonderful.
They push through Walk It Back and Guilty Party—guitarist Bryce Dessner achieving the kind of reverb-saturated minimalist notes that most indie bands have wet dreams about. Berninger's earthy baritone is back and it is almost too rich too bear. The background projection features the entire band, colour saturated, pixelated and magnified for all to see. There are few words to describe the mood of this performance as the beat lifts and the crowd murmurs in recognition of Don't Swallow the Cap, a simmering set of coals roaring to life with Bloodbuzz Ohio.
The National's melodiousness and atmospheric articulation approach a heavenly space with Squalor Victoria, a skilled and classic blending of brass with pop and rock ripped open by Berninger rampantly screaming the chorus. They drag us from ecstatic, maddening highs into excruciatingly beautiful lows with I Need My Girl, following quickly with This Is the Last Time and Green Gloves; more sweet guitar, more grandiose brass, a subtle and fantastic blending of instrumentation. The stage is lit by comets and searchlights and the audience is rapt, treated firstly to Secret Meeting then Empire Line, rising to a crescendo before winding into the soft drum and piano darkness of Dark Side of the Gym. The lull is momentary as rainbow strobes kick in, and the beat kicks on with Turtleneck. It's punk, dark and Warholian as if Grinderman took the stage for a song. Soon enough, that pumping energy is swallowed by silence and smoke, replaced with the less energetic but upbeat Slow Show.
Tempo and mood rise and fall between Carin at the Liquor Store and Day I Die, but familiarity and affection flow from the crowd with the first notes of Fake Empire. Berninger's voice has cracked and broken on and off throughout the performance and it hasn't mattered. It still doesn't. Fake Empire feels like another crescendo, but a greater instrumental swell rises from About Today. The bulk of The National exits the stage.
A two-man drum solo heralds an encore, and 'please stand by', flashes onto the projector once again. As the band returns to a screaming crowd, Matt Berninger dedicates Pink Rabbits to a crowd member handing him a plate of nachos. The National follow on with Mr November, and suddenly Berninger is in the crowd, a massive microphone lead trailing out behind him. Singing, shouting and screaming, he lopes up and down the hillside, mobbed by the flashing lights of camera phones. He's in the face of every person, projecting an obviously wild energy that simultaneously stirs up the crowd and cowing the worst of the mob.
Without warning he reappears on stage, crooning through Terrible Love. This song feels like an ending, but the best is yet to come as a final chorus climaxes with one of the most powerful strobe sequences the Riverstage has ever seen. Silence descends and the band shuffles into an intimate semicircle, an acoustic guitar appearing as Berninger puts down the microphone. Then something amazing happens. The hillside resounds with the voices of hundreds raised in unison as he conducts the crowd through one final, exquisite ballad, Vanderlyle Crybaby Geeks. He doesn't have to sing at all. He is one with his audience, and they serenade him to the end. The National have been a gift this evening, and they have given us an incomparable shared experience: a truly wonderful, emotional and unforgettable musical memory.