Live Review: Nocturnal Tapes @ Oxford Art Factory – 15.09.2017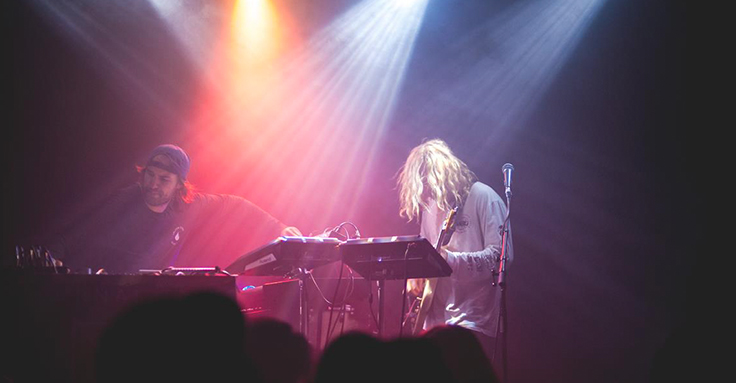 What started out as an empty room, soon escalated into a fantastic, sweaty time at Oxford Arts Factory last Friday. In case you were too busy watching The Bachelor (is it even aired on Fridays?), a humble outfit called Nocturnal Tapes took over one of Sydney's best live music venues. To say that this gig was great would truly be an understatement. If you don't believe me, then you've clearly never seen the Yamba duo live.
Scheduled to arrive on stage at nine o'clock, Nocturnal Tapes didn't surface until over half an hour later. While it's understandable that the duo didn't feel like playing to a (near) empty room, set times are set times. To be fair, any bitterness that I felt quickly dissipated as soon as they started playing.
Tracks such as Is It Too Late and Pieces were definitely some of the stand outs throughout their set, with the whole room bouncing around to the band's infectious electronic sound. With an enviable stage presence, Nocturnal Tapes and their music seems to demand the attention of the crowd; to be honest it's hard not to get swept up in their unique melding of electric guitar, brooding vocals and synths.
Halfway through their performance, Nocturnal Tapes took on a mashed up rendition of Sofi Tukker's Drinkee and Donna Summer's I Feel Love—among other tracks. I couldn't help thinking that their set time could have been better used to showcase their own tracks, rather than their ability to mix and match other artists success stories. Personally, I'm under the impression that an artist's original tracks are generally far better than what they choose to cover, and Nocturnal Tapes are certainly no exception to this.
Closing out their set with their single Pattern, the duo's music seemed to relinquish the crowd's inhibitions, and if that wasn't some of the most unhinged dancing I've ever seen, I'll attempt to eat my own hat. Do yourself a favour and jump on the Nocturnal Tapes bandwagon while you've still got the chance to see them up close and personal; I'm predicting big things for these guys in the coming months.
Read our review of Nocturnal Tapes' new EP, 'Visions IV' HERE.