Live Review: RÜFÜS @ NightQuarter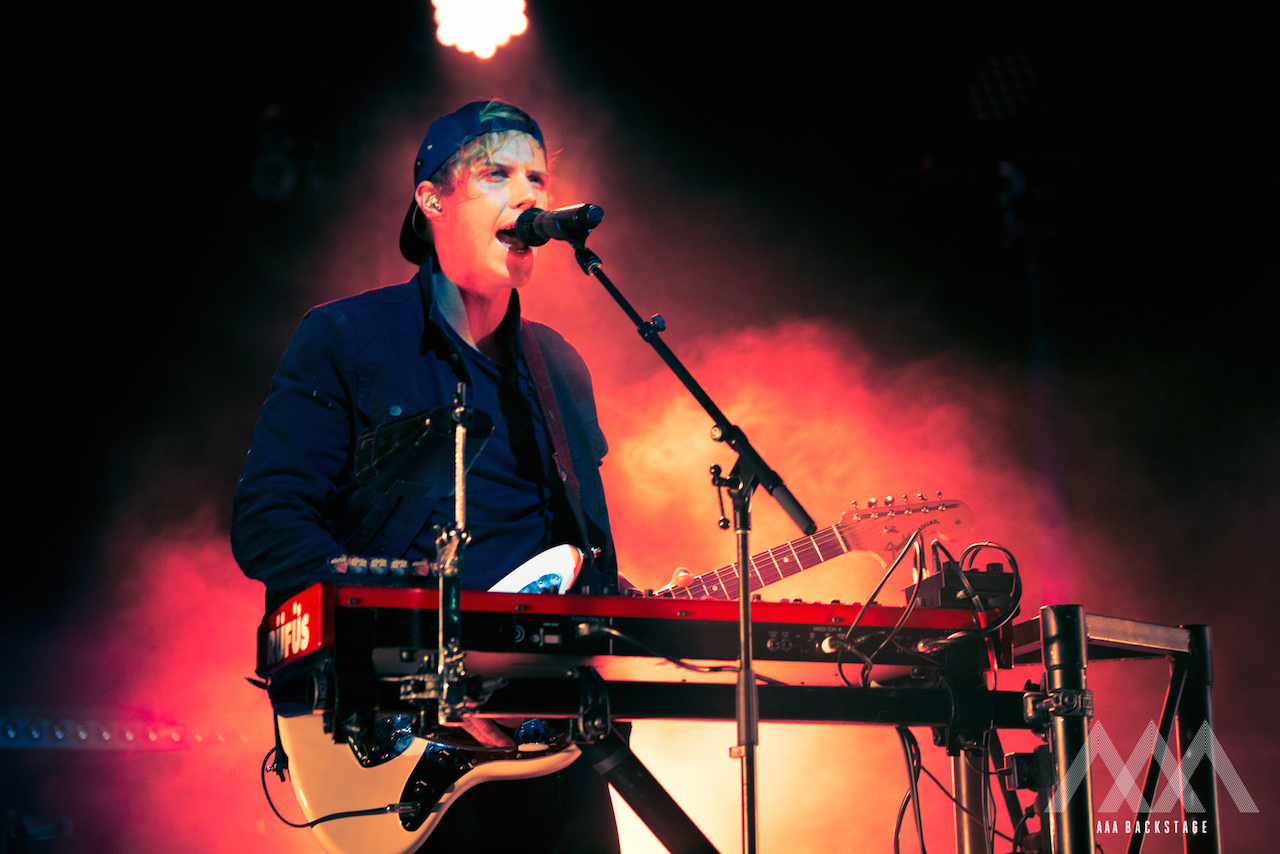 A monstrous looking thunderstorm and a sea of people greeted us as we arrived at one of the Gold Coast's newer live music venues, NightQuarter. The massive box office line was due to RÜFÜS' sold-out start to their 'Full Bloom' tour, and the thunderstorm due to Queensland currently sweltering through a 'mild' heat wave.
Once through the gates I quickly devoured a tasty, but slightly overpriced, seafood paella as we made our way through the labyrinth of market stalls towards 'The Paddock', the live music part of the grounds. For those yet to check out the NightQuarter, it's sort of like Eat Street Markets and the Miami Marketta, but on a slightly smaller block of land.
An excited but relaxed vibe greeted us as we weaved our way through the mixture of stereotypical surfer teens and weathered middle-aged Friday night revelers to a close enough vantage point in the mosh. An abundance of tinnies, the shipping-container walls, random industrial art installations, and vine-garnished drop-down lights kept those new to the venue, and those already trippin', entertained as RÜFÜS' roadies completed their final checks.
The Sydney trio, dressed in bomber jackets (well, they have JUST come home from touring in the American winter) finally walked on stage silhouetted in blue and hype-building strobe lights. The roar of the adoring crowd was quickly drowned out by an extended psychedelic interlude to Be With You. Bodies quickly started grooving along as the packed NightQuarter was slowly engulfed by smoke and deep house beats. Thanks to the fast approaching thunderstorm and infectious grooves, everyone was quickly working up a sweat.
Brighter, the opener of their highly-acclaim 2016 sophomore album 'Bloom', brought about an early sing-along along with an absolutely blinding light show. Unlike most electronic acts, RÜFÜS actually play most parts live, so some extra synthy glithes from keyboardist James Hunt and sassy drumming from Jon George were welcome additions to the song's live rendition.
"…the drop ascended into a smokey vortex of cascading percussion, absorbing synth soundscapes, and lighting than made you feel like you were being sucked into a wormhole."
The trio smoothly transitioned into the opener of their 2014 debut album Sundream, in which George once again proved electronic music should always have a live drum kit. Continuing their foray into 'Atlas', Desert Night was met with plenty of euphoric screams, and even a slightly pitchy vocal performance by frontman Tyrone Lindqvist couldn't deter another sing-along.
Again showing their live chops, RÜFÜS morphed the second half of the song from a chilled house tune into an absolutely banger right out of a dark late 1980's German nightclub. As such, the drop ascended into a smokey vortex of cascading percussion, absorbing synth soundscapes, and lighting than made you feel like you were being sucked into a wormhole.
Say a Prayer for Me was the perfect destination of RÜFÜS' seemingly purposely-created, but absolutely enjoyable, sonic mind-f*ck, and the added haze of some strong Mary Jane meant no one wasn't dancing in some kind of fashion.
Daylight was nearly drowned out by thunder as the traditional early-evening summer storm finally hit. Between the sky's growls RÜFÜS seemed to keep adding instruments and sounds to the mix, so by the time the drop came around we were bombarded with an array of electronic bloops, doops, a glockenspiel, bongos, and other tribal percussion. Flume, you've got nothing on RÜFÜS live!
"…with the help of an incredible lighting display, paired with the overhead thunder and lighting, it was an unforgettable moment for any fan. "
Take Me was met with more screams and singing, but it's at this moment seemingly everyone in the NightQuarter (except for this reviewer, of course) became ABSOLUTELY COOKED OFF THEIR TITS. Shapes were being thrown in every direction, and those who were there with the opposite sex were seeing how deep down each other's throats they could get. The subsequent lyrics of Tonight, "We're coming alive, the dead are rising in the night", seemed a little too real being sober in the middle of the heaving mosh…
A special shout-out has to be made for Peter, a balding beefcake in an "Ibiza" shirt, who was the living example of how to dance like no-one's watching. Between giving high-fives to pretty much anyone within range, being delicately fed pills by his partner/dealer, and applying lipstick because "It feels good, man!", he cut shapes I've never seen before. Thank you Peter, you're my new rave hero. 
Coincidently timed to when everyone seemed to be peaking, Hunt said "Put on your moon boots and come on a journey through the stars". What followed by the atmospheric beginning of Innerbloom, and what a journey we took. The final track on 'Bloom' has become sort of a fan-favourite, and even though it's close to 10 minutes in length it seemed to be the main song that many had come to experience live. RÜFÜS didn't disappoint, and with the help of an incredible lighting display, paired with the overhead thunder and lighting, it was an unforgettable moment for any fan.
Like An Animal then brought everyone, willingly or not, back down to earth. One of their many hits from 'Bloom', the booming dance track felt like a celebration as the band proudly proclaimed it's just two days before the first anniversary of the album's release. There was nothing too special about the song live, but the sub-bass progression definitely shuddered plenty of rib cages.
Teasing the end of the set, RÜFÜS returned after a short encore break to play by fair their most successful single to date, Your Were Right. The song is a certified banger, but live it's a completely different beast. Just because then can, a five-minute electronic jam proceeded the song's second chorus, plunging the crowd down a rabbit hole of pulsating synths, a variety of rhythms and percussive embellishments, and a vocal-production call-and-response that was so layered it has hard to tell when Lindqvist added a new segment to the soupy electronic mix.
Ending with a triumphant final chorus of You Were Right, RÜFÜS' first show of their 'Full Bloom' tour ended in a flurry of strobes, atmospheric echoes, and the humblest 'Thank You' I've seen from a band. If you love dance music, musicianship, or just want a great night out, make seeing RÜFÜS live a priority.
Read our recent interview with RÜFÜS HERE