Old Fashion and The Ninjas Announce Double Header Rock 'N' Roll Party!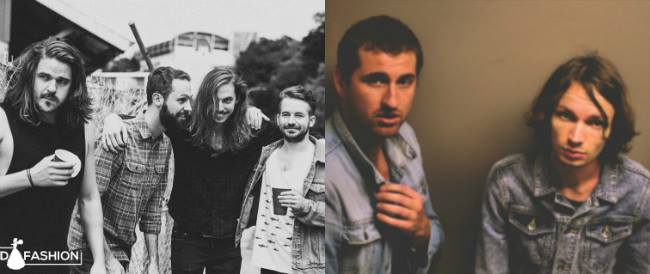 Are you in need of some high quality, all thrills and no fills rock 'n' roll but don't know where to get your fix? Well here at AAA we've teamed up with Footstomp Music to put on some of Brisbane's best shredders and headbangers, assembling for one night only at West End's The Milk Factory.
The event will showcase Old Fashion and The Ninjas' new singles, along with sets from The Bear Hunt and The Bikini Machine.
Old Fashion are turning plenty of heads with their latest single Romeo, a "lady killer" blend of Royal Blood and vintage Wolfmother that'll kick you right in the teeth (in a good way). The band last graced Brisbane just over a year ago on their 'Punch Drunk Love' Tour, so they're well overdue to show Brisvegas their shredding chops.
The Ninjas, best known for their upbeat happy-go-lucky rock in Cara Delevinge, will utilise their second headliner slot to launch their latest single Morphine. The new track sees the duo mellow out their sound somewhat (think any JET song towards the end of their albums), as the addition of an acoustic guitar and keyboard have transformed their upbeat rock into a bic-lighter-esque ballad. Frontman Josh Steward describes Morphine as "a slow burning ode to hillbilly heroin" with lyrics fittingly written while "chewing down endones like m&m's" due to a hospital stint.
Joining the headliners will be Brisbane rockers The Bear Hunt, who are riding high off the tour in support of recent single Tropical. Born on the beer soaked stages of 90s grunge, The Bear Hunt proved their rock roots with their album 'TBH (To Be Honest)' released late last year. There are whispers they may even showcase some fresh tracks at the show…
So dust off your favourite dark coloured shirt, pull out your tattered Docs or Connies from the back of the wardrobe, and air that it-kinda-fits leather jacket and get down to The Milk Factory for some much needed power riffin' and thundering drum fills.
Old Fashion & The Ninjas
w/ The Bear Hunt & The Bikini Machine
FRI 24 JUNE
The Milk Factory, Brisbane
Facebook Event HERE