Party Central Q & A: The Bear Hunt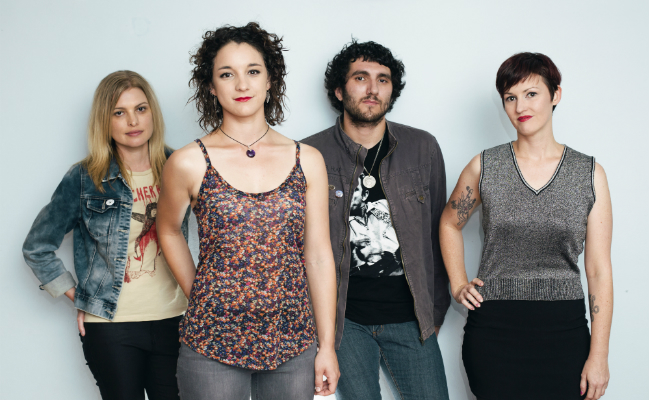 Born on the beer soaked stages of 90s grunge, Brisbane rockers The Bear Hunt are riding high off the back of their album 'TBH (To Be Honest) and latest single Tropical. We asked the quartet how they like to party and who they'd most like to do a 20-minute guitar battle against.
Who's hosting the party? Where would it be?
Bec and Lloyd's place.
Is it themed? If so, what is the theme?
Probably our usual cross dressing theme, because it's so funny to see guys all dolled up! Plus, the stories of them trying to find something to wear and how nothing fitted is priceless…
Which member of the band is most likely to be 'that guy' and whip out an acoustic guitar and start singing Wonderwall?
Our Bass player Kate. She owns more acoustic guitars than the both of the guitarists in our band, combined and only knows how to play Oasis songs.
What's the contents of the Kings Cup?
Goon, Vodka, and Oettingers are guaranteed. Cider, some kind of dark ale, purple drank, and bourbon if it's a good night.
Who's dominating at beer pong?
Bec, because she's got mad netball skillz.
What's the party jam? What tunes have everyone dancing?
A mix between Boney M, Queens Of The Stone Age, Eagles of Death Metal, David Bowie, and Iggy Pop. Mostly lots of dirty guitar music played really loud!
Who's most likely to get a little too sloppy?
It's a eenie minie mo situation…
To the uninitiated, how do you describe your sound and live shows? 
Loud. Slow. Fuzzy. Unsymmetrical.
If you could collaborate with any musician who would you choose?
Iggy Pop because he's a f*cking mad dog. If we couldn't get him on board, J Mascis (Dinosaur Jr) would be our second choice so Lloyd and J could have an epic 20-minute guitar battle.
Lastly, what are you most looking forward to about the The Milk Factory show with The Ninjas and Old Fashion?
What's not to look forward too? It's going to be a mad night of music. Just get your arse to The Milk Factory on 24th of June and see for yourself!