Port Royal Reflect On Adolescent Chaos In Rollicking Single "Get Heavy"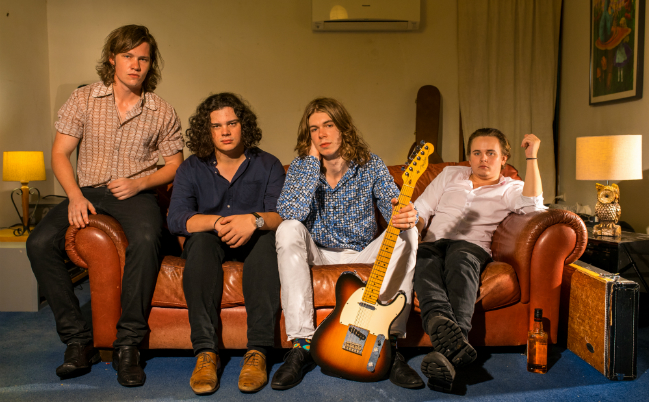 Almost three years after KISS' Gene Simmons infamously declared, "Rock did not die of old age. It was murdered", Brisbane quartet Port Royal are out to resurrect their beloved genre. Formed in mid-2015 out of a shared love for classic rock and the disbanding of high school groups, Port Royal are aiming for the stars and packed stadium shows the world over.
Following on from their 2016 debut EP 'The Express', the rockers are ready to melt some faces and get bodies shimmying with their latest single Get Heavy.
It's a rollicking rock tune driven by silky-smooth guitar phrasing, ridiculously upbeat rhythms, and irresistible call and response chorus vocals. Lead by charismatic frontman Lawson Doyle, Port Royal's latest single is an injection of pure, high-octane classic rock straight to your ears!
While Port Royal pay homage to their idols The Rolling Stones and The Beatles, their feel-good sound is equal parts rollicking and charmingly gritty.
The song references friends your parents claimed were 'bad influences' but were heaps of fun, high school love affairs, and passing out in bathrooms after sneaking out late at night. The chorus lyric "Get heavy, babe" refers to that one person, whether it's your best friend, a crush, or just an understanding stranger, who you can share and express your confused teenage mind with.
Doyle says Get Heavy was inspired "by the frustrations and experiences of adolescence: no money, late nights, broken hearts, and substance experimentation".
"Many of the verse lyrics refer to insane situations and stories from different people in my life, and was written at a time where I began to understand the chaos and confusion of growing up."
Inspired by the golden era of rock 'n roll, the inception of Port Royal was a reaction to the changing landscape of modern music.
"The coming of the electronic and digital era brought with it a sense of emptiness between us guys and we desired for this to change. We want to bring a fresh face to the attitude, style, and charisma of classic rock 'n roll," say Port Royal.
Check out Port Royal's new single Get Heavy and upcoming live dates below!
Port Royal Live Dates
SAT 18 MARCH
Foundry Records, Brisbane (All Ages + Matinee)
SAT 18 MARCH
Greaser Bar, Brisbane