PREMIERE: Wrap Yourself In Cousin Tom's Warming Glow on 'Regressing'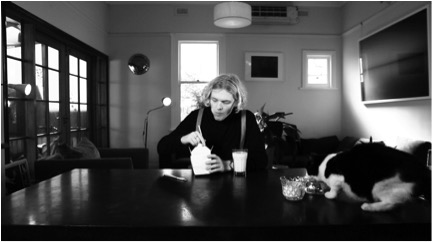 I'd never heard of growl-pop before—until Cousin Tom came into my life. The Melbourne group create harmonic and poetic folk music that ushers remnants of the Middle East and King Krule. The band's material focusses on character and contemporary folk with a undercurrent of jazz—thereby festering into Cousin Tom's own creation of growl-pop. The group will be re-releasing Regressing later next month, however AAA Backstage are lucky enough to give the single a first listen before its official release.
Emerging as a solo moniker for Theo Carroll, the project rapidly became far more audacious and ambitious with it expanding to a five-piece. A band as warming and honest as Cousin Tom allow you to get into their mind space a little more with Regressing—a melancholic and rattling amplification of urban settlement. The track has been remastered as a stand-alone single by the group's drummer, Fergus Nash.
The group's frontman, Theo Carroll, has a voice of pure, unadulterated velvet. It's pushed to the forefront of the mix and emerges gritty without compromising the striking rhythms of the instrumentation. Rooted in compassion, Carroll's voice is unlike any other—he rides a line of tenderness and the dimly lit parlour room antics of a hopeless romantic. As oddly toned as his voice is, Carroll warms Regressing to a whole other gentle, swooning level.
Regressing is the final nail in the coffin for the group's 2016 record, 'Shed', before putting it to rest and looking toward the future of Cousin Tom. As Carroll explains, the track is a momento as the band shake up their sound leading into new material:
"We wanted to bring that folky atmosphere from last year to a really nice end, to give it closure before we usher in the new sound we've been working on," stated Carroll.
With a video also emerging later down the track for the single, Carroll enforces the track's sentiment and overall new movement for the band in Regressing's opening lines, "You fail to see your faults and silently regress / Regressing's in your nature isn't it?"
Cousin Tom will be excitingly launching the video and re-release of Regressing in August at Melbourne's the Tote with some very special gusts Hannah Kate, Cracker La Touf and Pup Tentacle. In the interim, stream the exclusive release of Regressing below.
Cousin Tom Live Dates
SUN 13 AUG
The Tote, Melbourne
TICKETS