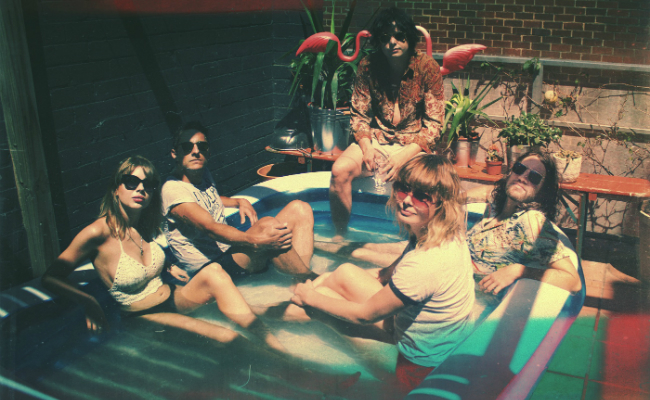 Melbourne's Batz are your next new favourite girl-fronted rock band, it's that simple. After dropping their debut EP just a few months ago the quartet are currently tearing up the road on their first headline interstate tour, in support of their latest single Darlin'. Before their Brisbane show we asked the band about the new song's origins and what these kinds of batz get up to after dark…
You're touring in support of your latest stellar single Darlin', which featured the engineering prowess of Alex Markwell from The Delta Riggs during its recording process. What did he bring to the table during the process, and do you think you guys now have a little bit of The Delta Riggs in your sound?
Alex has a super creative and versatile mind. In the studio he is a wizz so we have full faith in him. Working with him has really helped us in creating a sound particularly on this track which we feel really captured the essence of Batz.
He totally gives us great guidance but also listens to what we all have to say, so it helps us all come to a collective decision about the vibe of the single. I don't know if it has a 'Delta Riggs sound, but if it did I wouldn't say that was a bad thing!
Darlin' is gritty but bouncy, and with Christina rockin' the vocals we're getting some cool Yeah Yeah Yeahs vibes. Who are the artists that inspire Batz' sound?
Yeah Yeah Yeahs are a huge influence on us, so that's a massive compliment to feel that vibe so thank you! We love a whole range of music blondie, the b-52s, The Kills, The Cramps, T-Rex I could go on but I won't… obviously bands with women fronting/killing it are important to us!
The lyrics of the new single take aim at those who try to undermine people, what inspired the theme behind Darlin' ?
Darlin' is for all those people out there who have felt like another person has made them feel less of a person. Y'know the type, they tell you all the great things about themselves when really they are just an assh*le.
The Darlin' tour is rolling up the East Coast of Australia, what do you guys love doing (apart from playing shows) while on tour?
We love drinking! We also love stressing each other out about backline and logistics. And we love getting ready for our shows, make up, outfits etc, then drinking again…
Bats are nocturnal, so how do Batz usually kick on after headline club show?
Our last show was 2am in Melbourne. Played that, stayed up all night, went on a wine tour at 9am then hit a day party afterwards!
The new single is the first taste of new music from Batz since your 2016 debut EP 'Night Terrors', can we expect another EP or even your first album sometime this year?
We would love to punch out another EP this year. We have a few unrecorded songs and also a few songs we've written but need to be played around with a little more. We think an album would be probably more likely next year realistically…
Lastly, the Darlin' tour is Batz' first headline tour. So, what should fans be prepared for once you guys hit the stage?
Be prepared to have a dance be prepared to get sweaty, possibly have sparkling wine spat at you. The Batz are coming!