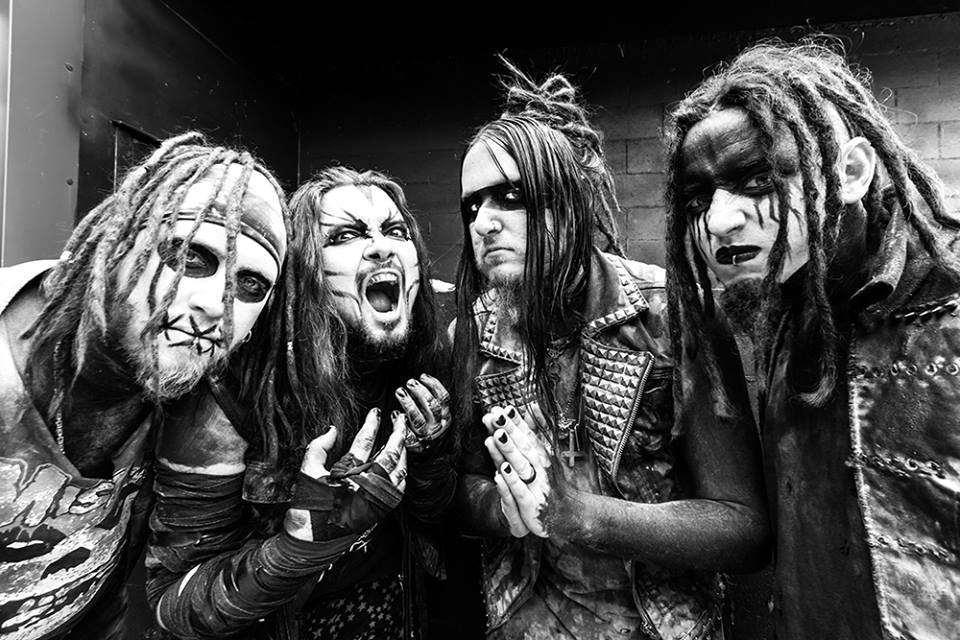 Gold Coast-cross-Brisbane metal group Darkcell have been through think and thin but always seem to come out on top. With a (small) name change and having previously been named on the final Soundwave (RIP) lineup—before it went belly up—Darkcell are still sure to melt the skin of your face. On tour soon with Motionless in White and Crown the Empire, we stopped the four-piece while at Dead of Winter Festival to ask a few questions.
You've just come off a pretty powerful live show for Dead of Winter. What's on your mind?
I feel fantastic! These events are wild in comparison to regular shows because everything is fast paced and at times overwhelming. But once you get up there and the crowd (and what a crowd that was!) are facing you, it's exhilarating.
Any challenges you've experienced recently?
Life is one big challenge and that's what's so interesting. I've made radical personal changes of late and feel so much more alive on stage now. Way more energy and stamina and appreciation for the goals I continue to kick fuelled by the enthusiasm of the fans and the determination our band continues to exhibit. We love what we do and live for these moments.

What comes after Dead of Winter for Darkcell?
Recording and preparing to release our new single on August 12th called Hail to the Freaks—shameless plug: you can pre-order limited edition 7″ vinyl now at: www.darkcell.com.au. Aaaaaaand, we begin tour preparations for our national tour with Motionless in White and Crown the Empire, which we are extremely pumped for.
As Brisbane-based musician, what does the Dead of Winter festival mean to you?

Everything! This event showcases why live music is so important here in Brisbane and why more people need to support it, as well as all associated within the music industry. I have seen many bands that could easily step on a world class stage any day and deliver the goods. Dead of Winter is an institution to the future of live music because of the diversity of talent and how united people are in the one place of all genres and styles. There's nothing else truly like it!
What is music, to you?

My heart and soul. It is the extension of who I am, the vessel of my internal self and I love creating constantly. The rewards are aplenty in hearing these ideas come to life, and playing them to an audience and making people move and feel moved. It's the lifeblood of who we are as people. Without music, we have no expression, and without expression, we are lifeless.
Do you have a commentary on the current state of today's music industry?

My thoughts are of many. I'm grateful that I can be in a band that is accepted as well respected in this industry. We work extremely hard, at times against incredible odds, as we really are the black sheep in Australia. Without sounding too bold, there's no one like us and that works against us as much as for us. There are media that still shy from us because we're not "trendy" enough etc, and I'm good with that. We cherish whatever support we get and the industry is what it is.
If there was one thing you could say to up-and-coming musicians, just starting out in their careers, what would it be?

Work hard, love what you do, be grateful and be patient. Never be complacent and for every rejection, work harder to succeed. Be prepared to make many sacrifices. The life of a musician is brutal.
Tell us something we couldn't possibly know about your band.

We keep Australia beautiful by existing.
Darkcell Live Dates
TUES 19 SEPT
Metro Theatre, Sydney
WED 20 SEPT
The Triffid, Brisbane
THURS 21 SEPT
The Gov, Adelaide
SAT 23 SEPT
Arrow on Swanston, Melbourne
SUN 24 SEPT
170 Russell, Melbourne