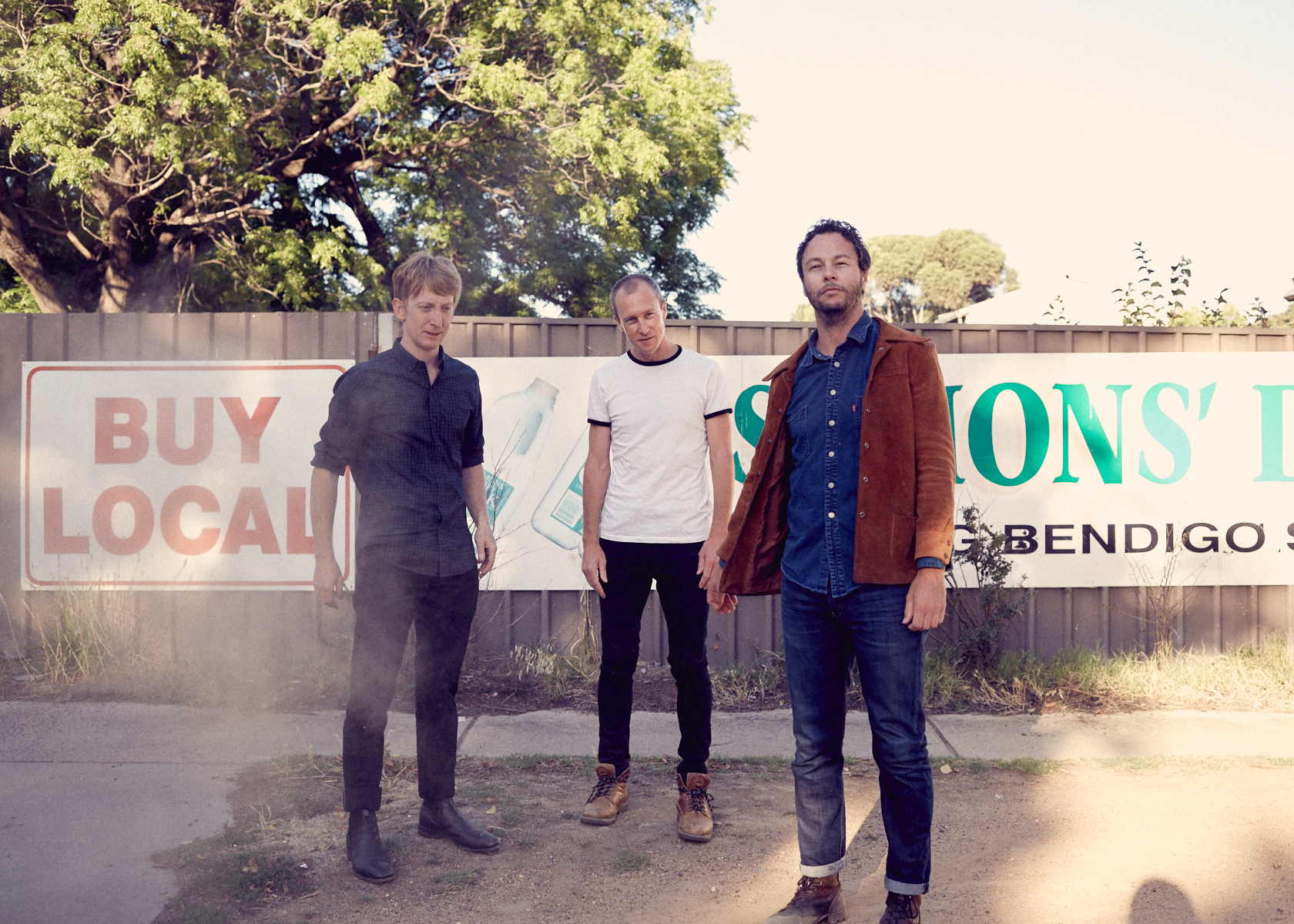 Fountaineer are one of Victoria's most exciting newest exports at the moment. Locals to Bendigo, the group create an effervescent blend of post-punk and dynamic indie rock. We've been head over heels for their new single, The Cricketers, so we had to ask the three-piece a few questions about the song, their upcoming debut album and life in a regional town.
The Cricketers speaks of life in a small town. What is it about growing up in a small community that brought the nostalgia back on this tune?
I think I was creating one of those timeline posters in my head of the chronology of my friendships–you know the ones you make in high school with a scale, a beautiful title and some pictures cut from some old magazines? I was assessing who my friends were, who I cared about, and trying to learn something about my past relationships which I could take into the future to make my current relationships stronger and better. I think a lot of us have this awkward fascination with looking in the rear view mirror, yearning for times and places. The Cricketers is that fork in the road, where you realise you need to finally go forward.
Now that you've toured a few major cities in Australia, do now prefer city life? If so, has that shaped any of your music?
It's funny. I used to live in the city and really enjoyed the adventure and anonymity a cosmopolitan place like Melbourne had to offer. But having been away and come back to settle in Bendigo, I feel claustrophobic and rushed whenever I'm in the city (which is most weeks). I can't believe people live like that–I sound like my dad! Give me the freedom and clean air of the country any day. Cities, however, are great in the way they adapt and evolve and just get on with life; country towns can be a bit slow, and stuck in the past.  
You've really come into your own sound over your many remarkable singles. How's the album shaping up, sound-wise?
In a tongue in cheek way we call it regional-basketball-stadium-rock. It's a 'big' sound at times, but it also is quite intimate, particularly due to the fact it was mostly recorded in a house and not a fancy studio. I'd like to say it's where M83 and the Gaslight Anthem share a ride in an old Holden on a desolate highway, but I'd never say anything wanky like that.
What are some goals you had to achieve on this debut album?
We wanted this record to stand up against albums by our heroes. A lot of folks have given us flack about this, about how ambitious we were initially and how seriously we've taken this band, but that's viewing us with a Bendigo perspective, where no bands do anything overly captivating and don't really understand what it takes. Any decent band will tell you it takes almost everything you've got to even get your foot in the door; to get your song heard on the radio or get noticed. I was at the Sandhurst Footy Clubrooms after the grand final last year ('Carn the Dragons!) and a guy I hadn't seen for a while came up and said, "Hey, I heard your song on the radio – and you guys actually sounded like a real band". It's a backhanded compliment but it's a beautiful thing to hear–that people might actually forgo their cynicism of the local music scene and give us a fresh ear and a chance.
Your sound ticks so many boxes in so many different genres. Which musical avenue or influence tends to come out moreso when writing new music?
'Greater City, Greater Love' is very much a bedroom record. Most of the songs were written in my shed or house, developing lyrics on walks to work and even at work. Real life still motors along, so it's not as if I sit at a café with a notebook hoping someone will see me in pensive-artist-mode. The songs are all stories inspired by living in a regional place, and there's no doubt the many bands on my old, black iPod have seeped their way into the music. I've made alt country music in the past, so there's always that Americana element in there, but essentially it's serious indie rock–like our favourite bands.
There's something about the three-piece format that's always appealed to me. Has working with three members allowed you to be more creative? Or has it rather quashed creative?
I'm just trying to think of some great three pieces… Doves, Interpol, Green Day, Everclear, The Presidents Of The United States Of America–maybe I should stop there! You definitely get more ideas and perspectives from having three heads. It's one of those things that is essential, yet problematic at times. But the process of getting a song to a definitive point is always rewarding, and I think you have a certain sixth sense about this; knowing when a song is how it should be, how it should feel. For me, the emotion and 'feel' is paramount – personally I don't really give a damn about equipment and all that jazz.
Can we expect a tour with the album release? Are planning to hit any areas you've yet to perform?
We love playing regional areas, and know what it's like to be starved for decent live music. So as well as the usual cities, we'd love to clock up some miles and see the countryside, visit some gold medal winning bakeries, maybe even wet a line (for folks in the city, that's colloquial for fishing).