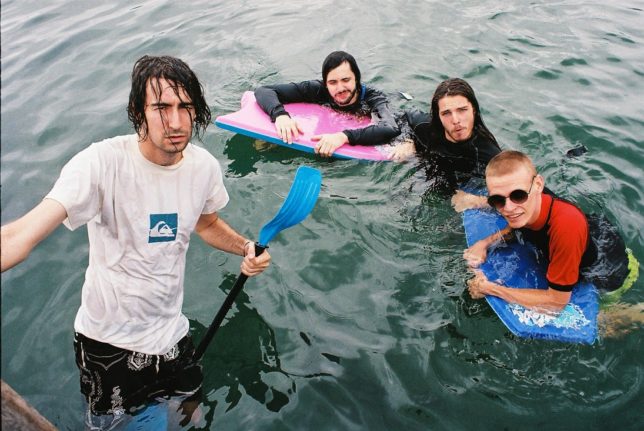 Hideous Sun Demon is one of AAA Backstage's best new finds for 2017. Though with two records under their belt—and a third on the way early next year—the three-piece make impressive garage rock. Fast and frantic, they cut the umbilical cord between the never ending ambivalence of King Gizzard and the sharp musical punctuation of Total Control. Before the group play support to Psychedelic Porn Crumpets, we asked the ground about their hectic new song, some goals they needed kicked and Gizzfest.
'Fame, Erotic, Dream' is the name of new record. I love that title, elaborate more on what it means.
'Fame Erotic Dream' came from Vin's head but my (Jake) interpretation is that it references the myriad of ways bands and people behave in trying to achieve musical success. For example, you've got chillers, who let their music do the talking up against ironic meme crooners and haircut bands. 'Erotic' references the similarities between fame and sex I suppose. That is it's extremely enjoyable, distracting and consuming but ultimately a rather temporary pleasure.
What were some big goals you had to kick with this new album?
Our main goal for our upcoming record was to capitalise on and combine the strengths of our last two releases. 'Sweat' (2014) had great production and some strong punky songs. 'Industry Connections' (2016) saw us strengthening our song writing while simultaneously trying to experiment with more influences. Higher fidelity while still recording live to capture energy was definitely an aim of ours too.
Hard Out is its big single and it's incredible frantic. How do you go about recording something so crazy like this?
The structure was put together collectively at practice like a lot of our material. It was played a fair bit live before tracking to ensure it was tight come studio time. Production wise we are lucky that Ron (Sleep Walker Dread Studio's) is great at letting us track live in the room while maintaining separation between the instruments for mixing. He's very good at capturing intensity while keeping clarity.
Idiotic Dream is also a huge track. Should we expect the rest of the album to be this frenzied?
It's funny you say that Idiotic Dream is frenzied as we view it was a more chilled 'breather' in the set. Friends/fill in drummers who have heard 'Fame Erotic Dream' say it is definitely a more mature album. Hopefully listeners agree that the punky bits are bit punkier, the pretty bits are prettier, colour, shade, brighter brights, darker darks etc.
Gizzfest must have been unreal. How was that?
Gizzfest was super fun. Was a real treat opening main stage amd the venue was lovely. Vin and I's respective parents stood on the beach and watched from outside the festival because they are poor or scared of rock music or something.
You're playing the last few shows of 2017 with Psychedelic Porn Crumpets. What do these gigs have in store for fans?
Porn Crumpets tour will be fun. They really know how to hustle, selling out shows, making cool merch etc. I feel their fans can definitely get into our vibe and hope fully we get to play to a lot of new faces. We are wheeling out some older jammy songs to suit the vibe and break up the short burners.
Which song, new or old, always goes off live?
I'm gonna count Moan for Jesus leading into FLEX as one song because we have gotten it fairly seamless live. Short punky simple songs with heavy bits as well always seem to appeal to the rock dogs.