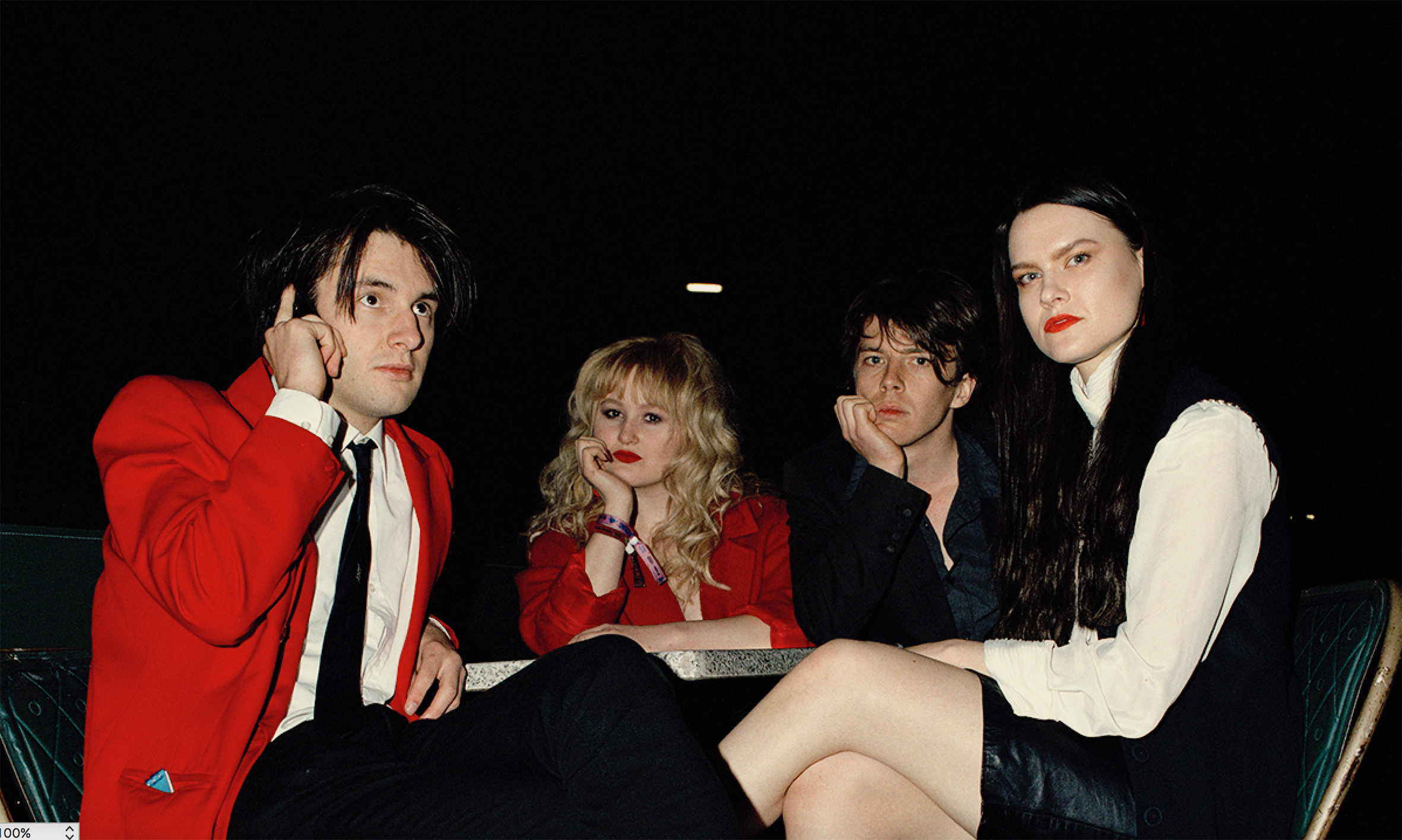 Ms.45 present a virtuosic shift in sharp, dark pop music. With a debut EP newly under their belt, and a November residency at Melbourne's The Tote, the group chatted to us about their origin, what pushes them to create music and some of the key moments of the EP, 'Neuromancer'.
The goth Taylor Swift reference is almost too perfect. Does pop music play a big role in Ms.45?
Oh my god, yeah. I grew up with all the same naff pop music that every '90s kid did and it would be a total lie to say I haven't been influenced by that heavily in my songwriting. I think pop music has really disintegrated and become too ostentatious over the last 10-15 years, but there was a real golden era for it in the 90s and early 2000s. Give me Britney or Kylie over some 'cool' underground band from Berlin any day.
Did the project begin a solo endeavour for yourself for yourself before expanding into a four-piece?
I guess it really started out as a bit of a weird bedroom computer/synth project while I was going through a break up, had lost a lot of friends and was looking for something to do. I reached the point where I really wanted to play gigs with it and it expanded slowly from there, one member at a time. Johnny on guitar is the one that has been with me longest and he really had a lot to do with the creation and direction of the EP as well. I think his guitar parts give it so much more than just that 'pop music' vibe.
What pushes you to create music?
I don't really know what else I could ever do. It just makes sense to me and feels so natural. This sounds weird but the songs just kind of pop into my head and when I'm working out how to play them it's like I'm channeling something bigger than me.
The tile track was the stand out for me on the EP. Speak about its creation.
I was going through a particularly rough time when I wrote that song. I think the vocal melodies just kind of came into my head and I sat down at my piano and worked it out from there. It was a lot more of a spooky piano ballad at first but I was listening to a lot of New Order at the time and wanted it to have that larger than life synth vibe. The rest I kind of worked out on my computer. The recording on the EP was created from that original demo.
The EP's cohesion between the tracks is amazing. Was it a tough process picking tracks to fit its themes / sounds?
It wasn't too tough at the time because I think it was just all the tracks that I had bothered to make demoes of already. I think the cohesion sonically has a lot to do with the brilliant mixing of John Lee and the amazing guitar lines of John Birrell, because before that I think my demoes all sounded a bit random. I'm really bad at sticking to one genre which can be seen more in our live shows. It terms of the themes of the EP I guess I just wrote all the songs around the same time so they're all about kind of the same subject more or less, apart from the opening track. The whole process was a bit like exorcising a demon or something.
I get a real 'Twin Peaks' vibe from the artwork? Would that be a just comparison?
Yes absolutely. 'Twin Peaks' is my favourite TV show and the soundtrack by Angelo Badalamenti is one of my favourite things to listen to. There's something really mysterious about it, like it belongs to a parallel universe. I guess I was trying to channel that parallel universe in the EP. I'm glad people have picked up on it—'Twin Peaks' is often the first reference people make.
Tote residency coming up. How will you shift things up on stage week to week?
I am actually terrified about this residency! We have had a couple of line up changes and are running out of time to get everything together before then so I'm probably just going to put myself in a bin and call it performance art. I will change the bin each week for some variation.