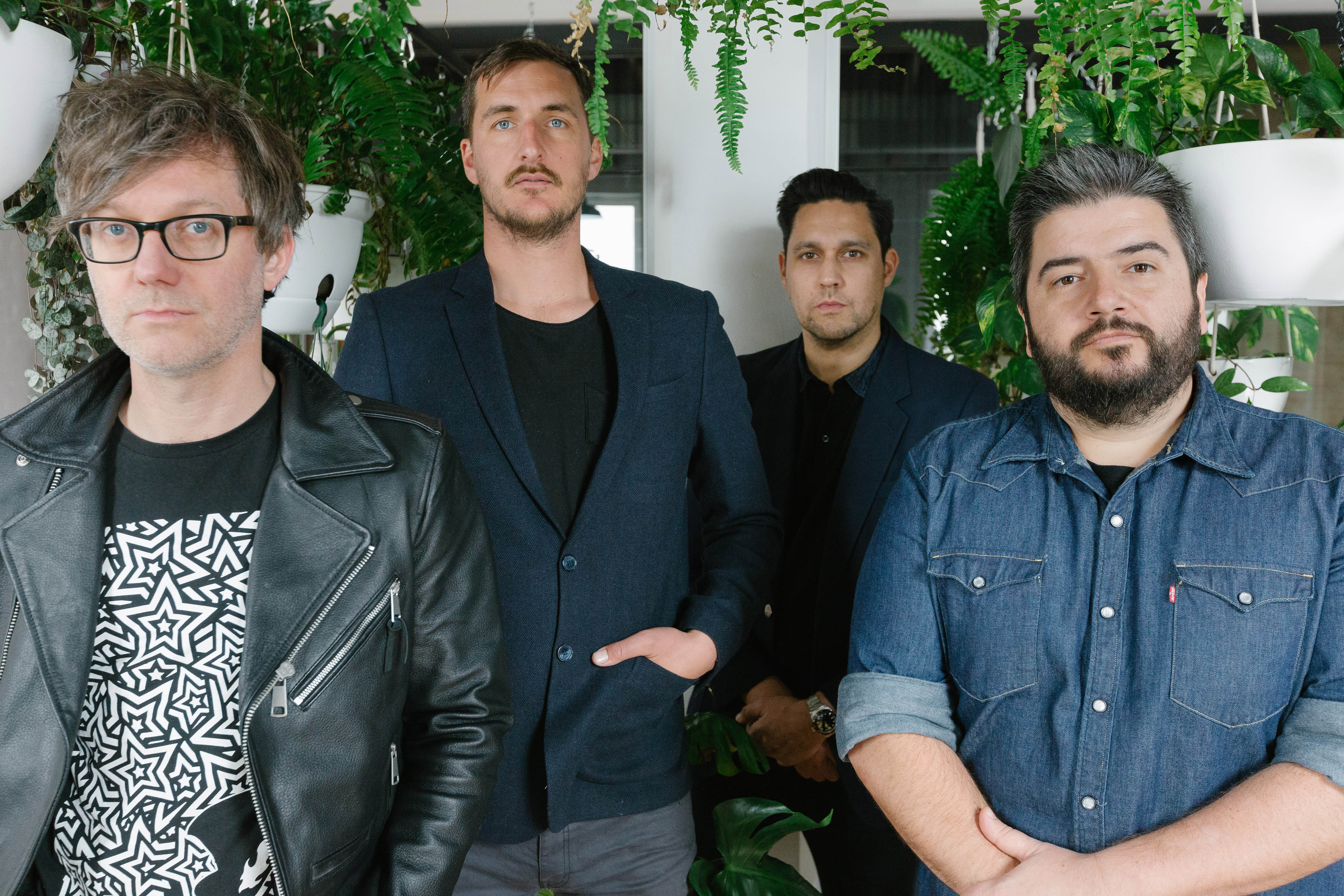 It's a bold claim, but Slow Fades have sparked the love for high-quality indie-rock for me again. On paper, this band is new. However, as we find out in our interview with the four-piece, they've been playing together, in one way or another, for many, many years. This, combined with their own musical projects, whether solo or in other groups, have lead to the brilliant Leave The Canyon. We spoke to Slow Fades about the coming together of their collective talent and the process it took to craft this collection of songs.
Briefly, talk about Leave The Canyon, its creation and overall process?
Last summer, I was going through a stage of listening to early '70s West Coast songwriters like Jackson Browne—actually, mainly Jackson Browne. And also I was reading about that period in Los Angeles, post the Manson Family murders, when the idealism of the '60s was replaced with the vapid listlessness of the '70s. It was a really hot, dry summer and there were forest fires all through the valleys surrounding LA. So I sat down and wrote Leave The Canyon and Eucalyptus, the first two tracks of our 'Canyon Songs' EP.
Leave The Canyon is from the perspective of an older guy who thinks he can rescue someone from what he perceives to be a bad situation. But you can never rescue anyone, can you? Our guitarist and keyboard player, Dave Rogers, is also a really talented producer, so he recorded the song at his work studio and home studio over the space of a few months. We really wanted it to reflect that time period, but not be a period piece. I think he did a great job. Every time the soaring guitar/synth solo kicks in, I picture a really high crane shot of a swimming pool at a mid-century mansion in the Hollywood Hills.
Describe the first session, whether jamming or in the studio, between the four of you?
Well, the real first session between the four of us was in 2003. Darren, Dave and I were all in a band called Klinger and our bass player had left. We spotted Glenn playing in his band Sweetchuck and just knew he was going to be our guy. So we kind of pinched him. Our first rehearsal was in Spotswood in January. He just clicked straight away and a week later we were on tour supporting the Living End. Our first session as Slow Fades was in early 2017. I had written the batch of songs that became 'Canyon Songs', and couldn't think of a better group of musicians to handle the songs. We went into the rehearsal room with no expectations, but it clicked straight away. We have a lot of history, and know each other's playing really well. Our drummer, Darren, and I have been playing together for 22 years.
Was there an instantaneous motion of having to make music, or did you have to convince one another to do it?
We definitely didn't want to put any pressure on it. I had booked a solo show, and we decided that it would be good to use it as a bit of a soft launch for the band. If it felt right, we'd make it an ongoing thing. And it felt amazing.
Sonically, where else does the EP take us beside what we hear on Leave The Canyon?
The EP swings from really direct, guitar-driven indie rock to more experimental, cut and paste, Brian Eno-y stuff. Probably the most adventurous and sonically different track is called Vikings. I'd written it as a very sparse acoustic song, almost a folk song. I recorded a version with a friend of mine and Dave took that and said, "leave it with me." Then he went and sampled a lot of eastern instruments and built this droney, spacey track with a George Harrison slide part winding through it. Again, I think he managed to make it sound new and old at the same time. I love acts that do that, like Father John Misty, or Foxygen.
Musical genres, in this current music landscape, seems to be irrelevant. Would you agree, or disagree?
I'd agree, for the most part. When we were starting out in the '90s, you were kind of limited by the gear you had. If you were an indie-rock band, you wouldn't be able to drop a dance floor banger, or to create a layered, sample-heavy, ambient track. Now we've got Macs, so we can do all of those things if we feel like it. Where I think genres are useful is that with the sheer amount of music to listen to, it helps to have signposts.
What was your musical upbringing? What were you fed, musically, as a kid and how does it lead into Slow Fades?
Oh it's such a ridiculously direct link between my childhood listening and Slow Fades. My Dad is a big music fan, and he always had really melodic music around the house—Jackson Browne, Van Morrison, Crowded House, The Beatles, Bob Dylan. They were always around. And my Mum can harmonise with a telephone. She just has this innate ability to find the third or the fifth on anything, which I hope I got a little of. I went off and discovered my own stuff—'90s indie like You Am I and Custard and Screamfeeder, as well as great songwriters like Elvis Costello and Joe Strummer and Billy Bragg. So when I came to the Slow Fades stuff, I plugged that '70s FM sound into the spiky indie stuff that I've always played.
What would you say to new bands or musicians now trying to make a start? 
It's a real cliche, but be true to yourself. Don't jump at trends or try too hard to find an audience. Audiences react to authenticity. And even if it's a small audience, they'll be really valuable and loyal if they believe what you're saying and how you're saying it.