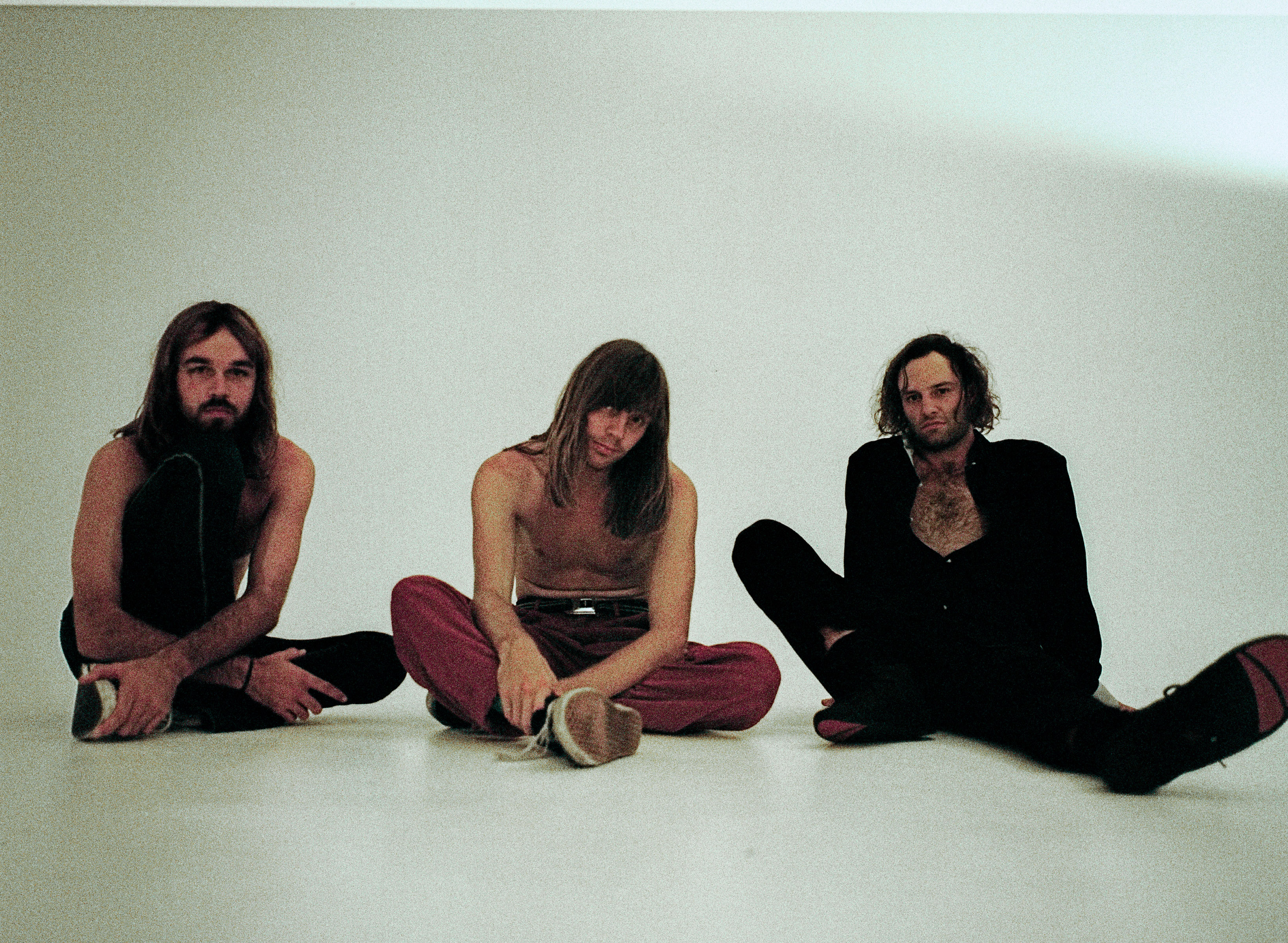 Kicking plenty of goals with their recently released sophomore album, 'Welcome To Flight S.U.N 91', The Ruminaters are currently this country's hottest psych-rock ticket. The concept album is written about a misfit group of people aboard a flight—each song recounts a different person's personality traits. It's a fascinating and dazzling algorithm for The Ruminaters' already brash scene of psychedelic rock. We got a hold of them while on tour to ask about the brilliant concept, the band's decision to demo this album and their flying horror stories.
I really love this concept you've created for the album. Talk me through it's inception and your choice to create a whole album around it.
The whole concept just sort of fell in to place. We didn't set out an plan it. But the more we were writing we had a few 90s inspired moments with it. And we started thinking the album should be about the sun shining brighter in 1991. Same year we were all born. Then the sun unintentionally just became more and more of a theme of the album. And we got a guy named Zev who was with us helping me sing cause I had a bad throat. And he just had a great English accent and we asked him to introduce and close the album as the suns engine driver. And then the concept of the sun being a flight and machine just happened. I don't know weird thing ?? In the end we decided it was a time machine the sun. And each song was a different person on the flight.
'Psychopath For You' is probably the highlight for me. In terms of the album's narrative, what's this track about?
Well this song is the psychopath on the flight. He's just some dude that's psychopathically in love with a girl. Who also loves him. But doesn't realize how far his love really is. To the point where it's scary love.
You actually demoed this album before recording—something you've vetoed in the past. What made you guys demo this record?
We got recording gear. And we've always wanted to turn our home studio into a place where we can record our selves. We aren't at the point where we could release anything we record in their. But yeah we just got to play with our song for the first time. Where we could record parts sit back. Listen to it. Then add what ever we felt could work. Just experimented a lot more. We aren't much of a jam band at all. We can't really just sit around playing a bunch of shit for hours and come up with something great. It's kinda more planned out with us. And demoing was the best. Non of us had to sit there listening to each other making up parts all at the same time. That stuff can kill me listening to us make a mess of our own songs.
The album was recorded in London and I actually think the location has rubbed off a bit in the music. Any inspiration from the area form its way into the songwriting?
I guess the production was just at a way higher level than we have ever done. Which is due to our friend Rob Brinkmann. He produced it at an amazing studio called RAK studios. It's go so much good history and really amazing bands come through. So I feel like just recording their with all that old gear the sound has to change into something bigger than we thought we could. It's my favorite place ever. Also being in London not effected by anything going on at home helps. Having no distractions. I'm sure London played some part in the sound. Can't really tell what. We kinda hibernated the whole time in the studio and the little area we were in. So didn't get to cultured while we were there.
What are some of The Ruminaters' horror flight stories, if any.
Not too much horror. Been pretty lucky. Jooz our drummer right now popped a plastic cup of water every where the other day and got all over some lady. Not too horror just funny.
Grouplove told us about you and the band worked your way into the hotel pool when it closed. We got their side of the story, how did that go down from your end?
Oh that was pretty good. Our manager has some weird way of just getting in anywhere he wants. It was like three in the morning. And we got back to the hotel they were staying at and we all wanted to go in. So he told the reception that we've just gotten off tour and wanted to get some exercise in before we all left tomorrow. They weren't keen and said we had to have a life guard on duty. And he just sprinted into our room. Screaming who's got photo shop. So I photo shopped one of the dudes head onto a fake life guard official card and changed all the names. And it worked ??? Don't know how they let us go in. We all pretty drunk. Clearly not ready for exercise.
You're on the tail end of the album tour. How's it been so far?
It's been so fun. Every shows been wild. The group we've got going around are so funny. We haven't stopped laughing the whole time.  Crocodylus and rosa Maria are both so good. So it's been awesome getting to watch them play each night.
Read the review of 'Welcome to Flight S.U.N 91' HERE.
The Ruminaters Live Dates
THURS 8 MAR
Transit Bar, Canberra
FRI 9 MAR
The Grace Darling, Melbourne
SAT 10 MAR
The Workers Club, Geelong
FRI 16 MAR
Bloodhound Bar, Brisbane
SAT 17 MAR
The Northern, Byron Bay
SUN 18 MAR
Miami Shark Bar, Gold Coast
FRI 23 MAR
The Cambridge Hotel, Newcastle
SAT 24 MAR
The Lansdowne, Sydney
SUN 25 MAR
North Gong Hotel, Wollongong
SAT 31 MAR
TBA, Pacific Palms
TICKETS