Gold Member & High Tropics Lead July's Rare Finds Brisbane Event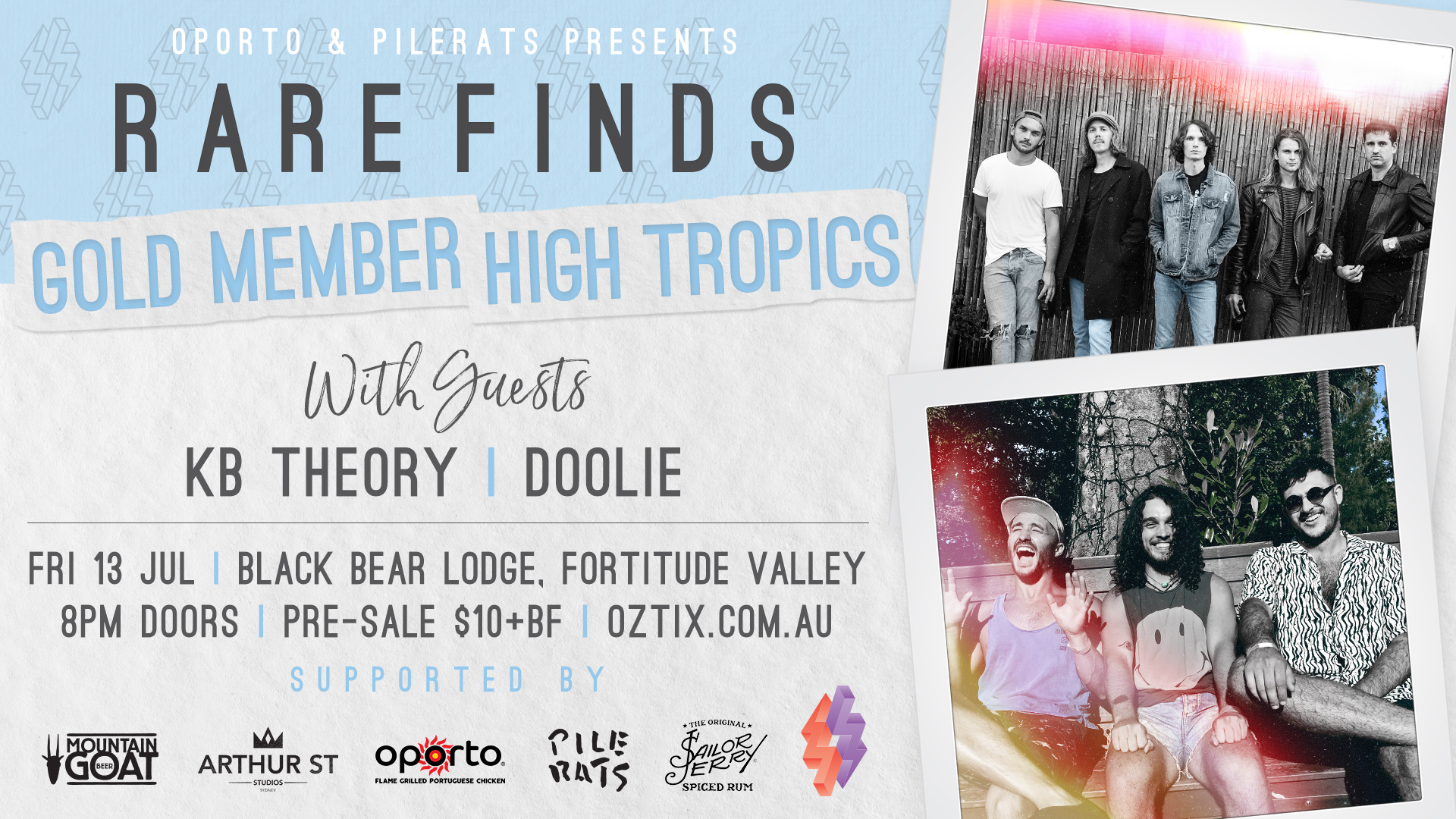 You can't walk down the street for a few minutes without someone mentioning Rare Finds—it's the buzz around Brisbane and this week is their next instalment, which is taking over Black Bear Lodge.
Following last month's extraordinary showcase of all-female talent—featuring Muki, Teisha, Essie Holt and Holly Hunta—this month's Brisbane event is yet another showcase of upcoming Australian talent. For those unaware, the Rare Finds tour pulls together a double headline act to tour Brisbane, Sydney and Melbourne with local supports on each leg. This month, Gold Member and High Tropics are pulling the punches.
Gold Member drive home some '80s synth lines built with hooks aplenty and hip-hop beats. They have one grounded rule: just have fun. Poppin is their latest jam—it's sweeter than the two lovely ladies at the lemonade stand and you will have a sugar high like a kid on Halloween night. Second headliner is High Tropics. They've been dubbed as, "infectious garage pop" by Rolling Stop and, believe it or not, the group started as a whim, as solo, DIY project by leading man Josh Stewart.
As for local supports, Doolie leads the pack. She's the next name on the sweeping pop front. She's already been able to ticket off some bucket list moments such as working with Paces, performing at The Big Pineapple Festival and, soon enough, she'll be jumping on stage with some very musical friends at Splendour in the Grass. KB Theory, on the other hand, have just released their opus track, Hope. At the start of the year, we premiered their track Lights Of Tokyo and, even then, we knew this band had something special going on.
Tickets are on sale now and they're cheaper than door prices. Best to get in early and pocket some of that money you're saving on tickets. Details below.
Rare Finds July

FRI 13 JULY
Black Bear Lodge, Brisbane
TICKETS