Rhys Darby Is Mystically Flying To A Stage Near You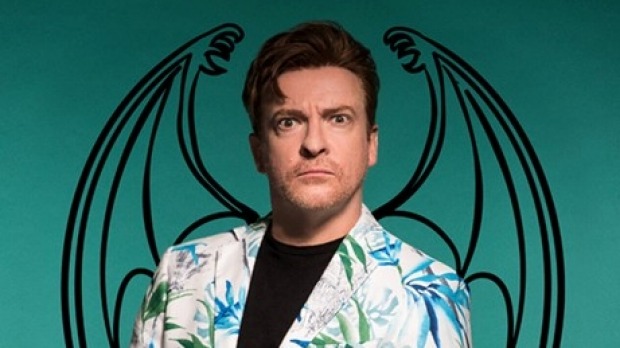 If you're a fan of laughing, and a fan of New Zealanders, then you're in luck, because one of the best that our friends across the ditch have to offer is making his way back to Australian shores! Funny man Rhys Darby is hitting a five-date string of shows in the majors as part of his 'Mystic Time Bird' tour, and we can't wait for the incoming giggles.
For those of you who don't know Rhys Darby, just take a minute to feel your shame. Really wallow in it. Feeling it yet? Good. Darby's big breakout role was as the loveably bureaucratic manager of New Zealand's fourth most popular comedy folk duo in Flight of the Conchords.
But Gingerballs has had a huge number of roles both on the big and small screens with parts in films like The Boat That Rocked, Hunt For The Wilder People, and Yes Man, and TV shows like The X-Files, Whose Line Is It Anyway Australia, and recently, Netflix's Voltron!
If that still doesn't sell you, you can expect him in the upcoming Jumanji film alongside Dwayne "The Rock" Johnson and Kevin Hart, and in the second season of Netflix's Lemony Snicket's A Series of Unfortunate Events.
Now that my Ctrl-I combo fingers have received a thorough work out, let's get down to the nitty gritty. For this tour, Darby turned to a world of ancient, mystical arts and found that his past life was spent as a bird, and he channels this new-found, past-lived persona with his trademark whacky movements, killer jokes and surreal sound effects.
The tour will be cruising around the nation in August, so make sure to check below for a full list of dates!
If you need to jog your memory, or if you want to rid yourself of that shame and start understanding your friends' Flight of the Conchords references, here's a montage of some of Darby's best moments on the show!
Rhys Darby 'Mystic Time Bird' Tour
FRI 18 AUG
Enmore Theatre, Sydney
SUN 20 AUG
City Hall, Brisbane
MON 21 AUG
Comedy Theatre, Melbourne
WED 23 AUG
Thebarton Theatre, Adelaide
FRI 25 AUG
Astor Theatre, Perth
Get Tickets HERE