The Blurst of Times Festival Returns to Brisbane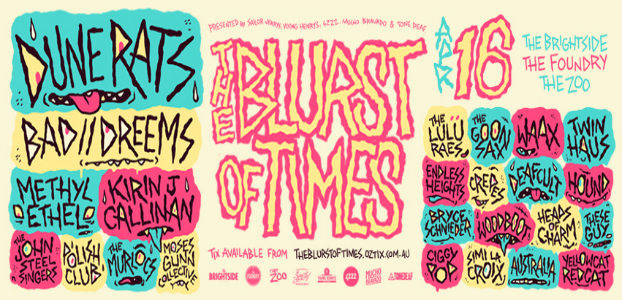 Brisbanites rejoice! The Blurst of Times festival is back after a year MIA, and its lineup is killer! Launched in 2013, the annual boutique garage, alternative, punk, and indie-rock one-day rager has become a Brisbane favourite.
Venturing to the deep dark depths of Fortitude Valley, 2016's Blurst of Times will see the Festival expand its on-ground capacity, with two-dozen bands taking over three venues this year: The Brightside, The Zoo and The Foundry on Saturday 16th April.
The impressive line-up includes infamous local ratbags Dune Rats, South Australia's finest punk Bad// Dreams, Perth alt-rock princes Methyl Ethel, and the quirky Kirin J Callinian.
If you're looking to have a boogie (or a headbang) with your mates, then snap your tickets up for 2016's The Blurst of Times HERE
The Blurst of Times Festival 2016
SAT 16 APRIL
Fortitude Valley, Brisbane
Lineup

Dune Rats
Bad//Dreems
Methyl Ethel
Kirin J Callinan
The John Steel Singers
Polish Club
The Murlocs
Moses Gunn Collective
The Lulu Raes
The Goon Sax
WAAX
Twin Haus
Endless Heights
Crepes
Deafcult
Hound
Bryce Schneider
Woodboot
Heads Of Charm
These Guys
Simi Lacroix
Australia
Yellowcatredcat