UNIFY Gathering 2017 Lineup Has Been Announced & It's A Corker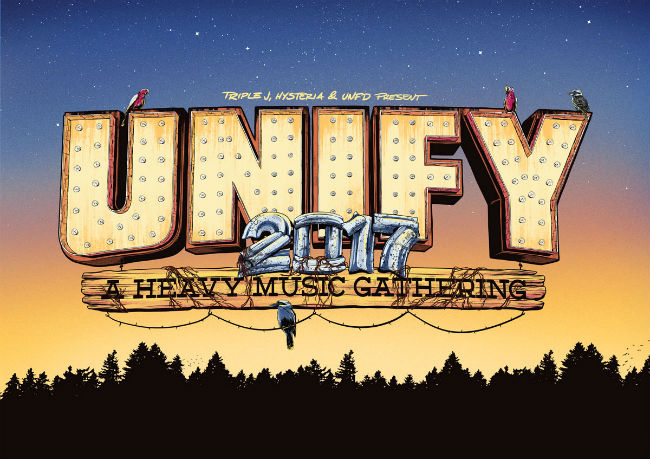 The lineup for 2017's UNIFY Gathering has been announced and it's filled with bands that'll provide plenty of moshing and headbanging for all. Headlining the huge bill are reunited Canadian post-hardcore heroes Alexisonfire along with Mansfield legends Violent Soho and Sydney metalcore favourites Northlane.
As always, the lineup features a mix of both international and local acts. This year over 26 bands will play the two day heavy music extravaganza. The Getaway Plan will perform their much loved 2008 album 'Other Voices Other Rooms' in full, American giants Letlive are sure to drop plenty of political anthems, and there'll definitely be plenty of circle pits during deathcore powerhouse Thy Art Is Murder's set.
UNIFY 2017 will mark the Victorian festival's third year of existence. The event has seemingly gotten bigger and better over time, with this year's 2,000 early bird tickets flying out the door in under 24 hours a clear indicator of its popularity.
Once again UNIFY will be held in the small rural town of Tarwin Lower, situated on their recreation reserve and football field, the same as the 2015 and 2016 events. Unlike previous years however, UNIFY is now a two night and camping affair.
Tickets for purchase by the general public will be made available on Friday the 24th of June at 12pm, HERE. See the full lineup below!
UNIFY Gathering 2017
FRI 13 JAN–SUN 15 JAN
Tarwin Meadows, Gippsland VIC
First Lineup Announcement:
Alexisonfire
Violent Soho
Northlane
Every Time I Die
The Getaway Plan [Playing Other Voices Other Rooms]
Letlive.
Thy Art Is Murder
Luca Brasi
House Vs Hurricane
I Killed The Prom Queen [Playing Music For The Recently Deceased]
Moose Blood
Storm The Sky
Counterparts
Deez Nuts
Trophy Eyes
King Parrot
Ocean Grove
Saviour
Columbus
The Dirty Nil
Polaris
The Brave
Bare Bones
Justice For The Damned
Drown This City
Ocean Sleeper