EP Review: The Species Debut EP 'Translucent Fears'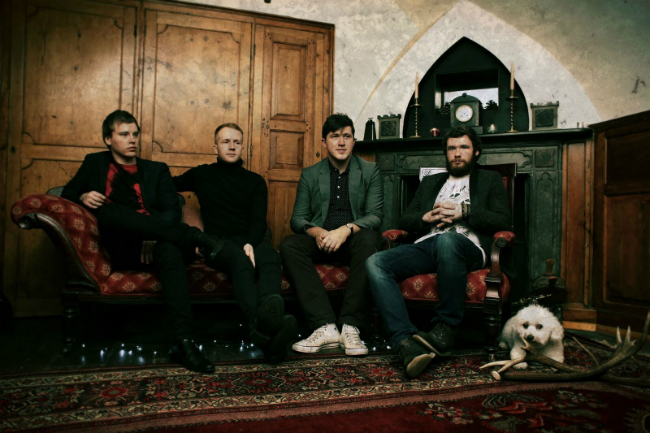 British rockers The Species have dropped their debut EP 'Translucent Fears', and it's an intense ear-pounding combination of everything good about modern rock. Taking notes from bands like Muse, Arctic Monkeys, and Queens of the Stone Age, 'Translucent Fears' is a hard hitting four track release that'll be sure to have you cranking your stereo to 11.
The Species don't fool around at the start, with Aether kicking it off with an intense guitar-showcasing, drum-thrashing, bass-smashing intro. This gives way to a slightly more relaxed verse that seems reminiscent of a Queens Of The Stone Age style, but it's not long before you're thrown back into the intensity in the chorus. This on/off, build/release pattern continues right through to the hard-hitting final chords that get you in the right state of mind for the second track.
Wah-laced, distorted guitar, and a rapid fire drum beat let Peep Show erupt forward, but the tempo is almost immediately reined back through the first verse. Vocal lines are centerstage with some intense and abrupt drumming and guitar work adding flair at the end of lyrics. In the chorus, the tempo explodes again and continues throughout the remainder of the track.
However, in the second verse, Peep Show takes on almost surf rock vibes with reverberating guitar chords. This then comes apart once more in the outro as the layers of guitars and bass clash and fight for dominance in a swirling finale.
'Translucent Fears' pulls together so many influences and styles that on paper it would seem like it could hardly work.
Taking a step back for a breather after the intensity of the end of Peep Show, Cause & Effect is a slightly slower and more careful track. The intricate polyrhythm between the bass and drumming that continues to change throughout the track give Cause & Effect a funky rhythmic sound. The guitars add a hint of flair over the top of this rhythm section duel, and the vocals are almost drowned out on a few occasions.
Broken Glass channels a very Muse-esque, sci-fi sounding riff in its opening, accompanied by a very tight and concise drum beat. This gives way to a looser and messier chorus sound, with emphasis on a pairing between the vocal line and lead guitar which seems to be soloing in perpetuum. Over the course of this track, the vocals become slowly more distorted and hazy, giving the ending a cross between Muse and The Arctic Monkeys.
'Translucent Fears' pulls together so many influences and styles that on paper it would seem like it could hardly work. In some tracks you'll be gearing up for a full-on thrashing headbang, only to be enjoying a more intricate guitar and bass combo a few bars later, and then a few bars after that the band lays down some relaxing surfy chords. The Species have seemed to pull it all together nicely, with only a few segments that seem slightly out of place or awkwardly jammed together.
Listen to Peep Show below!