Frontwoman Of Brisbane's MKO Sun Wins 2016 Grant McLennan Fellowship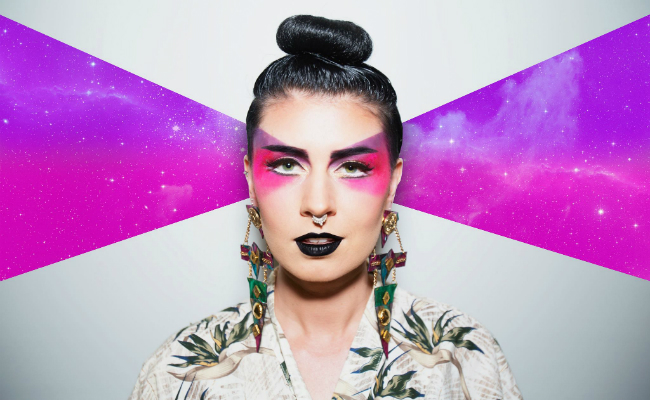 Local singer-songwriter and out-of-this-world vocalist Hannah Macklin has taken out this year's Grant McLennan Fellowship. The highly visual artist and performer is known best for her work with Steele Chabau and Myka Wallace as part of alt-RnB and electronic outfit MKO Sun.
She collected the 2016 Fellowship as part of the ceremony at Brisbane's The Triffid, nominated alongside Leanne Tennant, Jeremy Neale, and Bec Laughton.
After impressing the judges just enough to edge out the other nominees, Macklin, as part of her prize, will travel to New York to write songs for a forthcoming release.
"There is a sense of adventure to Hannah's songwriting, and the concept of her being immersed in New York City to fully focus on writing a new collection of songs is exciting.
"We have no doubt that the combination of Hannah's unique sense of artistry and the filter that is New York will create something remarkable," said the judges Sally McLennan, Adele Pickvance (The Go-Betweens), Ian Haug (Powderfinger, The Church), and music writer Sean Sennett.
The Fellowship, now in its tenth year, honours the musical legacy of Grant McLennan, one of Australia's greatest singer-songwriters and founding member legendary 1970's Brisbane band The Go-Betweens.
The award, presented with the blessing of the McLennan family, gives winners the chance to follow in McLennan's footsteps and live in New York, London, or Berlin for up to six months for creative inspiration and career development.
Head of Member Services for APRA AMCOS Dean Ormston his organisation is pleased to continue its support for the Fellowship.
"Grant McLennan holds a very special place in Australia's songwriting history, and it's our honour to be able to recognise his legacy and inspiration to other songwriters through this Fellowship," said Ormston.
Last year's winner Tim Steward (WE ALL WANT TO, Screamfeeder) travelled to London where he wrote and recorded a number of songs, with plans to record and release most of them before the end of 2017.
"Taking this trip was incredibly valuable as a songwriter as it forced me to understand how inspiration works for me, and how to channel it best.
"It allowed me time and space to clear my head and learn a few things about my own songwriting process, and what works for me," said Steward.
Her recent EP with MKO Sun 'Opus Opalus' was full of weird and wonderful sounds, and of course drenched in groove, so we can't wait to hear how the Big Apple influences Macklin's sound!