Hey Geronimo's Like A Version Is Anything But Pedestrian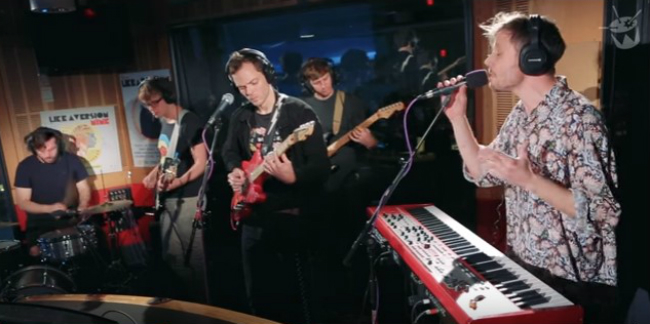 Here we are again, another Fri-yay morning, another Like A Version to get your juices flowing before the weekend! This week, Brisbane indie rockers Hey Geronimo graced Matt and Alex with their presence and a mash-up of Regurgitator's Happiness and Courtney Barnett's hit tune Pedestrian At Best.
Beginning with the intro riff from Happiness on keyboard before the whole band joins in, building up the dynamics and texture  and blending in Pedestrian At Best's grungy guitar riff to form an all-Aussie banger!
Catchy vibes are at a high throughout as Hey Geronimo adapt Barnett's unique rambling verse, pairing it with Regurgitator's elegant yet rocking chorus and adding their own dash of indie spice. Vocalist Pete Kilroy does a killer job of blending his own style with elements of Regurgitator and Barnett, culminating in three minutes of groovy fun.
The group went on to back up their knock-out cover with a performance of the latest juicy single Boredom from their debut album 'Crashing Into The Sun'. The single shows a lot of growth from the 5-piece band, demonstrating their individual capabilities as well as their ability to blend as a group.
If you're hungry for more (and you should be!), you can grab a copy of 'Crashing Into The Sun', released today! Meanwhile, check out Hey Geronimo's ingenious Like A Version and their upcoming tour dates below.
 Read our review of Hey Geronimo's debut album 'Crashing Into The Sun' HERE
Hey Geronimo 'Crashing Into The Sun' Tour Dates
FRI 15 JUL
Rocket Bar, Adelaide
SAT 16 JUL
The Curtain Band Room, Melbourne
SAT 30 JUL
Newtown Social Club, Sydney
FRI 5 AUG
Black Bear Lodge, Brisbane
Get Tickets HERE